Welcome to our 'Meet the Team' blog where we introduce you to some of the talented minds across Adthena's search intelligence business.
In this week's blog, we'd like you to meet Luke Noone, our newly appointed Senior Business Development Representative (BDR). Luke works closely within the sales team in the UK and joined the Adthena team in April 2022. Moving from Ireland to London in 2021, he has previously worked within a sales environment – differing largely from his degree in Law! We hope you get to learn a little bit more about Luke and his career journey here with us in this quick Q&A. 
Serra: Congratulations on starting the year off with a promotion to Senior BDR. Tell us what you're most excited for in this new role. 
Luke: Thank you very much! It's always nice to come back to a promotion – especially after only joining in April 2022. Really excited to gain some more responsibility whether that involves dealing with more in depth prospecting or helping some of the new hires get up to speed as a BDR. Really excited to see progression in my career in Adthena – hopefully this is the first of many!  
Serra: What led you to this career? 
Luke: I initially studied Law for four years in Ireland and then went on to work for about 6 months in a practice. It certainly developed some brilliant skills (ones that I still use today) which paved the way for my career from the offset, and I met some fantastic people during my time there. But I decided to search for something more fast paced and almost fell into sales! I relocated to London just over a year ago (destined to follow Arsenal) and have been working in sales for Adthena for just under a year. It's been a brilliant experience so far and I'm really excited for the time to come. 
(Arsenal fans – too early to start dreaming?) 
Serra: What are your passions/hobbies outside of work?  
Luke: As mentioned above – heading to the Emirates on a weekend to support Arsenal or playing GAA (Gaelic Football) both at home and in England keeps me very occupied. Sport has always been a huge part of my life. 
I would also argue that sport translates brilliantly to the workplace; promoting teamwork and a desire to succeed alongside your peers. I'm still weighing up if scoring a last minute winner is the same as securing a last minute new business opportunity to hit your target…
Serra: What is the best career advice you've ever received?
Luke: "Never stop learning" – I've received this general advice in many connotations, but the key is to always ask questions, always have a desire to improve, and always be curious. No question is a stupid question! 
The culture in Adthena leans towards this core value – "Smart and always improving." It encourages you to be constantly developing your skill set and improving in any area you may lack, which in turn translates to a stable career progression.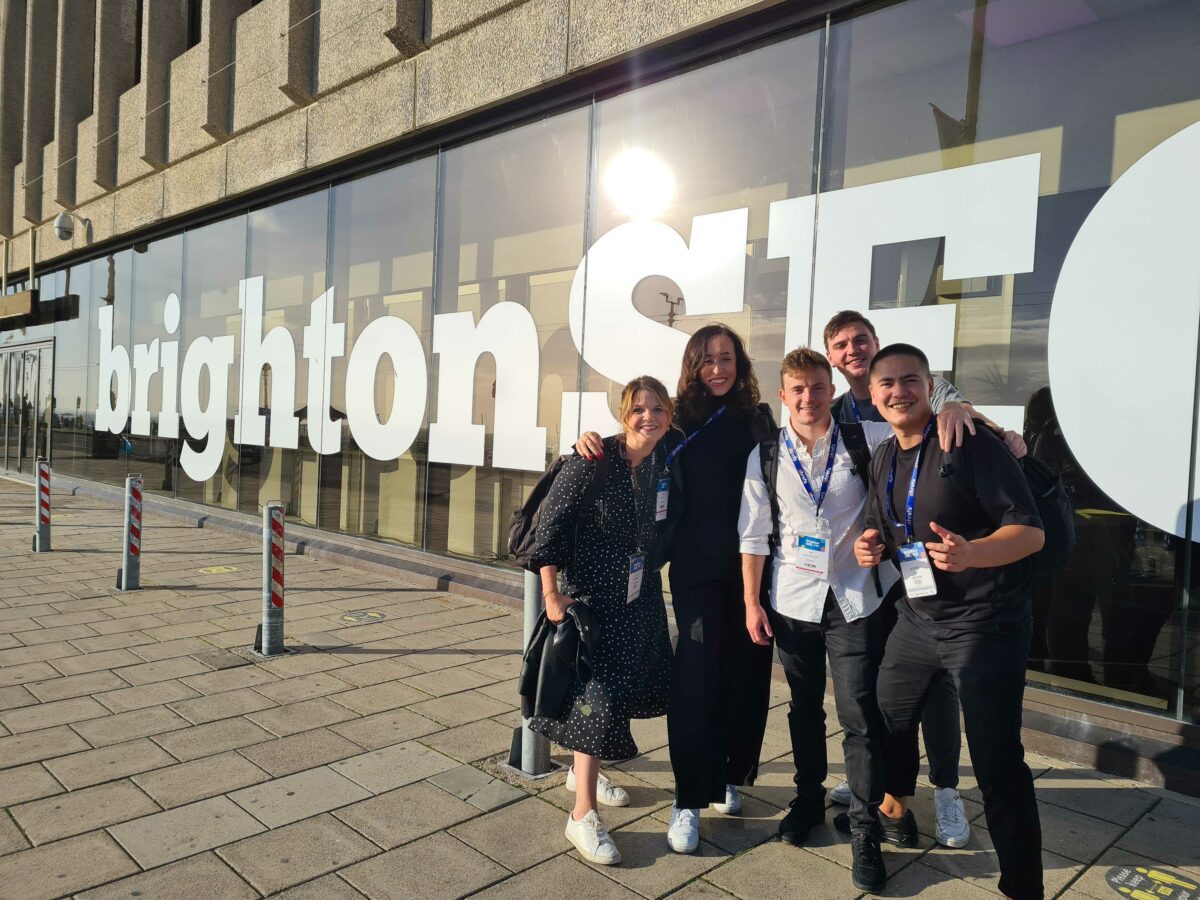 Above: Luke and the team at the brightonSEO conference last year.
Serra: What's your go-to productivity hack? 
Luke: Block out time in your diary. A trick is to turn your phone on DND (do not disturb) and pick three tasks which are a must do. Rinse and repeat in 30 minute cycles and you'll be surprised how much you get done. 
In a remote first workplace, it's especially important to prioritise tasks and ensure quality over quantity.
Serra: Do you have any advice for new Adthenians coming onboard? 
Luke: Reach out to different areas of the business. I've learnt so many skills, both professional and personal, by speaking to other parts of the business. Adthena is a welcoming and warm company full of employees who will always offer you their time. We learn from failure and celebrate success. 
Want to join the team?
Looking for a change in your career? Reach out – we'd love to hear from you! Check out our current vacancies and don't hesitate to reach out to josh.mizrahi@adthena.com.