In the digital marketing age, quantifying market share isn't as simple as it once was. Share of voice doesn't work in an online setting, so a new metric has entered the lexicon: Share of Search (SoS). It's a powerful KPI in a number of ways and can alert you to intent signals you might otherwise miss. Learn more about Share of Search and how it originated. 
In order to leverage this versatile and important metric, however, you need an accurate way to calculate it, and that's where Adthena's technology comes into play. Our platform enables brands to assess Share of Search across your competitive landscape. But you can also get a quick snapshot of your Share of Search using our free Share of Search tool. It's an easy way to measure how many searches you're receiving on terms vs. two other brands in your category. 
Here are the Share of Search fundamentals and how to benchmark yours with Adthena.
How is Share of Search calculated?
Share of Search is the measure of all organic searches for your brand as a percentage of the total searches for all brands in that category. As a formula, it's calculated as follows:
[searches for brand x] / [searches for all brands in category] 
Adthena's free Share of Search tool gives you a subset of this category-wide figure by measuring your position relative to two competitors and a handful of search terms. It is calculated as follows: 
[# of searches for your three selected search terms] / [# of searches for your search terms + # of searches for competitor one's search terms + # of searches for competitor two's search terms] 
To use the tool, you'll need the following information:
The names of two competitor brands you'd like to track against yours.


Up to three brand search terms you want to track for each of those competitors.

The location (eg. city, state, or  DMA) you want to examine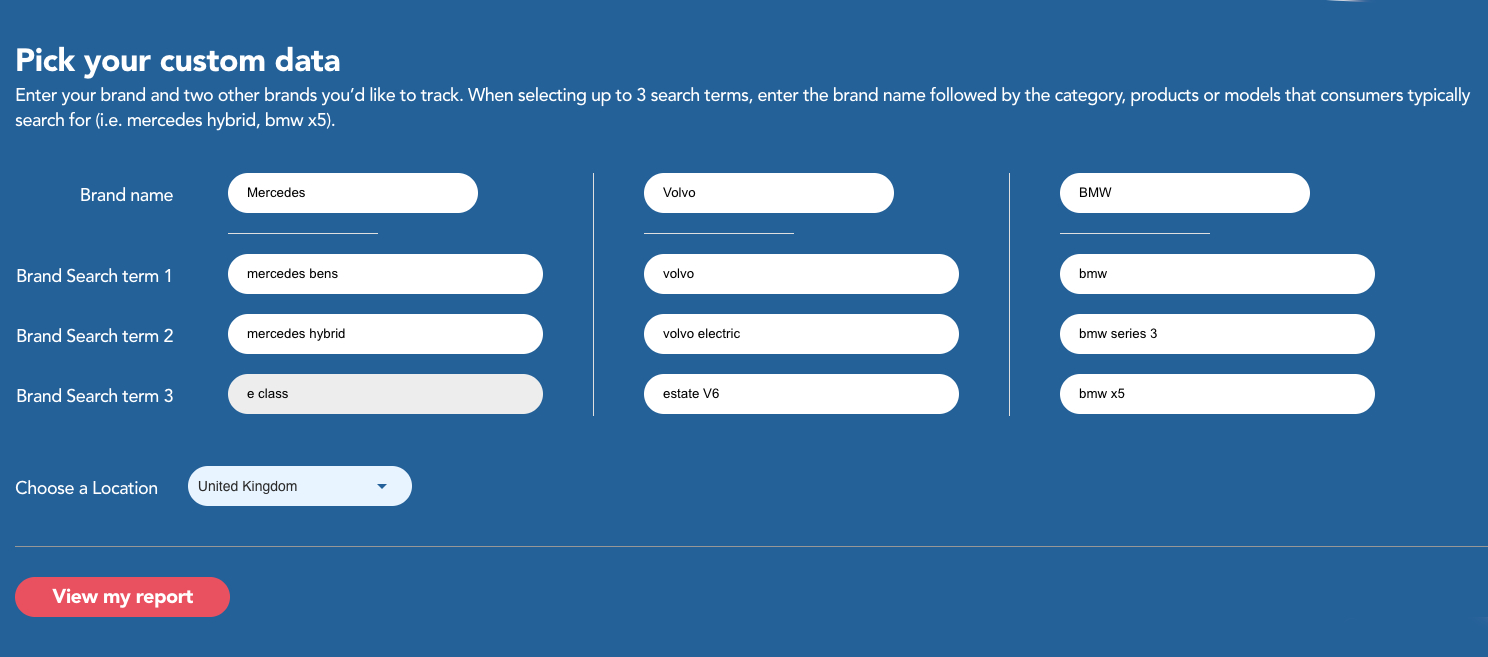 The data is presented in a single easy-to-read report with multiple widgets
Trend over time

– Look at how your

daily, weekly, or monthly

share of search is trending over the past

3 months

or

1 year

.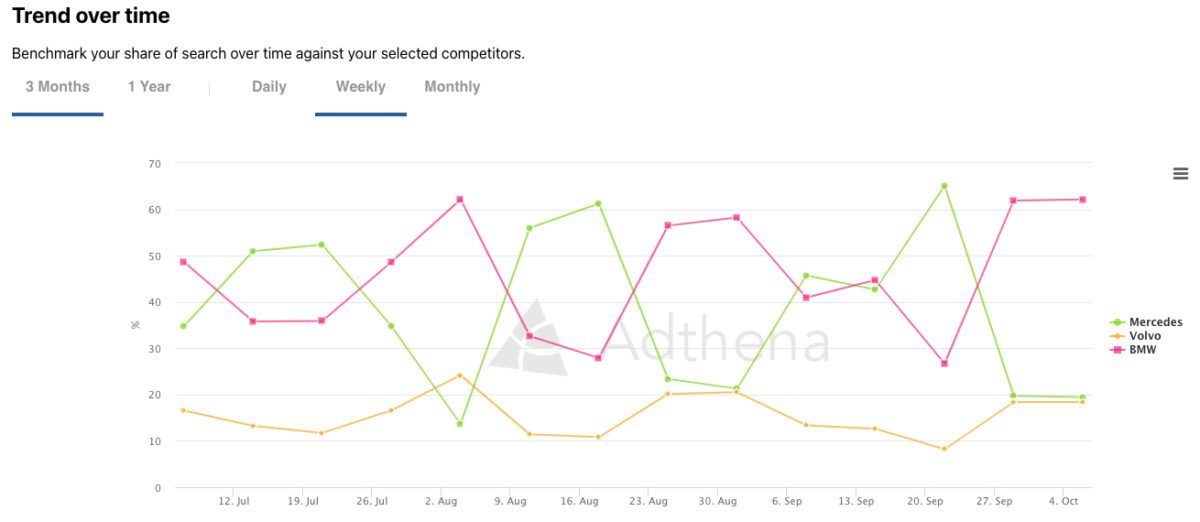 Period on Period Change

– Quickly spot shifts in your competitors' strategy by seeing the biggest winners and losers.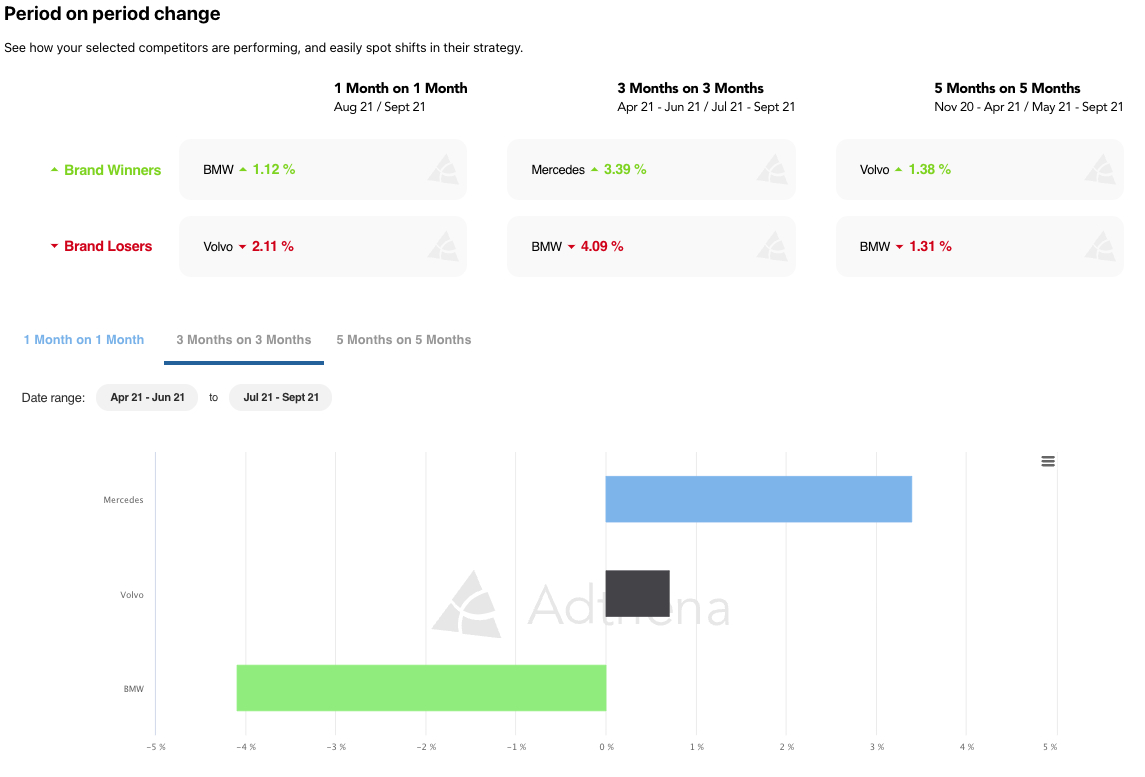 Try it now
What can you do with your Share of Search?
Measure impact by seeing how your share of search shifts after launching a new campaign or product 

Validate media spend by seeing whether your investments in TV or OOH advertising generate more demand for your products 

Protect your brand by identifying when competitors are gaining more traction in your market or category 

Maximize performance by understanding if and when your brand is underperforming in specific locations 

Forecast growth with more accuracy by seeing  where the market is headed 
Ready to give it a whirl?
Get started with Adthena's Share of Search tool right now, completely free: Try it now