The Rise of Google Shopping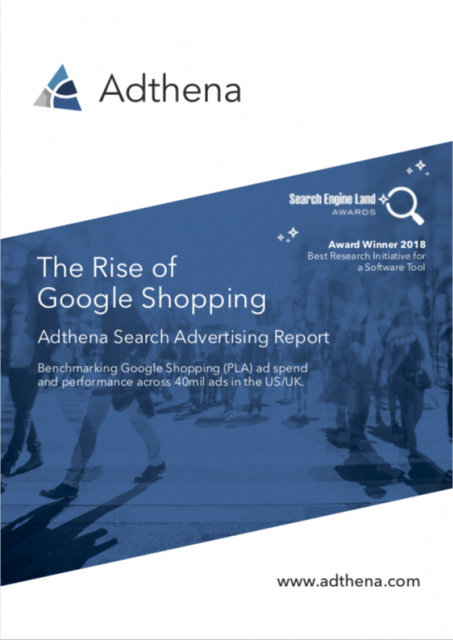 Winner of the Search Engine Land Award for Best Research Initiative this report benchmarks Google Shopping (PLA) ad spend and performance across 40mil ads in the US/UK.
This report reveals the extent to which Google Shopping ads, commonly referred to as Product Listing Ads (PLAs), have become the most popular ad format for retail advertisers, with ad spend now far in excess of text ads in retail categories.
Featured in this report:
What proportion of retail ad spend is spent on Google Shopping campaigns?
How many clicks are won by PLAs, as opposed to text ads?
Category specific insights. From consumer electronics, to fashion and apparel — which industries have been shifting search ad spend into Google Shopping ads?
Breakdown for Text vs PLA ad spend/clicks, by device (mobile/desktop). Who is winning the most clicks on mobile?
---
Founded in 2012, Adthena is the world's most advanced competitive intelligence platform for paid search advertising, processing over 10 terabytes of new data, while indexing 500 million advertisements and 200 million keywords in 15 different languages every day. Powered by its AI-driven Whole Market View data set, Adthena's carefully designed solutions of Market Entry, Campaign Optimization, Strategic Advantage and Brand Protection help marketers target and reach consumers that matter the most to their business according to their business objectives. Globally, Adthena works with more than 250 clients across 184 different business sectors, including finance, education, gaming, automotive and technology. Brand customers include Autotrader, Air New Zealand, Atlassian, Citibank, Burberry, Toyota, and Volvo. Agency customers include media specialists like GroupM and channel-specific paid search experts like iProspect. In addition, Adthena is the winner of several leading industry awards — including the Search Engine Land Awards, Stevie® Award for Customer Service, and European Search Awards, among others.