Search Market Report – Travel: Europe
With restrictions opening up following winter lockdowns, Spain and Italy are the hottest destinations for Europeans as we head into the spring. Travel brands should monitor the market closely in the run up to the summer, to ensure PPC campaigns remain competitive and effective.
This report reveals the search performance of the top companies in the industry, from the biggest spenders to market share and clicks.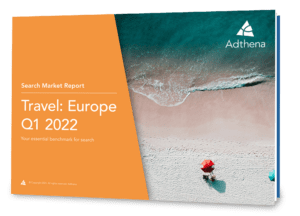 Your AI-generated Search Industry Benchmarks
This intel not only gives marketers a benchmark to guide strategy, it also enables you to see and show how your paid search performance stacks up against competitors.
In this report, you'll be able to:
Compare your brand's click share vs competitors.
See how your brand's market share stacks up against rivals.
See the top spenders in the category.
Download the full report below