The word 'unprecedented' has been used a lot recently, and it's difficult to find another way to explain how the automotive industry is choosing to react to the impact of Coronavirus on their marketing strategy.
Adthena data is showing a polarized split in the approach taken by advertisers.
Stay home
Shortly after social distancing was announced, Peugeot exited the market.
This trend has been adopted by other car manufacturers with Mercedes dropping out shortly after the lockdown was announced, followed by Nissan at the beginning of April.
Interestingly, after a couple of days of 0% clickshare Mercedes began appearing again on their brand and brand generic terms.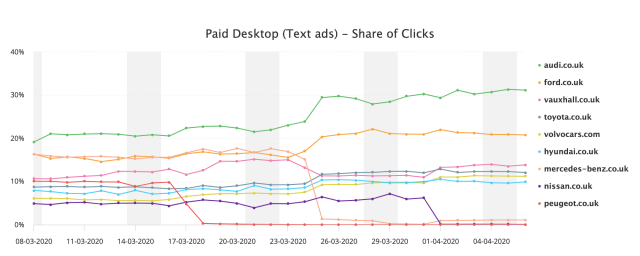 This chart represents a benchmark of how different manufacturers are responding to the challenging environment caused by Coronavirus.
A tale of two strategies
The data shows us that two strategies are emerging:
Preserve Budget: With uncertainty as to when demand will recover, advertisers such as Peugeot and Nissan have turned off paid search spend, allowing organic to pick up the footfall.
Preserve Contact: Whilst there is still search volume, advertisers such as Audi and Ford are maintaining search spend to keep front of mind for when restrictions do lift. This strategy enables them to maintain brand awareness, brand trust as well as their customer service message.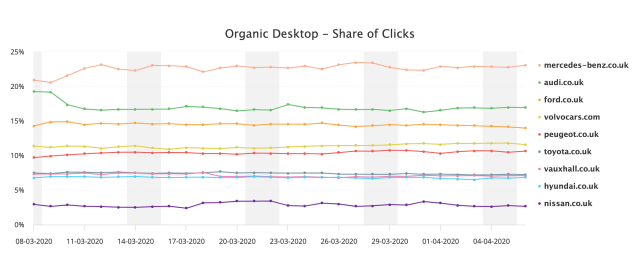 Finding balance
With budgets now being interrogated from all levels of management, analyzing competitor strategies can help you take a balanced approach and ensure long term success whilst limiting risk to your budget.
If you are in preservation mode, at some point the time will come to activate your paused campaigns. When this time comes, the ability to benchmark against your competition will enable you to make intelligent and informed decisions as well as providing a barometer for when the market is returning to some kind of normal.
---
Adthena has a long history of working with car manufacturers and their agencies. Reliable data enables calm and confident decision making which is why we are providing manageable packages for advertisers looking for strategic guidance at this time. Speak to us today to see what's available for you and your team.