Every year, analysts recap the Black Friday/Cyber Monday weekend looking for trends and insights to inform next year's retail strategies. This year, for example, consumers spent a total of $109.8 billion online during the lead-up to the Black Friday/Cyber Monday weekend (up 11.9% from 2020), and traffic at retail stores on Black Friday was up 47.5% compared to 2020. We also saw the 'shopping season continue its expansion, with retailers promoting Black Friday deals as early as October'.
"This year, when we look at the number of days that have seen $3B or more spent online, we've seen about 21 of those. When we compare it to the same period last year, we only saw about eight." November saw more big online shopping days than last year according to Vivek Pandaya, an analyst at Adobe. This indicates that consumers were not willing to wait around for Black Friday to capitalize on early offers. Could Black Friday be a thing of the past? 
That's all-important to know, but it can't guarantee you success in 2022 or even make navigating the holiday sales season any easier. With every year bringing new developments in retail conditions and consumer behaviors, retailers need more timely information on market and competitor movements. 
Monitor your immediate seasonal landscape
Year-on-year trends in seasonal shopping activity are informative, but by the time you get the data, it's water under the bridge. Retailers who monitor competitor movements in search as they occur, on the other hand, can be proactive and stay competitive throughout the season. They can be ready for anything, even last-minute holiday surprises.
Watch out for pre-holiday action
According to Adobe, laptops were among the top-selling products during the Black Friday sales period. Lenovo seemed to be prepared for this trend. The brand gained 20% in click share for laptop-related generics coming into the holiday weekend, going head-to-head with Microsoft, then dropped back to a simmer by December 1. But perhaps more telling are the strategies of brands like LG, which came from out of nowhere over the weekend to scoop up early sales ahead of the flagship holiday. As more sales are completed prior to the big sales milestones and less action takes place on the day, this may be a strategy to watch.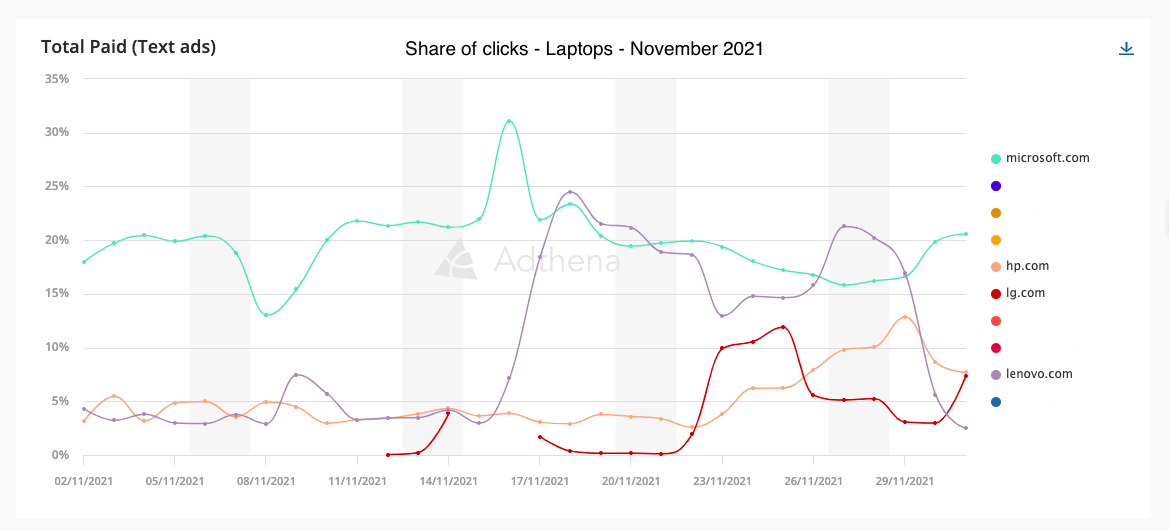 DFS bucks the Black Friday trend
Many brands across verticals this year seemed to follow a similar PPC pattern. Asos, Lenovo, and Made.com, for example, all accelerated their search activity leading up to Black Friday and then sharply curtailed activity after the weekend.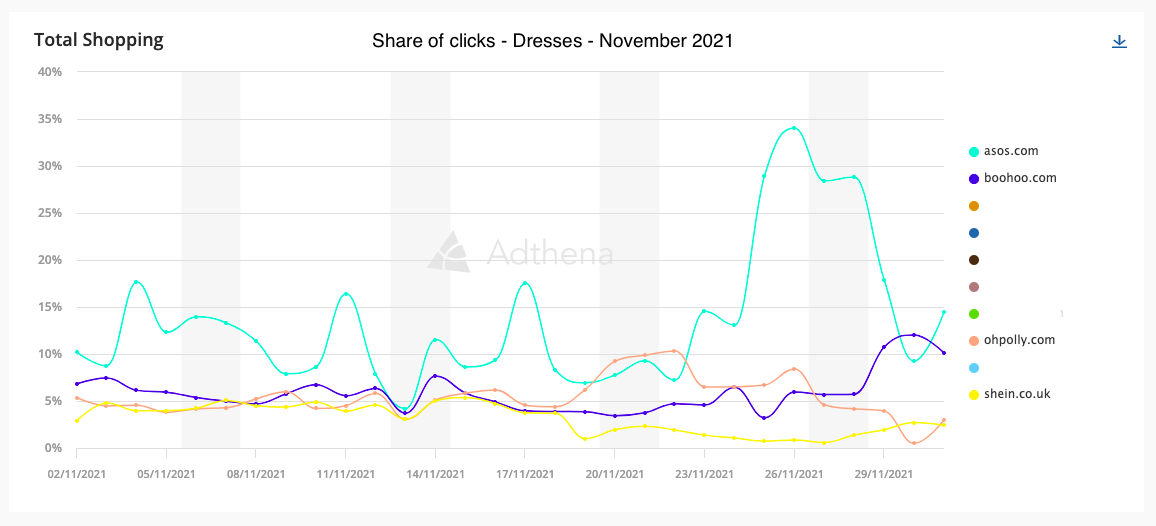 What Made.com didn't observe, perhaps, was that its sofa-selling rival DFS went the opposite direction. Instead of curtailing bidding, DFS opened the throttle after the big weekend, taking advantage of the opening created by home goods rivals. That's the kind of competitive move you want to know about before it's too late.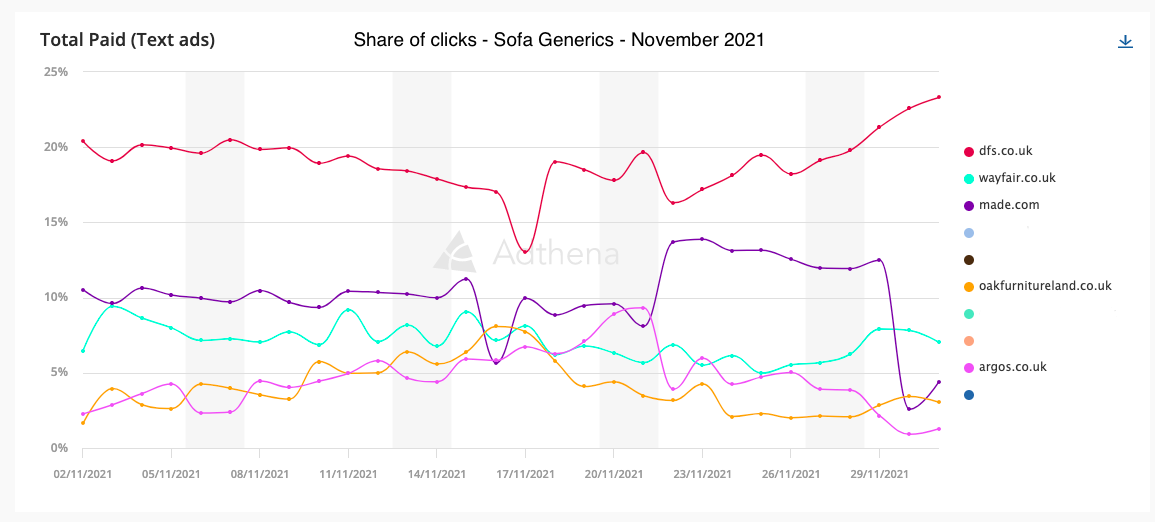 With less and less predictability in holiday shopping patterns and the calendar date having less influence on buying, retailers must respond to conditions on the pitch, not in the post-game.
Six ways to stay nimble for seasonal retail events with Adthena:
Get daily alerts to every competitor's movement as they occur, so you can respond to opportunities and threats in real-time. 

Track which search terms are converting customers across desktop, mobile, shopping, and text ads.

Spot competitive gaps across all your product categories so you can generate maximum sales during peak periods

Identify new players entering your market and gain visibility into their strategies.

Know what offers, promotions, calls to action, and incentives in your competitors' ad copy are driving the highest conversions.

Optimize spend for maximum end-of-year ROI.
Put your competitive monitoring plan in place now with Adthena, and you'll be ready to maneuver when your competitors activate their seasonal strategies, whatever holiday is on the horizon.
For tips on using Adthena insights to bolster sales all year long, contact Lauren Hopson.