The effect of Coronavirus on global stock markets has been drastic and frenzied. The world's financial services companies have been fortifying their defences amid its spread. But are there any opportunities amid the chaos?
We used Adthena's platform to see what search can tell us about where any new gaps in the financial market might be. Of course, with many businesses being affected financially from the fall out of the coronavirus – from restaurants and bars to retailers large and small – it makes sense that the demand for business loans may increase in the weeks and months ahead.
What we're seeing in paid search and Google Ads, is that spending is increasing on 'business loan' search terms. As you can see in the graph below, some major banks have entered the market on 'business loan' generic terms recently, from 13 March. We can also see that Liberis' share has been gradually increasing over the whole month, meaning that they are building up their investment in this area more and more. 
It's a similar story if we look at the same terms for mobile devices, although Funding Options seem to be the ones to watch rather than Liberis in this realm. 
On the flipside though, Capital on Tap have reduced their investments and Funding Circle, who usually stop spending at the weekends, dropped out mid week. This could indicate that CPC's have become too high for some players in the auction.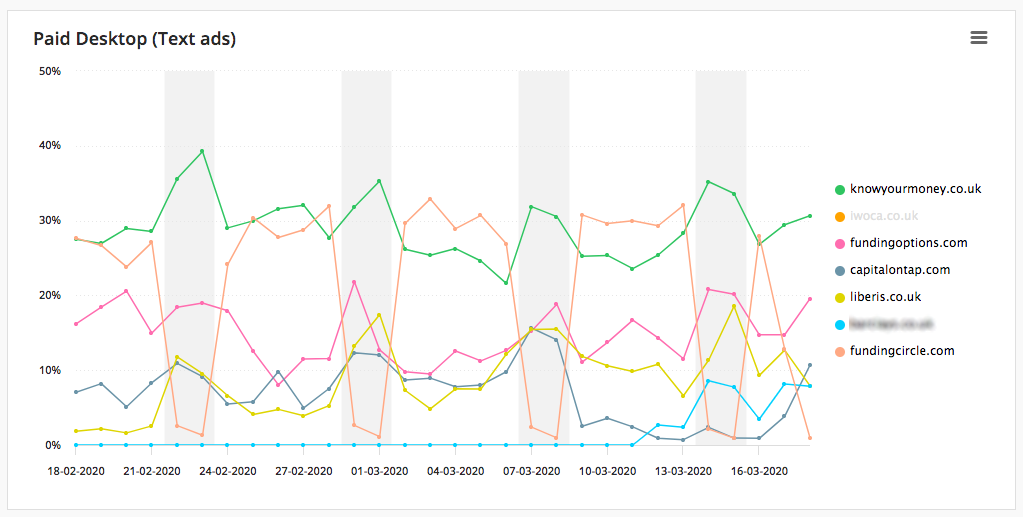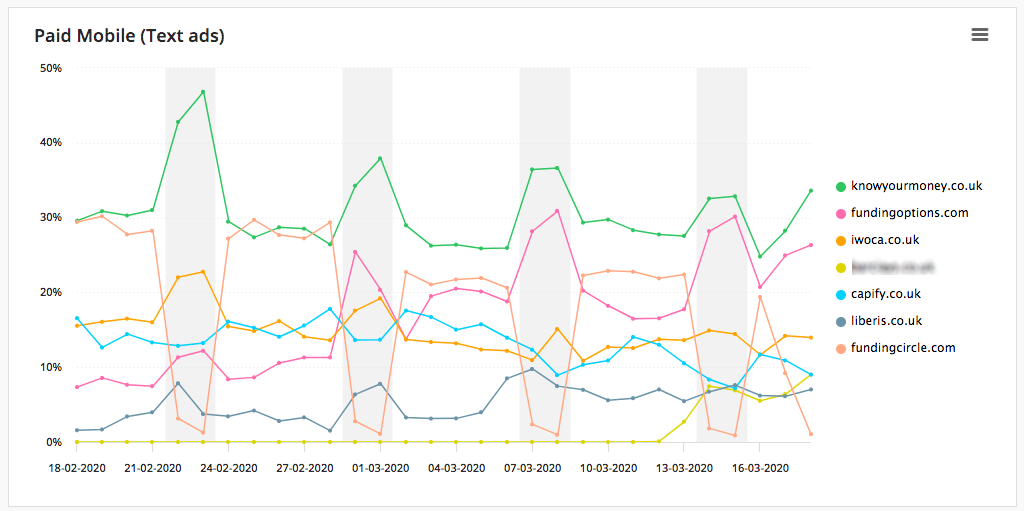 Images: Business loans search term trends – desktop and mobile
With the various financial players increasing spend or dropping out of this sub sector, there may well be gaps and opportunities for your business to invest in, as we ride the wave of uncertainty following the virus outbreak. 
Summary
How will your business respond to these market insights in the current state of flux? Competitive intelligence can help you assess the paid search landscape and clearly see what's going on in the markets at a deeper level. That means you can make strategic decisions to defend your space or take advantage of new opportunities and gaps in the market. 
If your business has been affected by Coronavirus and you're uncertain about how to move forward with your search strategy, we're here to help.