Like many others, I was very upset about the horrible death of George Floyd earlier this year and by the distressing levels of civil unrest in the US, the UK and other areas of the world that followed.
Like many business leaders, I reflected on our approach to Diversity, Equity & Inclusion at Adthena, and I committed to better educate myself about racism. As a business, we voiced our support for the black community and reaffirmed our rejection of racism, however I didn't want this to be just words on a black square, but to be lived out through the actions and attitudes of every Adthena team member. 
It would be easy to talk superficially about this topic and to jump to tactical, tokenistic actions that we propose to take to try to be a part of the solution. But it's much harder, and it will take longer, to build a self-sustaining approach to Diversity, Equity & Inclusion that is good for the business. 
It's been proven that companies that are more diverse, more inclusive, and more equitable, are actually more profitable. It is my job as CEO to make us more profitable, the same goes for every manager and staff member in the business. Therefore if you are not engaging DE&I you are denying the business part of our future success and not doing your job properly. By being more strategic in our approach to this, by taking the time to identify the right target outcomes, we can ensure that we do become more successful as a result. That way DE&I will become a virtuous circle that we can keep reinvesting in, developing and living out.
October is Black History Month in the UK, a poignant reminder that this year has seen a truly historic acknowledgement of racism across all walks of life, and that the events of this year have been, and still are, a catalyst for change. 
On that note, it's the right time to announce the first milestone in our strategic approach to DE&I. I've invited a cross-section of talent from across the business to join me in forming our first ever DE&I Committee at Adthena, which I will chair. In September we agreed our four-step approach to listening, learning, acting, and then delivering key outcomes for the business.
Adthena's vision for DE&I
We know from experience that diversity in thought, experience and background adds to our culture and creates a more successful business. We know a commitment to diversity and inclusion is the right thing to do and the smart thing to do. 
The ultimate goal here is that no matter your age, gender, race, nationality, sexual orientation, language, perspective, social background, disability, thought and more, Adthena is a welcoming and supportive place where people are respected with equal opportunities.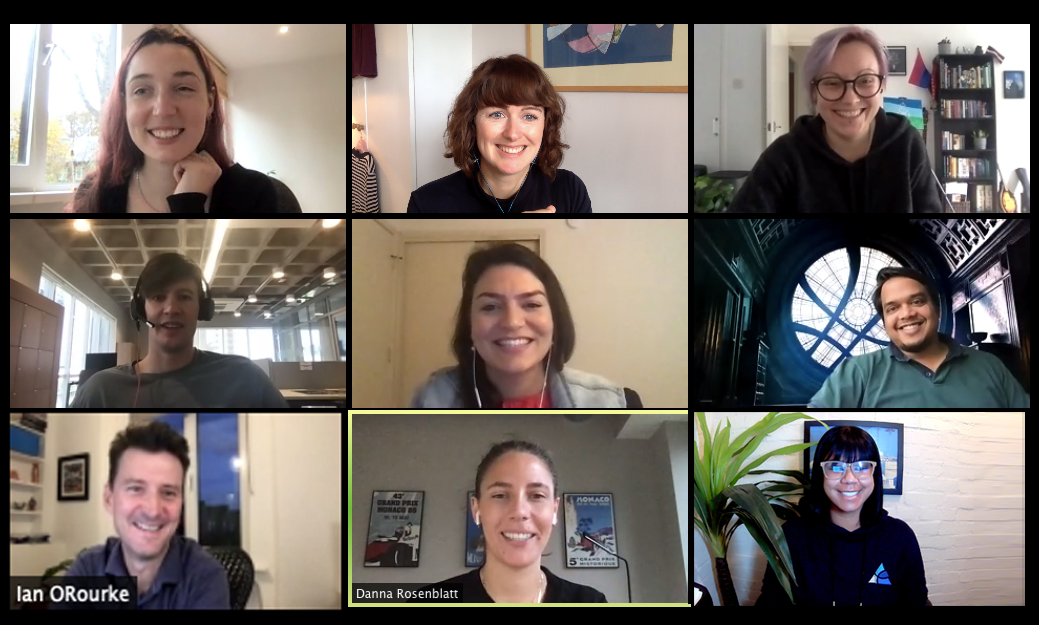 Adthena's DE&I Committee
Our four-step approach to DE&I
1. Listen
We, especially the leaders, are going to listen to the people in our organization and outside to hear their opinions and experiences and to better understand the issues facing diversity, equity and inclusion today. We're especially interested in those less-obvious issues like systemic or hidden racism and unconscious biases that are likely being ignored today or are not well understood. 
In order to improve in this area, we need to first take stock of how diverse we are now, and identify any barriers to DE&I so that we can address them. We are going to collect the quantitative and qualitative data that lets us understand where we are today as a business.
2. Learn
Through listening and analysis of the data we collect, we are going to learn where we are today, what challenges we can focus on and how we are going to go about it. We are going to educate ourselves, especially as leaders, on what we can do as an organization and as leaders in that organization.
3. Act
Once we've listened and learned we are going to act. We will identify a small number of key, meaningful outcomes each year that will deliver a self-sustaining impact on our company and our people. The executive leadership team will resource and staff teams to execute the actions and measure the progress to outcomes. 
4. Outcomes
The target outcomes will be determined by the Listen and Learn process that will be completed by the end of this year. 
By the time the US celebrates Black History Month in February, we hope to be well on our way to setting about the plans to achieve our 2021 outcomes.
"It has always been an ambition of mine to help advance diversity & inclusion in the media industry and for the next generation. So I'm hugely excited to see what we can achieve together for the business and for the industry, as a wider DE&I Committee."
– Lucy Daramola, DE&I Committee member
UK and EMEA Account Management Team Lead, Adthena
About Ian
Ian has been involved in technology businesses and start-ups for over 22 years and has founded successful companies across the globe including in Silicon Valley, London, Australia and Taiwan. Ian has been growing Adthena since 2012 to become the premier global provider of competitive intelligence it is today. Ian fosters a culture of great products, getting things done, freedom & responsibility and continuous improvement.