In the B2B tech market, it's hard to stand out in search. There are just too many players competing for the same limited number of generic terms. Terms like HR software, Accounting software, or CRM will surface dozens if not hundreds of ads. That means leveraging the right ad copy and your unique branded terms is vital.
Unfortunately, limited generics leads to a lot of brand bidding — when one advertiser bids on another's branded or trademarked terms. The problem is rampant in B2B tech, so users searching specifically for your company or product may be inundated with competitor ads on the SERP. In addition to losing clicks, you may find yourself in a bidding war for your own brand terms, driving up CPCs.
Branded searches are valuable
Tech brands spend millions on marketing campaigns with multiple touchpoints to influence consumers along the purchase journey. A search on your brand terms is a signal that a customer is seriously considering your brand and may be close to the point of purchase. It's a crucial juncture, and you want your brand to win that click.
If you aren't taking control of your brand terms, you're allowing your competitors to poach your business. What's more, you're giving up authority over how your brand is represented to potential customers.
How Lusha lost control
Sales enablement platform Lusha has a lot of competition for its own company name. In fact, rival Linkedin tops the page for the term "Lusha," with Signalhire and Rocket Reach providing pressure from below. Signalhire adds insult to injury by incorporating 'better than' Lusha into its ad headline.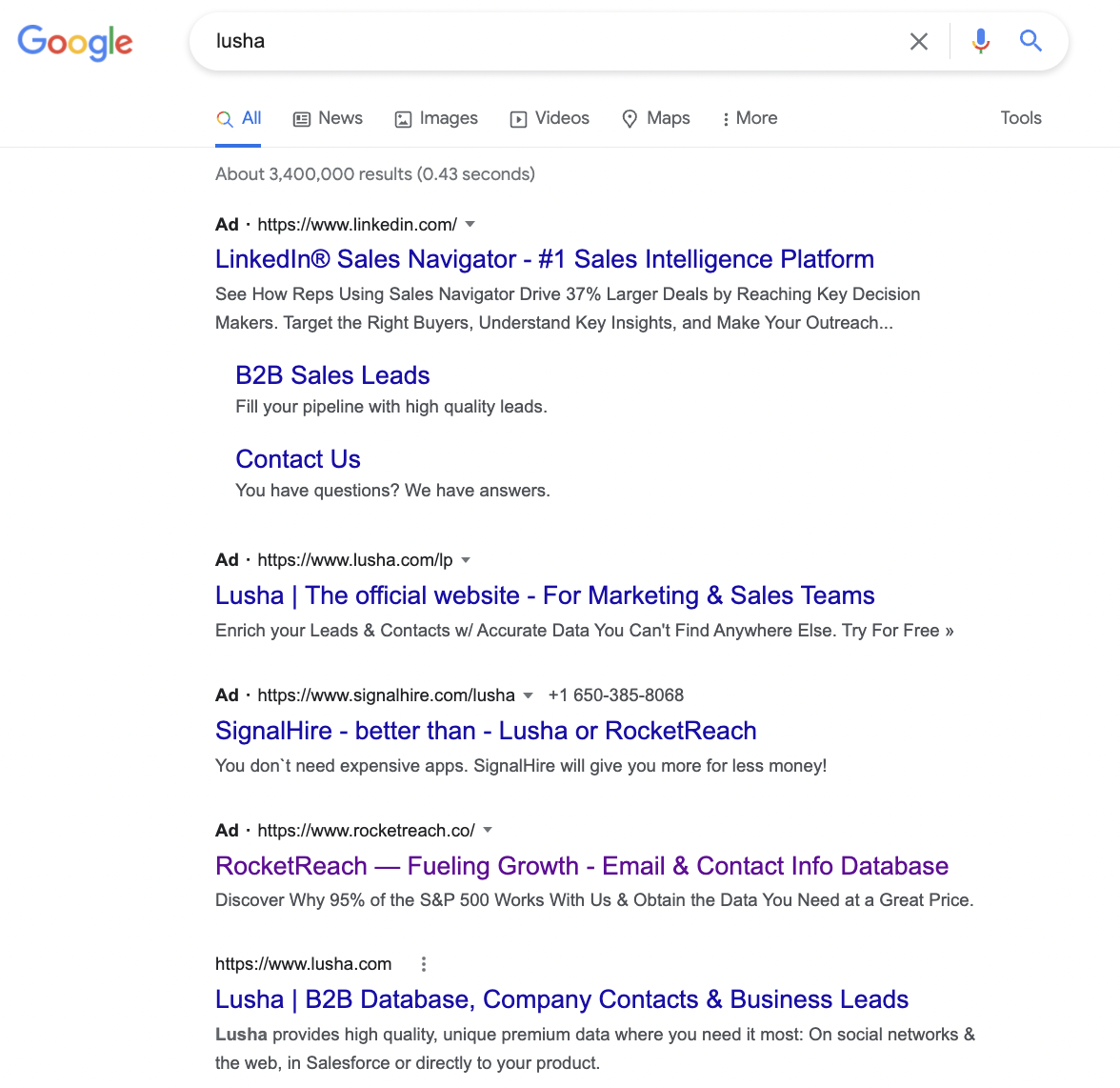 Google SERP – Brand term 'Lusha' 
This scenario is not unusual in the tech space. In fact, our analysts are seeing an increase in tech brands using 'alternative' or other direct attacks in their ad copy when bidding on competitors' brand terms.
Asana's name is being used against it
Project management platform Asana has not only relinquished the top spot for its brand name to Monday.com's "so much better" ad, they're also bumper-to-bumper with consumervoices's ad shouting 'Asana alternative' in headline copy. Customers searching for Asana are getting a very mixed message from this SERP.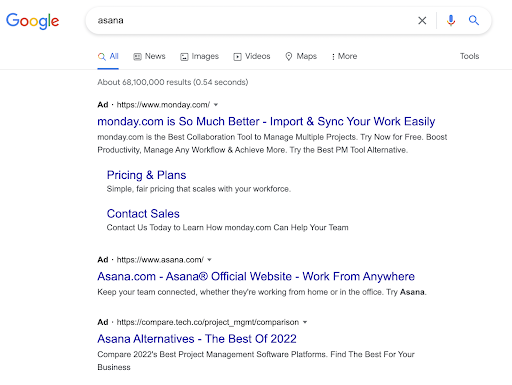 Google SERP – Brand term 'Asana'
Four ways to protect your branded terms
Even if your brand ranks high in organic search, your competitors are going to take every opportunity to distract, dissuade, and use your brand awareness to their own advantage. Here are four ways you can combat brand bidding and preserve the value of your branded terms.
Detecting infringements manually is virtually impossible, especially in a competitive market like B2B tech. Adthena can automatically police your market 24/7 and alert you the moment any rival bids on your brand terms. 
Are your competitors using your brand terms to negatively influence customers? Adthena can help you quantify the impact and take action.
Adthena can measure for you which ads are converting the most customers across generic terms, track all the ads that are appearing on your brand terms, and record what copy is being used. 
Capture generic opportunities
In a crowded and competitive field, Adthena can help guide your generic strategy to be sure you're not overlooking opportunities or wasting spend.
To get started with your brand protection strategy, reach out for a demo or to Lauren Hopson.