Automation and AI have changed the game for SEM professionals, streamlining operations and eliminating drudgery across many aspects of paid search including Google Ads. But if you thought technology would somehow diminish the importance of those professionals, the current coronavirus crisis is proving you wrong.
As businesses and agencies have moved to automated bidding in recent years, the role of the PPC manager has shifted toward strategy. While technology and AI can see patterns and trends based on past events, only a human can understand motivations, cycles and potential. The importance of that distinction is clear right now as PPC teams are having to navigate the murky waters of uncertainty and minimize any wasted effort, resources and media spend. As the pandemic shuts economic doors, it's the PPC professionals who are finding the open windows.
In times of volatility, people can do what automation can't
With the economic impact of COVID-19 disrupting business as usual in PPC, the pitfalls of relying too heavily on automation are evident. 
Automated bid management is only able to react to behaviours it has seen before and can, therefore "understand." It cannot pick up on behavioural trends driven by forces beyond the Search Engine Results Page that PPC pros routinely analyze and interpret. Automation is not effective at reacting to peak and trough trends, or agile enough on its own to react to novel threats or opportunities the way a human can. Technology is only as good as its own parameters, whereas humans have infinite capacity for adaptation and extrapolation.
That's not to say PPC professionals don't need tools. Quite the opposite, now is the time they need every bit of data and market intelligence available to understand what's happening in their sectors, see what competitors are doing, and plot the right course.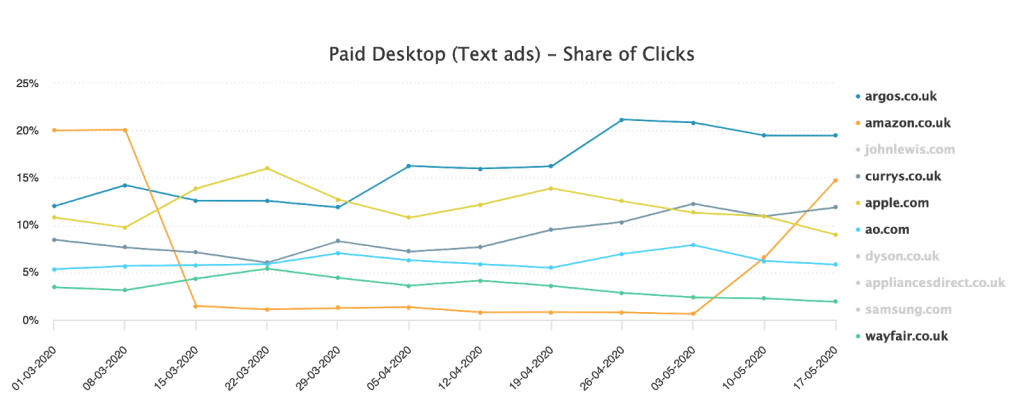 Image: The Adthena platform reveals market and competitor trends (UK Catalogue Retailer example) 
The graph above illustrates the trend in market share (share of clicks) for top catalogue retailers in the UK, March to May 2020. At the beginning of the COVID outbreak, we see that Amazon (in orange) dropped out of the paid search auction completely in mid-March, enabling other competitors such as Argos to pick up their share. With lockdowns being lifted, Amazon re-entered the auction on May 5 and their share has steadily increased. By monitoring market trends like these, PPC practitioners can view new opportunities that present themselves due to gaps in the market, and make informed decisions about whether seizing these opportunities would truly be in the best interest of the business. Practitioners should ask themselves: does the business have the ability to service the demand? Is this aspect of the business profitable right now? Do you have the infrastructure to deliver should you secure the clicks? 
Lean on your people 
Optimizing PPC campaigns right now is about using what you know about your market and consumer needs to target what generates revenue in this moment. And it may look very different from your business as usual. To stay in the game and drive results during unprecedented market conditions, businesses right now need to rely less on automation and more on data-driven, human decision making. This is when CMOs and digital executives need the ingenuity and instincts of their teams to see them through. 
If your business has been affected by Covid-19 and you need help with your search strategy, we're here to help.
…………..
Already using Adthena? Take a look at our new Covid-19 reports
We've launched a set of bespoke reports tailored to the COVID-impacted landscape. PPC decision makers using Adthena can access these reports to gain an understanding of key movements in their markets:
Customize insights by period and search term group to reveal market intel and inform decisions.
Benchmark performance

against competitors on share of clicks and share of spend, with intuitive visuals. 

Identify the biggest movements

in any market over a two-week period among top competitors.
Request your bespoke COVID-19 report from your Customer Success Manager today. 
---
Visit the Paid Search Campaign Hub
For more insights to help you boost performance including the downloadable guide 'Find your PPC A-Game in 2020' visit our Paid Search Hub