The effect of COVID-19 is undoubtedly felt across the world. In an effort to curb the economic impact, the United States government has passed the largest stimulus package in history. With individuals and families needing relief, these stimulus checks aim to help taxpayers through hard times. 
Some people will need these stimulus checks for basic necessities such as housing, food, car payments, etc. But others who aren't in as tough a situation might use this one-time payment for other purposes. What could they potentially spend their stimulus check on?
Flashback to '08-'09 stimulus checks
In 2008, we saw a similar movement take place, with the passage of the Bush Economic Stimulus Package. Well, what did consumers spend their money on then? It was found that most either saved it or paid off debt, and that around 20% spent it.
However in 2009, the approach was a little different. Economic payments were made only to those who were existing beneficiaries from federal programs. The rest of taxpayers felt relief by receiving tax rebates in monthly paychecks.
With this in mind, what are we to expect for the 2020 stimulus checks? Here's what we think will happen in a few different markets, with search data to back up consumer behavior.
Budgeting for opportunity with stimulus checks
While some will need the checks for groceries, utilities, and the bare necessities of life, others might use their stimulus check for investing. Using AI-powered machine learned technology, we are able to capture key market trends across search term groups, and reveal what competitors are strategizing. 
If we look at a group of generic search terms relating to investment, we see that while some players have dropped out of the market (i.e. Banyan Hill) others, such as Merrill Edge and TD Ameritrade, have seized an opportunity in pulling ahead, vying for clickshare.
TD Ameritrade seemed to have taken a dip in the initial weeks of COVID, but has pushed back up, challenging Merrill Edge. Merrill Edge does seem to focus more on mobile than desktop, however, they did take quite a drastic dip in the month of March.
Market trends across the investing space – Google paid search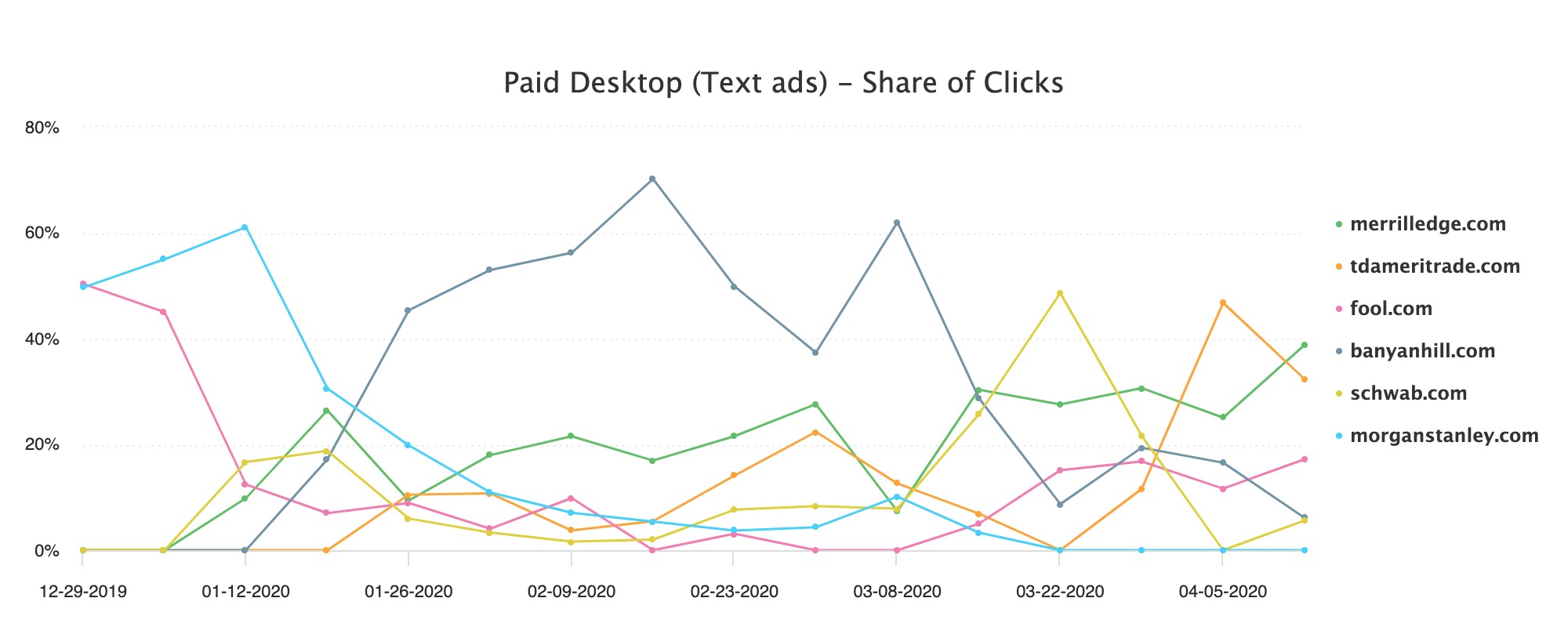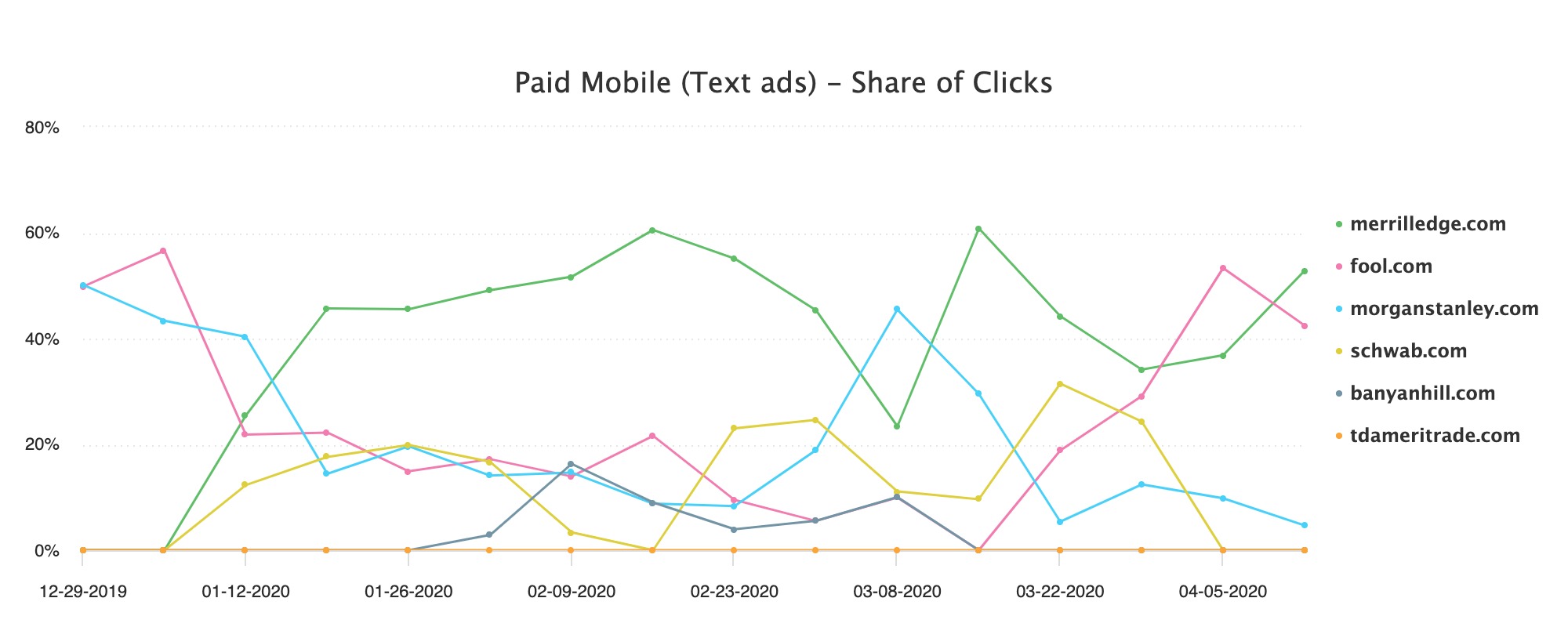 So what's your takeaway if you're a finance marketer right now? Having always-on competitive monitoring, especially in uncertain times, can allow you to see your market more clearly and takes the guesswork out of what your competition is doing.
Don't sleep on the competition
With the ease of deliverability, mattresses could be a larger ticket item that people spend their stimulus check on. By tracking the competitive action around a keyword group related to mattresses, we see that a top dog has emerged, Mattress Firm, in mid-March by increasing their spend.
Conversely, it appears that Tuft & Needle and Purple have decreased spend in the past few weeks of COVID-19. Nectar Sleep has maintained a steady share of clicks through out these times.
Market trends across the mattress space – Google paid search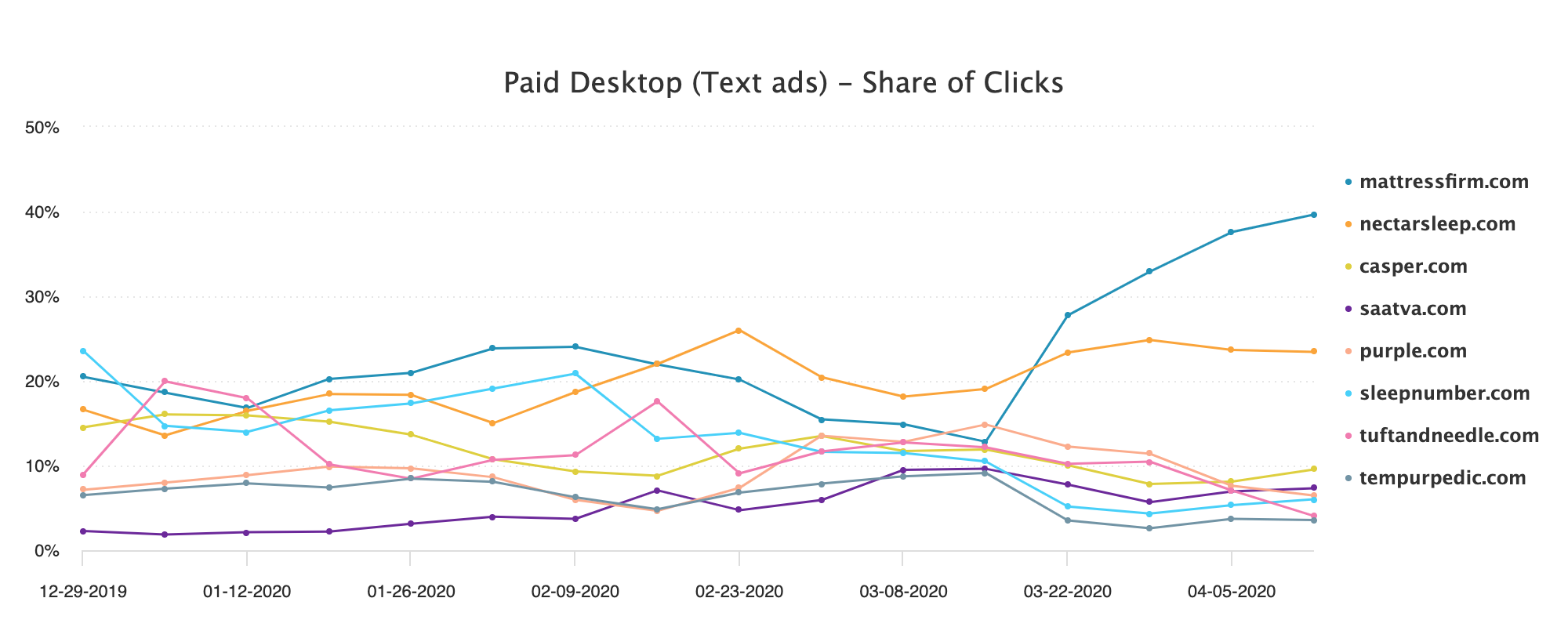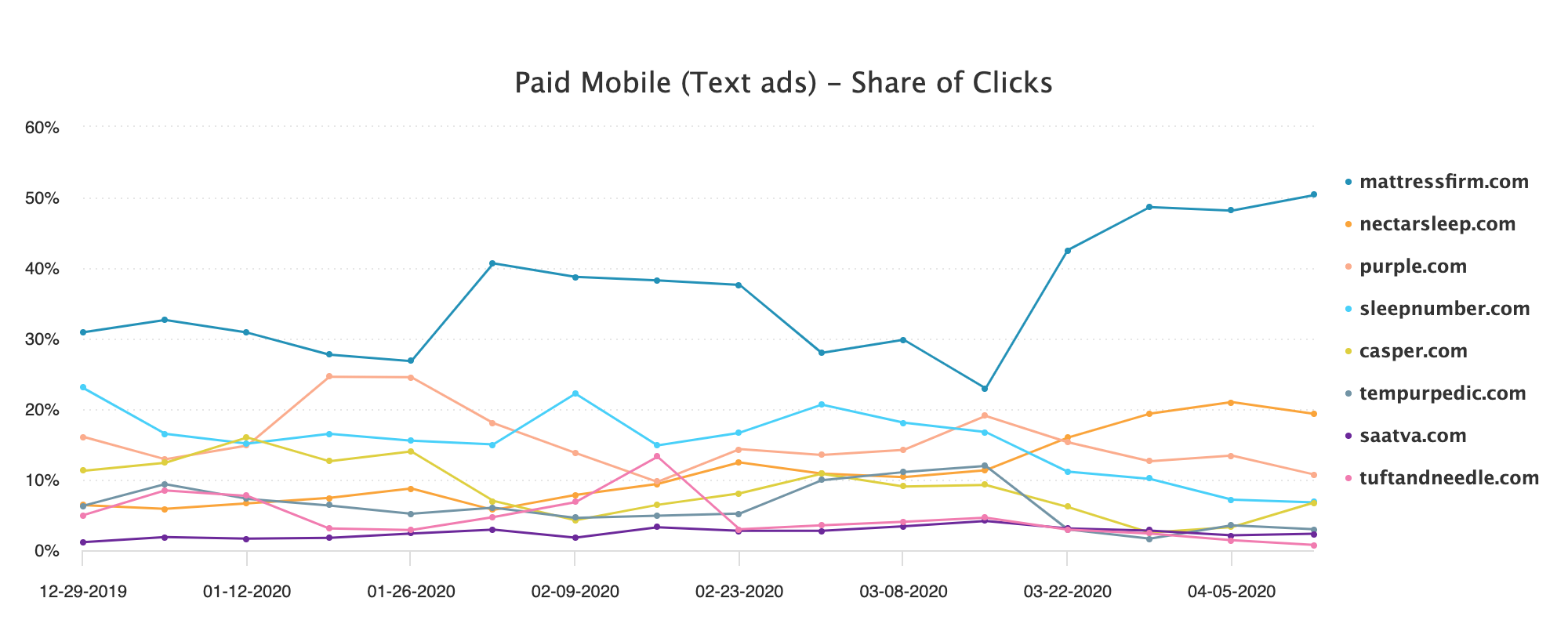 What can mattress retailers take away from this? Well, when competitors decrease their spend, such as Purple and Tuft & Needle, other competitors can easily swoop in and start claiming those clicks, just as Mattress Firm has accomplished.
When in doubt – order out?
As time goes on in quarantine, people are going to want a respite from cooking. That leaves us with more people flocking to delivery services such as Uber Eats or Grubgub. How are companies shifting to accommodate and what does the market look like? 
DoorDash is the most dominant advertiser during this time, followed by Grubhub. UberEats has a stronger mobile presence than they do on desktop. Finally, Postmates has a very weak mobile presence, often dropping out of market for extended periods of time.

Market trends across the food delivery space – Google paid search – last 30 days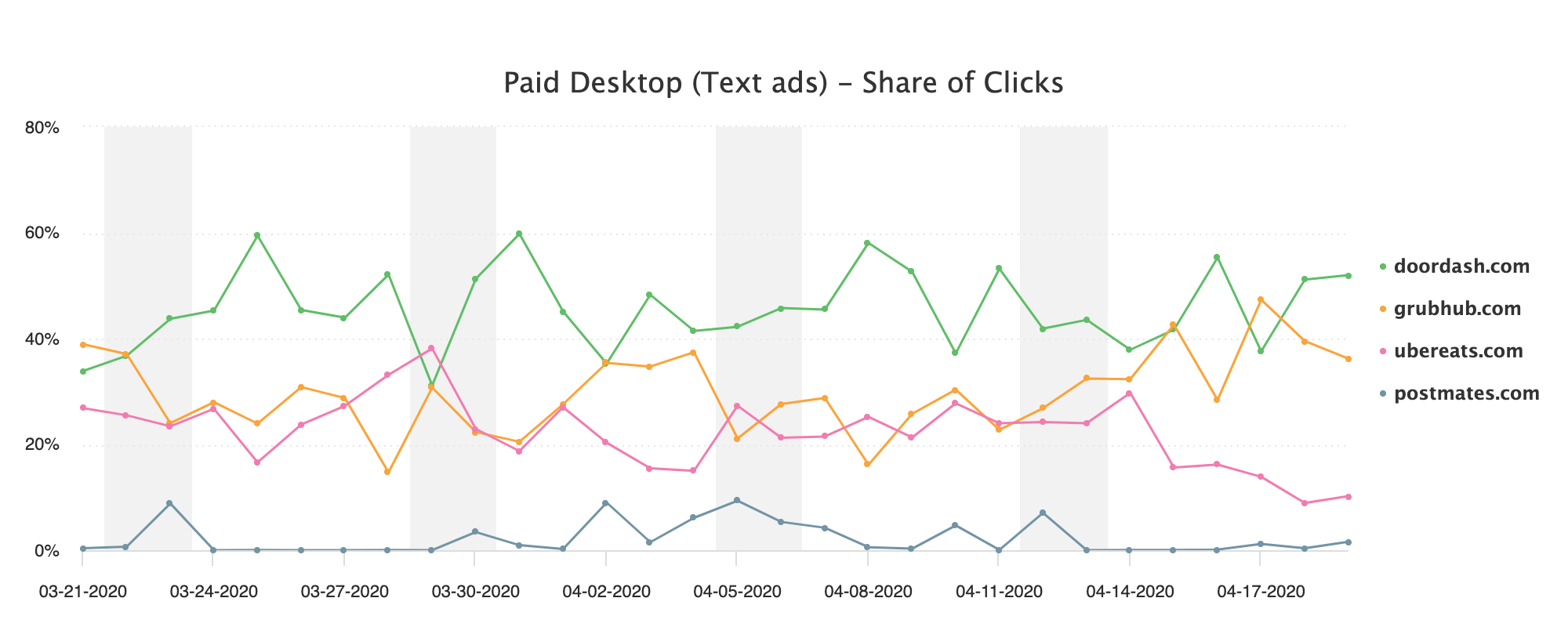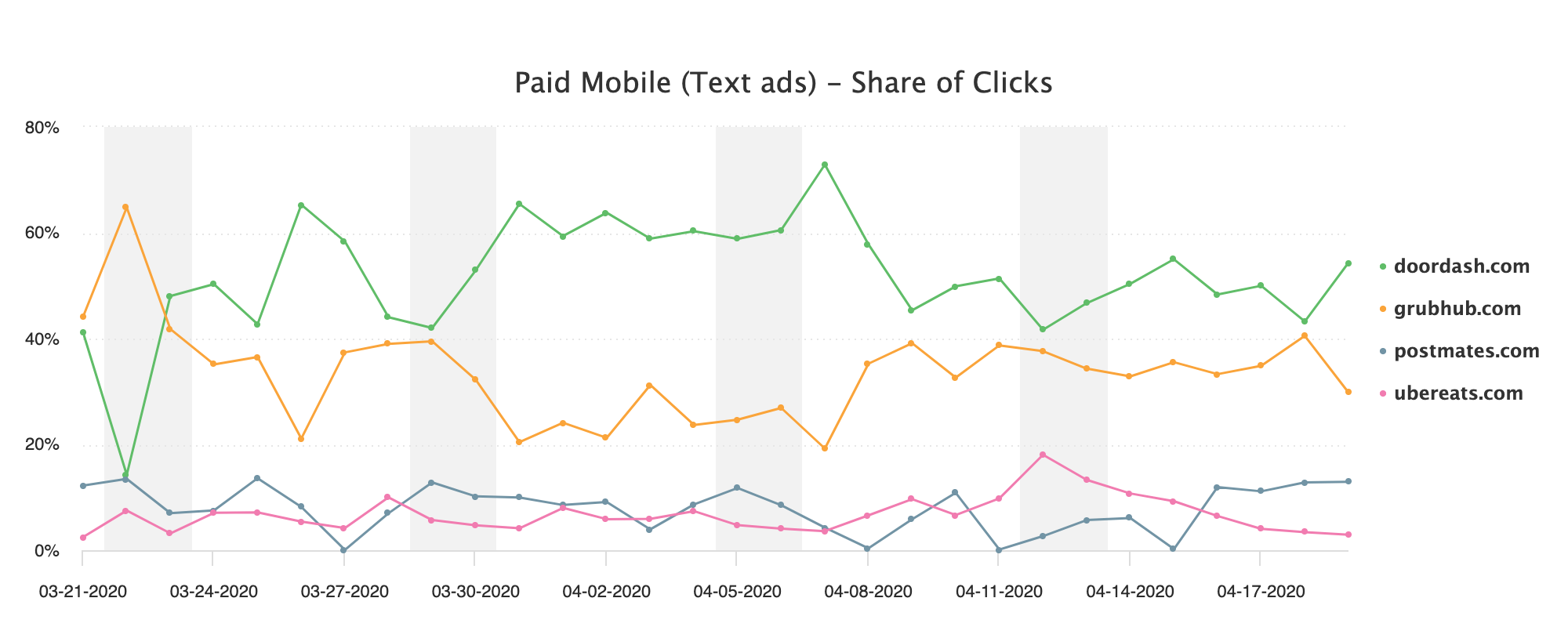 So, what does this mean for you?
Having alway-on competitive intelligence that tracks variable market trends is valuable in these uncertain times. When you need to stand out amongst your competition, using competitive insights can give you that edge. 
With every up, there's a down, and with every down, there's an opportunity to push through the uncertainty and gain some competitive clarity. 
Transparency is key. Transparent data that allows you to reach audiences more efficiently in search can help save time and money in the long run.
If your business has been affected by COVID-19 and you need help with your search strategy, we're here to help.