On the coronavirus crisis
Tom: How is your agency responding to the coronavirus situation? How are you advising and helping clients at this challenging time?
Erika: Now more than ever, as opportunities and risks are appearing almost daily, advertisers and agencies need visibility on competitor behaviour.
We are adapting and providing as much information as possible to our clients. We are in close contact with Google to understand trends and opportunities. Additionally, we are understanding how our clients' businesses are affected and defining how ROAST can help them.
With new government recommendations being updated so often, we are constantly providing insights on search behaviour and advising our clients on the best routes to adapt.
Tom: Aside from the coronavirus, what are some of your wider challenges this year?
Erika: Across most of our client accounts, we've been seeing an increase in competition and higher CPCs in paid search. This is because, from an organic perspective, Google is increasing the number of Search Engine Results Pages (SERPs) and decreasing the number of ads for some searches. With the automated solutions Google is now offering, more and more smaller and medium-sized businesses are managing to run their paid search campaigns in-house. The challenge for us as a digital agency is to demonstrate our value as a partner. 
On clients moving in-house
Tom: Have you had to shift your offer in response to clients taking paid search in-house?
Erika: We work as a partner with our clients. We strive to understand their business needs and help them automate and be more efficient than they can be on their own. Many clients don't have big Marketing or PPC teams to run their campaigns in the most efficient way. They need our help with automated scripts for repetitive tests and solutions to help with these tests. 
We add value to clients by not only looking at paid media conversions or traffic, but also at the whole 360 customer journey, to try to identify opportunities to optimize results across the board. If they're not seeing the desired results from a particular campaign, it may not be because of a high CPC. The problem could actually be that they're losing customers at one particular step in the buying journey. So instead of recommending that they pump more budget into paid search, we may advise them to focus more on their user experience instead.
Many of our clients feel we're a part of their team, not just an agency. 
On automation vs. skills
Tom: What do you look for in your team?
Erika: The level of technical knowledge you need to get into paid search now is very high. Scripting and coding are becoming more and more important, in today's automated world. The challenge for the team is keeping up to date with the latest changes, new products and automation tools. Clients are usually not aware of these products, so it's our role to test them and apply learnings from the process.
Through training, we equip our teams with a broad spectrum of skills and the ability to find efficiencies in an extremely competitive market. 
On the future of search
Tom: What do you think the future of search looks like?
Erika: Paid search is going to continue to get more and more competitive. It will become more democratised through automation, and more businesses will be able to use it. On top of that, Google will continue creating new SERPs all the time, so we'll not only be competing with other advertisers but also with the organic space. 
There will be more and more integration with other channels, such as Facebook attribution and Google Analytics, and more cross-channel analysis and automation.
Tom: How do you feel about giving over more and more control to Google? Do you trust the model? 
Erika: It's all about understanding the needs of clients and testing the different smart bidding options. Automation works 80% of the time for most clients, but it's not something that works for everyone.
One example is a travel company offering trips for both Europe and Dubai, who want to prioritise and push Dubai trips. They do not have a CRM integration with Google and can only track conversions rather than revenue. Additionally, leads from across the website fall under the same conversion on Google Ads, which means they cannot create specific destination conversions. When using smart bidding, Google will see a lot of conversions coming from the EU for Europe trips as this is more affordable, and they will prioritise the EU campaigns instead. In this case, the smart-bidding is forcing you to go in one direction when your client won't benefit – it won't work for them. 
On competitive intelligence
Tom: How do you use competitive intelligence to inform your search strategy?
Erika: We use Adthena to help our clients find areas where it's less competitive for them, in terms of keywords and impression share. In life insurance, for example, it's very important to keep an eye on what competitors are offering in their ad copy when customers sign up. That way we can make sure our client's copy and call to action are competitive enough to cut through.
Tom: How can Adthena help you and your clients more in the future?
Erika: I actually wish we were using Adthena on behalf of more of our clients. It's a really valuable tool for us to understand industry trends and insights, especially in specific sectors such as travel and insurance.  
Being able to track what competitors are offering – from visibility on ad copy to understanding which competitors are increasing their investment in digital – informs our strategy for the client as to which direction they should be going. 
One of the challenges, as competition gets tougher and clients need to increase their media spend, is that it gets more difficult to recommend an additional budget for solutions like Adthena, even though it delivers ROI back to the client.
………
ROAST is a full-service digital agency based in London. Fiercely independent, they transform clients' fortunes through insightful consumer understanding. weareroast.com
To find out more about how Adthena's competitive intelligence can help you deliver value to your clients, take a look at our solutions or get in touch with tom.larkin@adthena.com
More in this digital agency series:
………
Read more agency insights and download the guide 'Brand Crashers: how to get rid of them and what to do next' on our hub: Paid Search Insights for Agencies.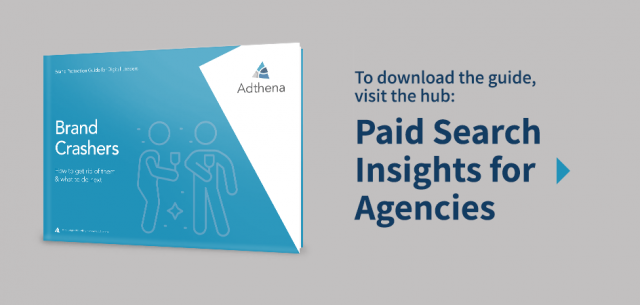 If your business has been affected by Coronavirus and you're uncertain about how to move forward with your search strategy, we're here to help.