Competing in paid search against your own sister domains or affiliates is always something you want to avoid. It can inflate CPCs and waste money, because you're all essentially on the same team. 
Adthena has just launched a new way to address this problem and save money by eliminating even more wasted ad spend. It's a new whitelisting feature within our Brand Activator tool, and it gives you even more precise control over your paid search spend.
First, a Brand Activator recap 
Brand Activator absolutely needs to be on your radar, especially if you advertise in a volatile search market or have a high volume of terms to manage. Here's why.
Brand Activator is a fully automated tool for eliminating wasted ad spend on "Lone Ranger" search terms. Lone Rangers are brand terms for which you rank #1 in both paid and organic rankings and where no other competitor is bidding. They are terms you can win without spending a cent, so continuing to bid is a waste of money. 
Unfortunately, many brands often do keep bidding and throw millions of dollars down the drain each year, because manually identifying Lone Rangers is incredibly difficult without time-consuming human intervention. Brand Activator automatically pauses spending and then automatically restarts bidding if a competitor re-enters the auction. Read the blog to find out how this automation ensures you won't waste any more ad budget
Our Brand Activator customer savings are often immediate and substantial — up to 20% of their entire brand search spend. Avanti West Coast, for example, saved an average of 32% each month on brand terms and increased overall revenue by 13% by reinvesting in generics.
Brand Activator can save you even more with whitelisting
With Brand Activator's new whitelisting feature, you can open up even more opportunities to save. Whitelisting lets you exempt certain "friendly" domains from being considered competitors.
Here's an example. Let's say for Term X, you are the top organic listing and #2 in paid search. Normally, Brand Activator would not see this as a Lone Ranger situation, because you are not winning the auction. But what if that #1 paid bidder is a domain you own and the only competitor for the term? Or what if it's a key affiliate partner? In those cases, a win for them is a win for you, so why keep bidding? 
It's easy to see how this would pay off for automotive brands, for example, who don't want to bid against their own dealerships for clicks. A pharmaceutical brand doesn't need to pay for ads when an outlet like Amazon or Walmart.com is winning for them. And an airline might want to whitelist an aggregator like Expedia for certain terms. 
In any vertical, whitelisting lets you designate friendly domains or bidders so that Brand Activator doesn't see them as rivals in paid search results. If a whitelisted domain is the only other bidder for a term, Brand Activator identifies it as a Lone Ranger scenario and pauses your ad. The whitelisted bidder's ad is unaffected (so it can keep driving conversions), and if a true rival re-enters the auction, Brand Activator automatically turns your ad back on. 
Whitelisting gives you even more power to conserve ad budget by expanding the definition of a Lone Ranger for your brand and recapturing more wasted spend. 
Here's how it works in the platform
The new whitelisting feature is accessed from the Settings menu on the Brand Activator dashboard.

Within Settings, you'll see the option for "Whitelisted domains." You can identify as many friendly domains as you wish (most brands will have just a handful). When Brand Activator detects that: 
1) one of these domains is winning in paid search; 
2) you have the top organic spot, and; 
3) no other competitors are bidding, 
…then your ads will pause until that situation changes.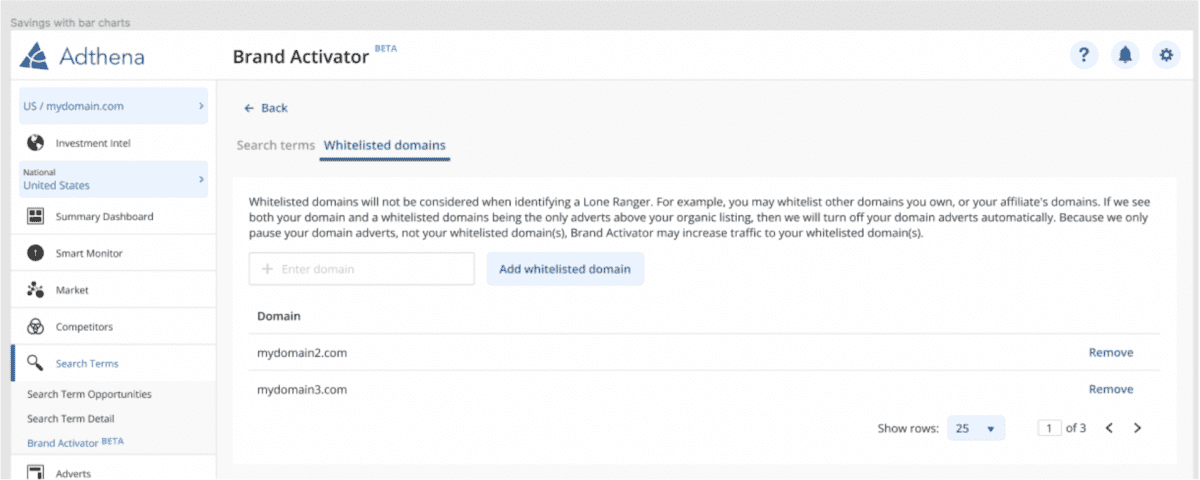 Get a 24X ROI with Brand Activator 
In any economic climate, no advertiser can afford to simply throw away budget unnecessarily. Brand Activator with the new whitelisting feature offers an easy, no-risk way to stop bidding on Lone Rangers and optimize your PPC budget without sacrificing market share.
Brand Activator routinely saves advertisers up to 20% on brand search spending, delivering an average payback of 24X. With whitelisting, those savings can grow even more. 
Get started with our whitelisting feature today by requesting a demo.