Who's setting the pace for fitness apparel in search?
Fitness habits globally have been turned upside-down by stay-at-home orders and social distancing. Gyms and yoga studios are closed and sports leagues are paused, so we've taken our workouts to our living rooms. This has led to an influx in buying home gym equipment and using fitness apps in record numbers. 
While we may be feeling the (workout) pain at home, many fashion retailers are feeling the pain on their bottom line. Yet, one space of flourishing search activity has been fitness apparel. While consumers have curtailed purchases of dressy outfits and office attire (no clubs to visit, no office to go to), online retailers have focused instead on meeting the need for yoga pants and wicking tees. 
Apparel brands jockey for position
In search, this trend has created some interesting shifts in strategy. Lululemon has taken the driver's seat in paid text ads, causing Adidas' share of clicks to steadily decrease in June. It's likely that Lululemon recognized the opportunity at hand and maximized on capturing the at-home exerciser's needs.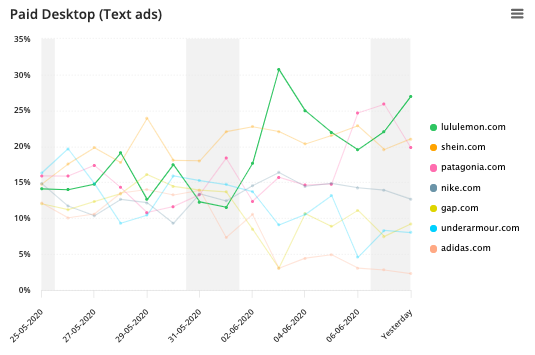 Gap is actively leveraging their fitness line too; however, shifting their focus to PLAs and gaining clickshare there vs. text ads. Based on the data, it appears Gap is focusing more of their resources on improving PLA performance. They are doing quite well, dominating about 50% of clickshare in the space.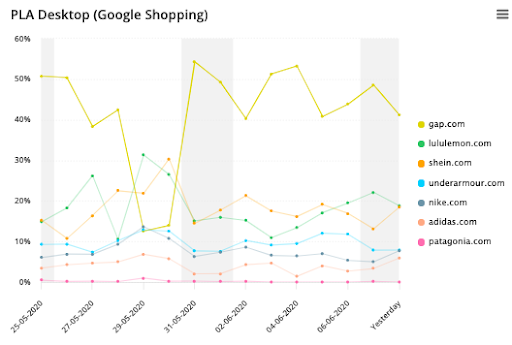 With search intelligence, you know when to make your move
For brands trying to improve search performance and drive site traffic, competitive monitoring is crucial to understand gaps or weaknesses in competitor strategy. It's the key to identifying niches you can exploit within a category that your rivals might not be targeting as aggressively. With granular search intelligence, brands can spot threats and opportunities in a very targeted way. Looking specifically at women's athletic apparel, men's shorts, or running shoes, for example, you're able to better understand performance and competitor activity within a specific product segment.
So, where are the opportunities or emerging threats in your search landscape right now? Adthena has the insight you need. Request a demo to find out how we can help.