As Covid-19 continues to sweep across the globe, one facet of daily life that remains constant is the need for food and everyday items. This takes on added importance for parents with young children. As it becomes trickier for parents to follow a purchase routine at the local supermarket, many parents will turn to online retailers to ensure that they are fully stocked up on essential kids items. With that in mind, let's take a look into how advertisers have reacted to this phenomenon.
To dissect this space in a meaningful way, we're going to break it up into two core segments: Nappies and Baby Wipes…
Nappies & Baby Wipes – the historical landscape
The charts below look at the total paid performance of advertisers within the generic nappies and baby wipes sectors prior to the Covid outbreak. Coles were, by far, the dominant advertiser within this space. Below that, there were a number of advertisers all competing for second spot. Large bricks-and-mortar retailers including Woolworths, Big W and Aldi all sat within the top 10.
Below: Coles held a large dominance over other advertisers on generic "nappies" and "baby wipes" search terms: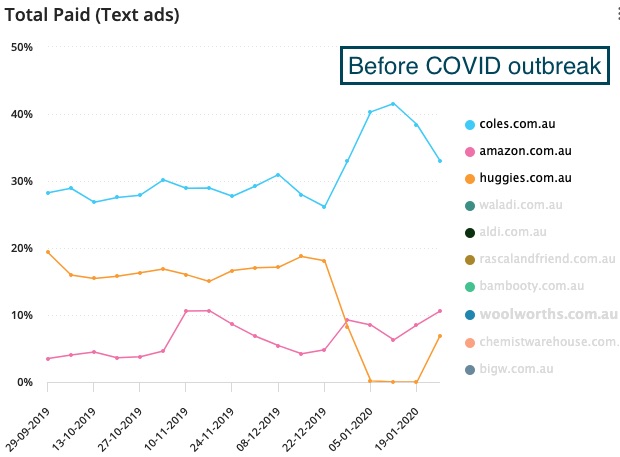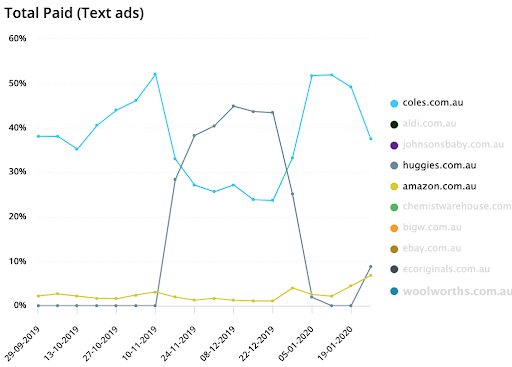 Nappies – the landscape today
One of the most interesting occurrences to come from the Covid-19 outbreak is the stockpiling of everyday items. This started happening relatively quickly within the Australian market and as such, all of the large bricks-and-mortar retailers have seen their in-store stock depleted. Consumers have found themselves being forced to turn to online suppliers to ensure they have everything that their newborn requires. 
From the chart below, we can see that Coles have decided to dramatically reduce their advertising output on these terms and other large retailers have dropped entirely out of the top 10. Sensing an opportunity, Amazon have really made the most of this and ensured that they are going to be the company to fill that void. Ramping up their spend to ensure consumers now see Amazon as the go-to for their baby needs. Baby Bunting, another online retailer, have also climbed to take advantage of this phenomenon.
Below: As Coles drop out of the market, Amazon take advantage.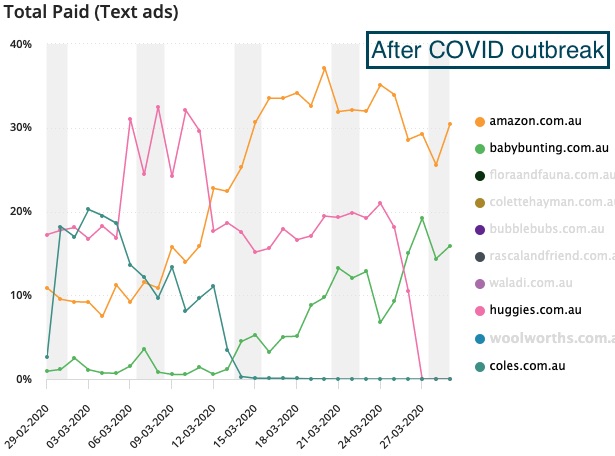 One interesting point here too is that Huggies have completely dropped out of the auction as well – this is perhaps driven by the fact that their website funnels consumers to their retail partners (the likes of Coles and Woollies) who are known to be experiencing severe stock issues. Perhaps this rendered their conversion process null and void, and their advertising strategy had to go into hibernation.
Not only is this a short-term win for Amazon, it is also a big opportunity for changing the long-term purchasing habits of consumers. If this proves to be a successful strategy, Amazon will have an entirely new customer base to market to and will want to ensure that they now see Amazon as their first option for purchasing baby related products
Baby Wipes – the landscape today
The baby wipes landscape initially looks very similar to nappies. As in-store stock begins to dwindle, Coles once again drop out of the market, paving the way for pure-play online retailers to take advantage. Amazon is once again the first mover climbing aggressively to fill the void for consumers. However, relatively quickly, they also completely drop out of the market, making way for other online retailers (Kogan, eBay and Baby Bunting) to continue their growth to form a three-way battle for the baby wipes market.
Below: a three-way battle for the baby wipes market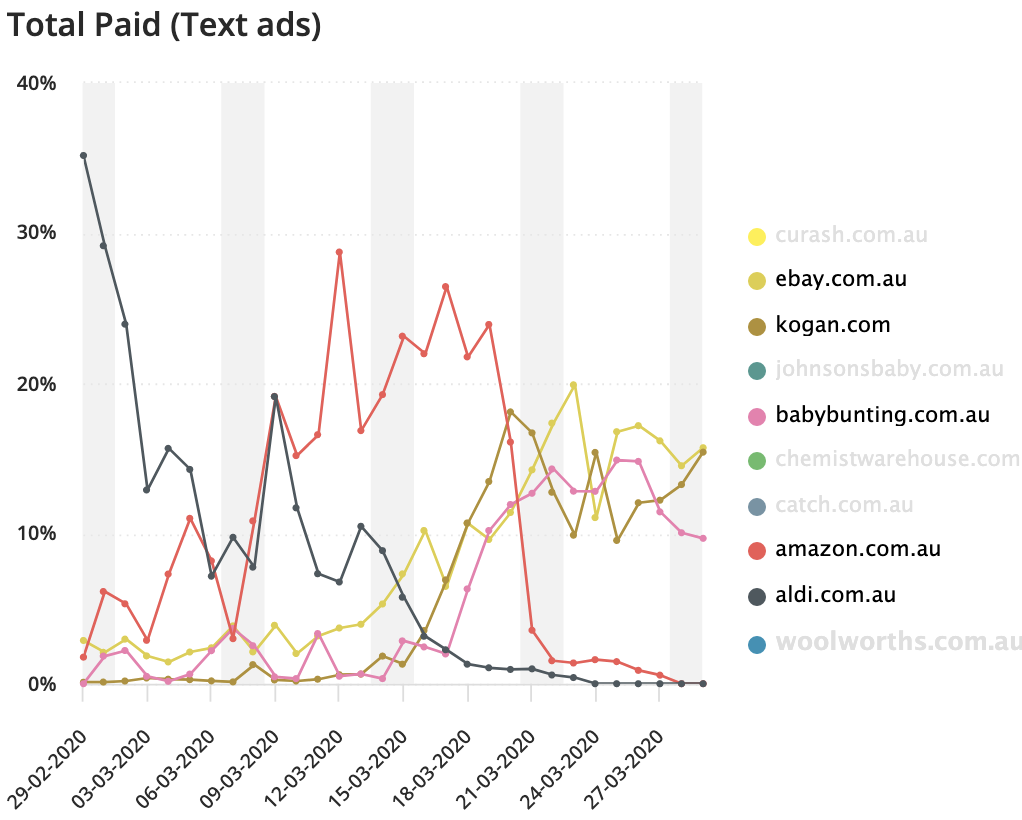 Summary
How will your business respond to these market insights in the current state of flux? Competitive intelligence can help you assess the paid search landscape every day and clearly see what's going on in your market at a deeper level. That means you can make quicker, more effective decisions to defend your share or take advantage of new opportunities and gaps in the market. 
If your business has been affected by Coronavirus and you're uncertain about how to move forward with your search strategy, we're here to help.