If you want to prevent competitors from stealing your legal cases, now's the time to act. 
Our research shows that US law firms are having problems when it comes to brand infringements in search:
Competitors are trying to steal legal cases by bidding on rivals firms' brand terms on Google Ads.

Competitors are using rival firms' brand names in paid search ad copy. 
And this issue proves to not only affect firms on a state level, but a national one too. 
Read on to discover three ways you can prevent all unwanted threats and take back control of your trademark.
1. Track competitor strategy 
To stay on top of your game in search, it's incredibly important to track and see how your strategy compares against competitors in your market. This will help you understand what search terms are allowing competitors to overtake others on search results.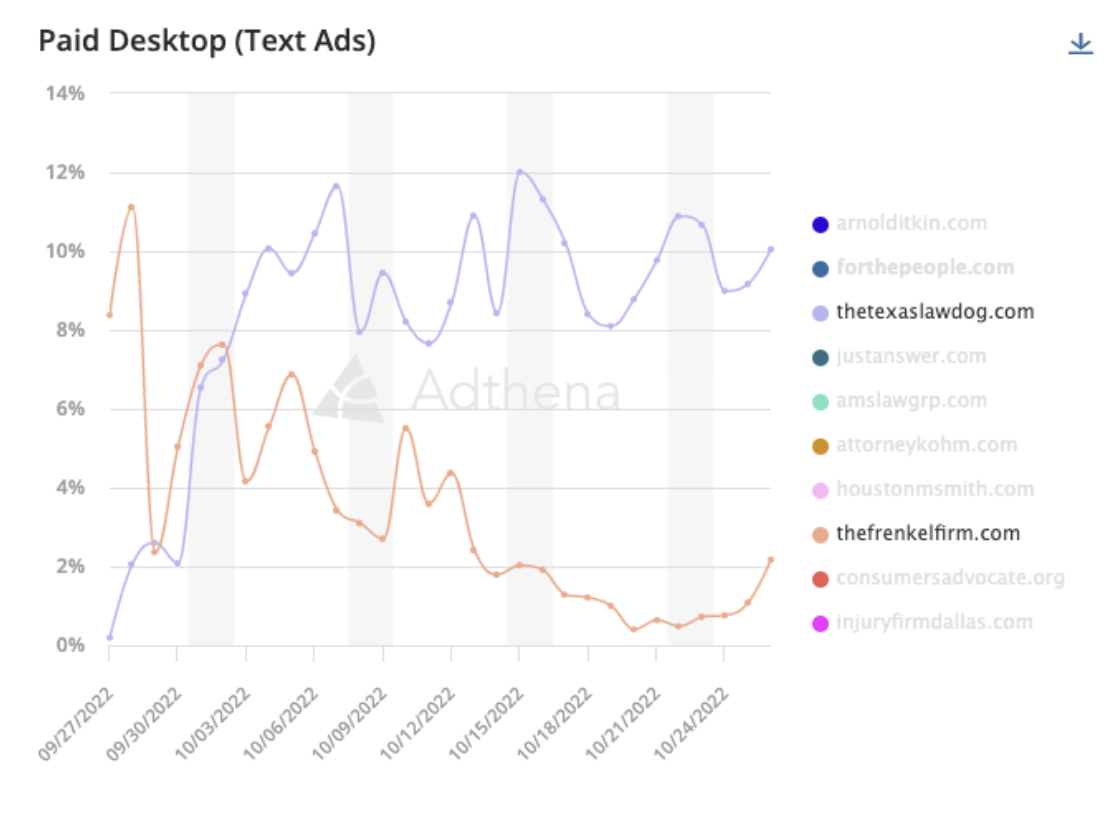 Above: Adthena dashboard displaying share of clicks across internal terms (30 days) 
The above graph is an example of Adthena's view into Share of Clicks. The Frenkel Firm had a major drop in share of clicks over the span of 30 days as The Texas Law Dog entered the market and stole their clicks, allowing them to shoot up from 2% to 10% in just one day. As The Frenkel Firm continued to drop after their major plummet, The Texas Law Dog made its way to the top Paid Desktop, beating The Frenkel Firm by a solid 8%. 
Adthena customers are able to see the change in clicks across different companies over a specific timeline. This gives insight into who is and isn't excelling with their clicks and how to change their game plan based on competitor shifts in strategy. 
The good news is that every strategy is different; there isn't one strategy that works for all cases. We can offer a tailored approach to your specific needs within certain spaces.  
2. Snatch those search terms before your competitors
If you see an opportunity, don't hesitate. Are certain search terms increasing in clicks? Snatch them before your competitors do.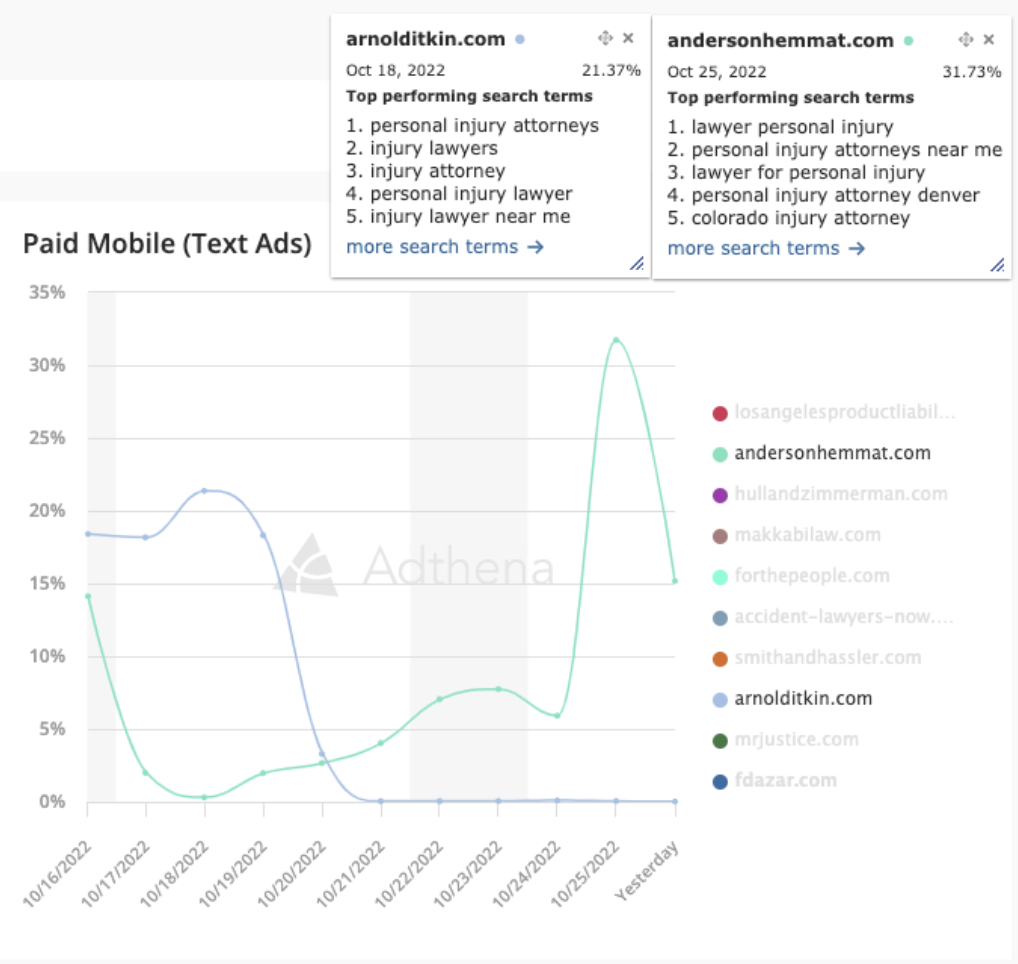 Above: share of clicks across personal injury generic (2 weeks)
Arnold Itkin was taking the lead in search by bidding on the top performing search terms between Oct. 16 – Oct. 20. But then suddenly, in only one day, a huge drop in share of clicks occurred, allowing Anderson Hemmat to pick up pace because of the search terms they were bidding on. 
The key here is to recognize 1) when the market slows down and 2) opportunities when competition drops out. Always be on the lookout for when the market does pick up – blink once and it could cost you valuable clicks. But don't worry, Adthena's Smart Monitor will automatically alert you to key changes in your market so you can take action quickly.
Arnold Itkin stayed at the bottom compared to its competitors because they weren't aware of that spike in performance on the search term: "lawyer personal injury". Again, the result is costly. 
Side note: it's important to see what search terms are worth bidding on and where to save money or reinvest in underperforming areas. In other words, don't put all your eggs in one basket. 
3. Track, prevent, dominate
Competitors keep bidding on our search terms and stealing our top spot. If only there was a way to stop this! We hear ya, and we have an answer…
Adthena's Infringement Tracker can help you see which companies are bidding on other law firms' search terms and giving them top results in paid ads. But how does that help you manage threats? Our data gives you this intel so you can take swift action, manage your strategy around competitors' bids, and return to your rightful place in the top paid ad.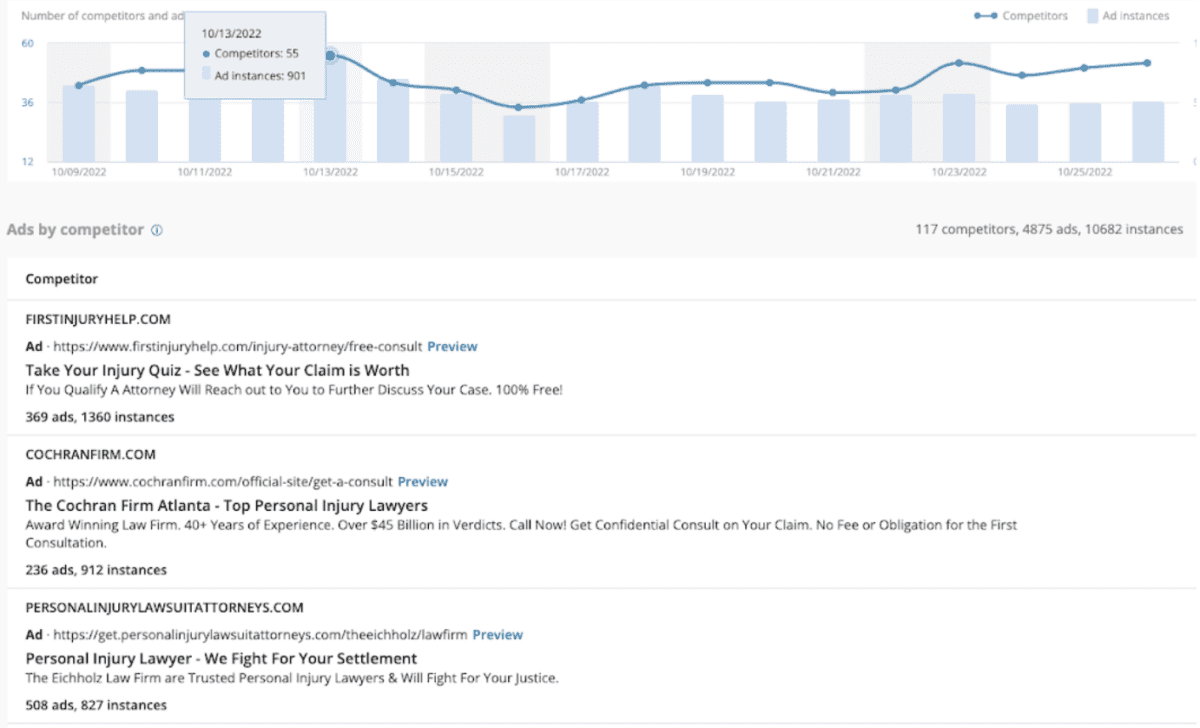 Above: brand infringements for a US law firm (6 weeks) 
A US law firm saw many rivals bidding on their brand, so they reached out to Adthena and used our platform to monitor who was bidding on their brand. The result was staggering: in their first month of using Adthena, they reduced CPCs by 85%.
But wait, there's more…
Adthena's new feature, Auto Takedown, was created for brands like you who are tired of losing control of their trademark. When expanding into new markets, it can be difficult to fend off rivals who are using your branded terms, trademarks and ad copy in search. 
It allows you to monitor all brand infringements, guard against competitors and maximize Return on Ad Spend (ROAS). But you haven't heard the best part… The entire process is fully automated so you can quickly respond to trademark infringements and report them directly to Google for removal, all in the click of a button 
Reach out to us
To find out more, reach out to julia.hutt@adthena.com or request a demo today.