Banking ads have to be conservative, safe, and banker-ly, right? Yes and no, according to Adthena's analysis of copy trends in the sector. Yes, there are still a lot of regulatory rules to comply with, but no you don't have to talk like a prim financial robot. In fact, you may lose out if you do.
With a new generation of earners and savers entering the market for banks, investment opportunities, and homeownership, banking advertisers are re-thinking how they communicate with consumers. The kind of language traditionally used in ads by financial institutions is becoming less effective on a generation of customers that care more that you understand them than the blue blood of your institution. So if you're not paying attention to ad copy, search terms, and messaging, you're going to be left behind.
Adthena data shows that successful ad language is changing across paid search as financial institutions are looking to appeal to the Millennial demographic, and some firms are more agile than others.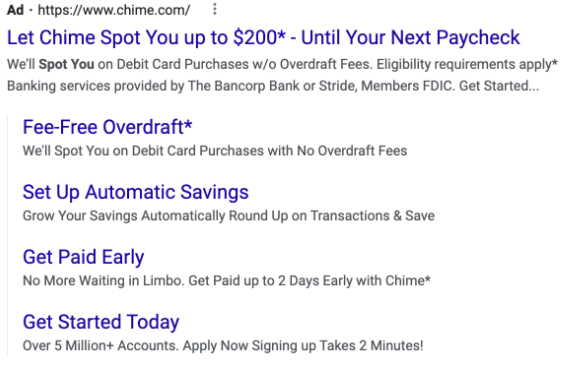 A fantastic example is Chime's friendly "spot you $200" PPC campaign, which became one of the top-performing ads in the banking category by targeting a younger audience with a refreshingly conversational tone.

And it's not just the cool-kid Fintechs that can win with the right messaging. Stalwart Bank of America is holding its own against newer players like N26 and Revolut by promoting its Advantage SafeBalance banking product with messaging that keeps credit-minded young depositors in mind.
Understanding the language landscape
Consumers young and old have more banking choices than ever, and new fintech organizations are coming onto the scene every day. To stay relevant with your audience, you need to understand and use the language that resonates—whether it's search terms, ad copy, or offer messaging. Just as important, you need to monitor what your competitors are doing and saying so you don't get scooped by a rival's messaging strategy. 
With the right competitive intelligence and creative insights, you can maintain a PPC presence that speaks directly to your banking audience and gets heard above the crowd noise. Check out how the money transfer app OFX did it, here.
Find your voice with these four Adthena tools:
Ready to communicate to your customers more effectively?
Reach out to me at niko.smithvicinaiz@adthena.com, and we'll make sure you're speaking the right language.