-By Ian O'Rourke, CEO, Adthena
Life as we know it has changed beyond all recognition this year. Amidst the coronavirus pandemic, travel has been heavily restricted; working from home has become the norm; and some businesses are facing struggles such as product shortages. As a business leader, I've been through both the 2001 dotcom crash, as well as the more serious 2008 financial crisis – and what I can tell you is that tough times do come to an end. 
While many of us are not on the front line of saving lives, we do have a responsibility to save livelihoods. Businesses need to go on, and CMOs and marketing leaders need to make good decisions, and manage through the downturn and subsequent rebound. 
The business and marketing strategies that you carefully planned for 2020 have likely been 'thrown out of the window' by now, at least in part. So how can Search Intelligence help inform your new 2020 strategy for the rest of the year and beyond?
Our vision at Adthena is to create a world of search transparency, where precise ads connect marketers to consumers. Given our unique position, with visibility of data across a Whole Market View of multiple industries – I wanted to share some search insights we've observed, with the hope that they enable you to make better decisions for your businesses. 
In this blog, we'll look at some of the major market changes that coronavirus has caused and explore how key global brands are addressing these fluctuations and using their SEM strategy to take back control.
The Responders
Firstly, let's look at some examples of businesses and industries that have been impacted by significant changes due to the virus, and are having to respond to ensure the success of their organizations.
Retail

In the above data visualization from the Adthena platform, we can see that Amazon dropped out of many categories and geographies as we went into lockdown. This opened up opportunities for other competing businesses. With the closure of bricks and mortar stores, the focus for retail has gone entirely online and rivals, such as Walmart, are able to capitalise on Amazon's absence.
Having access to this level of market-leading Search Intelligence and insights into your verticals, can help you spot competitive gaps and turn them into opportunities.
Banking

We've seen some significant changes on an almost daily basis in the banking sector. Some major players like Virgin and First Direct have either dropped out or have seriously reduced their spend. In their place, others such as Halifax are on the rise – perhaps willing to expand their lending in certain categories of mortgages, with interest rates at an all-time low and government stimulus coming into play.
The beneficiaries
Next, we look at some examples of businesses that are seeing a silver lining in the current crisis and are, in fact, benefiting from or taking advantage of market changes.
Collaboration Software 
We're all acutely aware that many businesses are operating with all staff working from home at the moment. In line with this, we're seeing a real increase in search volumes and spend around the keyword term 'collaboration software'. 
One of the top providers at the moment, Zoom, have taken the decision to pull out of paid search altogether. Their strategy appears to be to make the most of their surge in popularity and rely on their brand and organic traffic for now, whilst pocketing paid search budgets for later.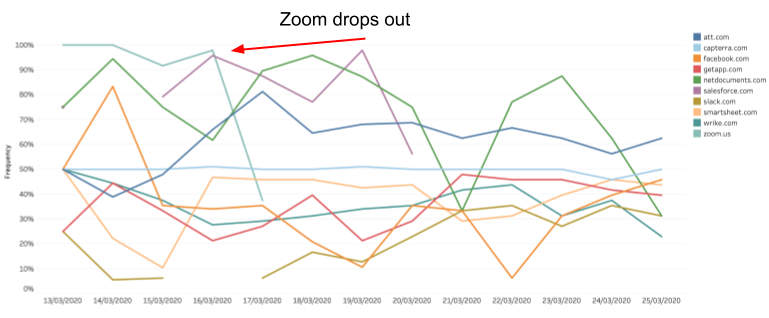 Zoom's absence has created some gaps in the market and we're seeing other players trying to take their space. However, with Slack dropping in and out of the auction intermittently and Salesforce exiting completely, they appear to be struggling to get a foothold.
Homeschooling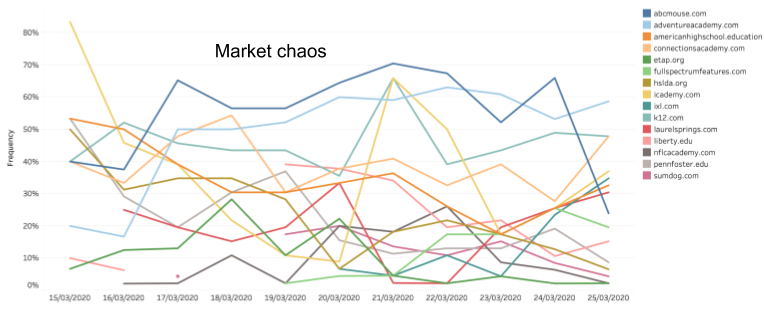 With schools closed in many parts of the world, we have seen the search term 'homeschooling' pick up significantly. As you can see in the above chart, with over 12 new entrants coming into this space, the market is in chaos. When an auction gets as busy as this, there's usually a mixed bag of messages and products entering the market, so the types of brands coming into the auction will be very varied. 
Summary
Although there is likely to be a significant downturn in advertising spend overall during this time of change, SEM is the most resilient channel and will likely be an essential lever for a fast recovery. In our recent poll, 38% of digital marketers reported that their paid search spending strategy had either maintained or increased. Only 17% had taken the decision to remove all budgets from SEM as a result of COVID-19 events.
Most marketers are currently being asked what their strategies are for capitalising on changes or maintaining their level of performance. In our poll, the most popular question that 79% of digital marketers wanted to know the answer to, was 'Are there new gaps in my competitive landscape, given the changes taking place?'
Our own experience at Adthena is that our clients are very actively engaged with our platform, data and services right now. Engagement tends to take two forms: 1. Understanding their whole market landscape; 2. Setting up automated smart alerting for competitor changes and market opportunity.
Having market-leading Search Intelligence on your side will arm you with the intel you need about what's happening within your competitive set, to be able to present your strategic response to the business and secure the confidence of senior leaders.
Five key takeaways
Stay positive.

Market opportunities do exist, however you'll need to segment your data to a granular level to be able to spot them.

Prepare for the bounce-back.

Only 25% of marketers are actually adjusting their budgets for H2 2020. Leverage your brand now and be prepared for the bounce back. 

Benchmark your market share

.

It's critically important that you benchmark your market share now

to ensure your next move is the best one.

Don't rely on guesswork to drive your success. 

Stay on top of ad copy.

 Ad copy is evolving rapidly in markets such as food delivery and footwear. You need to stay on top of copy and offers on a daily basis to keep up. Ensure the sentiments are right and your messaging is on point and you'll boost your brand perception in the process.

Study your global and local markets.

Pay attention to what's happening in global markets (where a downturn is yet to appear) as well as local markets.

You'll stay ahead of the curve and keep your search campaigns moving in the right direction to get the best results from your investments. 
If your business has been affected by COVID-19 and you need help with your search strategy, we're here to help.
………………….
Read more insights and download the guide 'How to Position the Strategic Power of Search in the Boardroom' on our Search intel for the C-suite hub.