We frequently see our clients pause bidding on brand terms with low competition as a way to reduce costs and reallocate to generics. After all, goes the thinking, those brand terms usually do well on their own and show a strong organic presence anyway. But that can be a costly mistake.
Clients who rely too heavily on organic performance and optimistically invest in generic terms are giving up the most valuable, high-intent clicks from consumers who are already searching for their brands and are close to conversion.
There's no universal formula, and every advertiser will have a sweet spot when it comes to balancing generics and owned terms. But there are definitely some best practices to follow to help you get the most from all your bids, and accurate data is essential.
Earlier this year, in fact, we helped Volkswagen Spain achieve a 13% increase in conversions by using our data to rebalance its bidding strategy.
"Adthena is far more than just a data tool. It's an insight platform that has revealed countless opportunities to improve our accounts. By using Adthena, we can identify where competitors are encroaching on our market and quickly take action. At the end of the day, Adthena enables us to make strategic recommendations that help move the needle for our clients in a very important way."

– Laia Pérez Puigdomènech, SEM, PPC and Social Specialist, PHD
Three key steps to full-funnel term optimization
First, let's define a few terms, using electronics as an example: 
Generics =

Terms that have no brand linkage at all, such as "cheap laptop." 

Brand generics =

Terms that pair a brand term and a generic term, such as "Apple laptop." Sometimes specific models of products fall into this category, eg. "MacBook Pro 2020."

Pure brand

= Terms that are wholly brand-specific, such as "MacBook."
Step 1: Map out a plan with custom analysis.
Your first step to balancing your search term mix will be to map each of the types of terms to your industry's buyer journey. For example, in the electronics industry, a customer searching for 'laptop' is clearly in the awareness stage, while a search for something very specific like 'macbook pro 2020' is further down the funnel and likely zeroing in on a purchase.
Our Paid vs. Organic Analysis is a popular report because it provides a sense of the buyer journey for a client's specific offering, along with opportunities to reallocate budget.

Step 2: Automate your monitoring with Smart Monitor.
Tracking the impact of any changes you make is vital. You'll want to create search term groups to reflect your generic, brand generic, and pure brand terms. You can then use Adthena's Smart Monitor to set up proactive alerts should your share of clicks, impressions, or spend change, or if a competitor swoops in on your terms.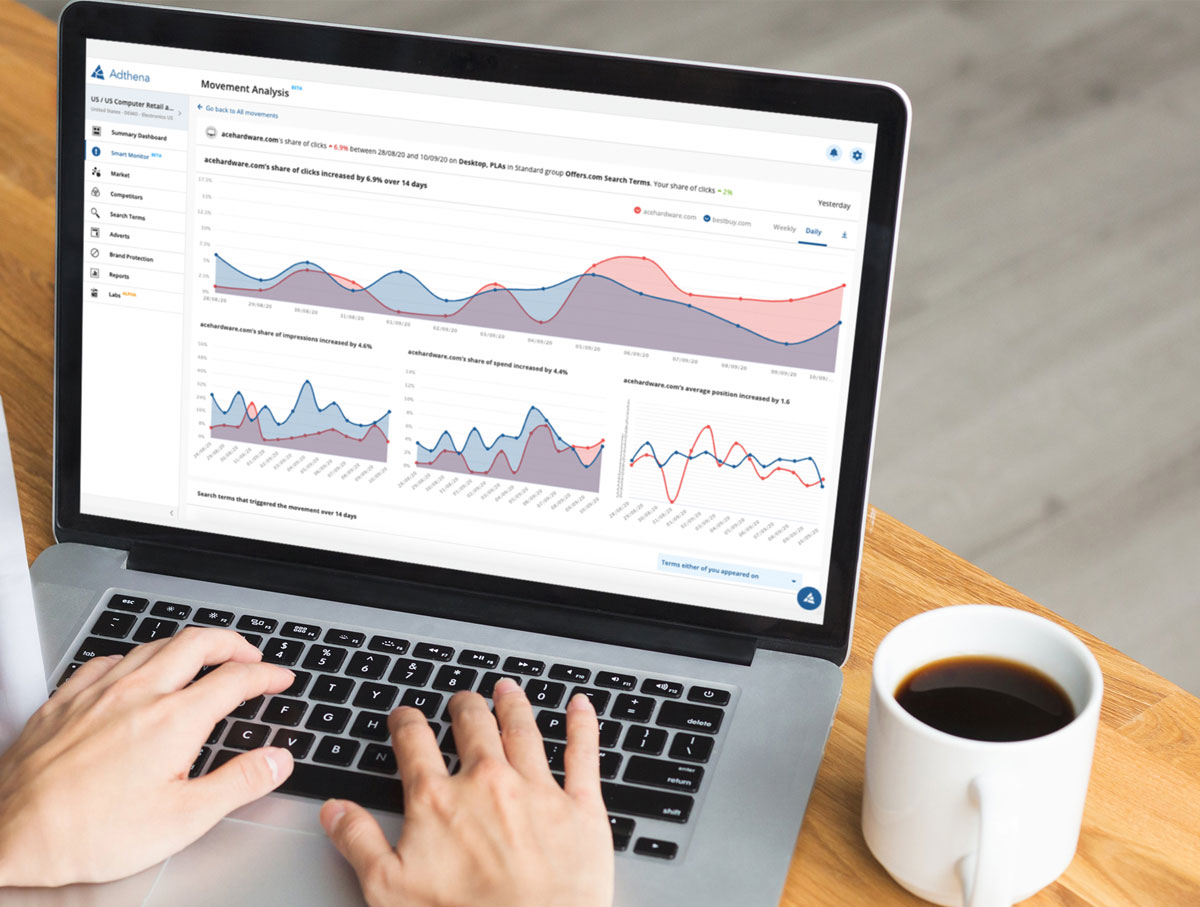 Step 3: Stay tuned in with Market Trends & Share
The paid search landscape is a dynamic thing. And you can expect to make adjustments over time as markets, competitors, and consumer behaviors shift. A feature like Market Trends lets you monitor long-term changes, and with detailed Market Share visualizations for each search term group, you can stay on top of performance in each of your brand, brand generic, and generic groups. 
The important thing at every step is to base decisions on data, not guesswork. Your performance data will tell you when you have the right mix and when that mix needs to be adjusted.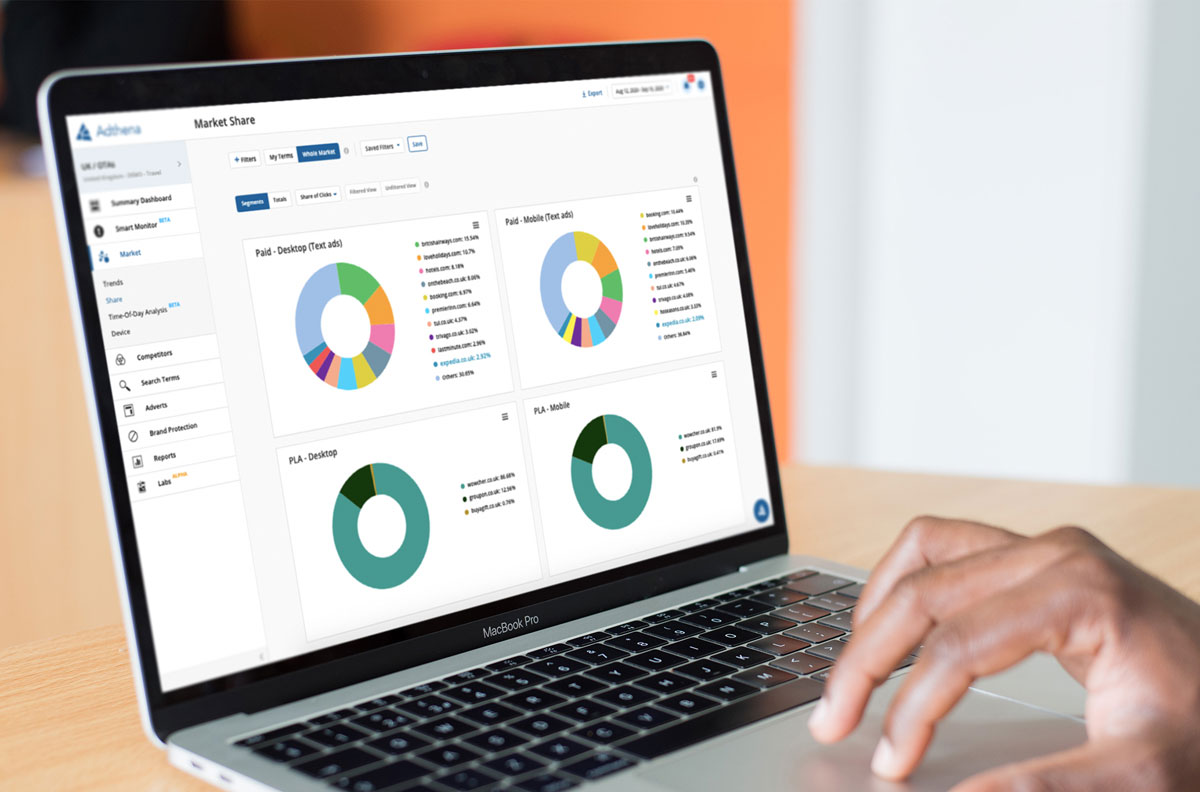 A case in point: Volkswagen Spain 
It's one of the most recognized brands on the planet, so it makes sense that Volkswagen Spain might focus its paid investments on priority audiences and leave the lower funnel to organic performance. The company's agency, however, had a hunch that its client might be missing out on brand-term opportunities: but they needed data to back up any strategy shift.
The agency, PHD, used Smart Monitor, Market Trends, and Market Share to evaluate the client's mix, present a data-backed gameplan, and then carefully monitor the results over time. 
The approach paid off for Volkswagen Spain:
13% increase in conversions across total brand campaigns 

30% decrease in CPA across total brand campaigns 

87% lower CPC relative to overall account performance 

167% higher CTR relative to overall account performance 

98% impression share regained through brand bidding 
To learn more about how to optimize your brand vs. generic splits, reach out to your Customer Success Manager or Account Manager today.