Retailers aren't the only ones who have been prepping for the holiday shopping season. Credit card companies have a lot to gain during the end-of-year peak holiday sales period when consumers are relying heavily on plastic and looking for the best rates and rewards.
To create our latest CMO Search Intelligence Report for the US Finance Industry (Q4 2019), we analyzed the full search landscape – and a clear pattern emerged for one particular credit card company in the run up to the holiday season. Discovercard.com has been steadily building share of clicks and encroaching on retail-branded terms since the start of the autumn, taking the #1 Search Engine Results Page position from a slew of well-known names.
Analysis reveals Discover's holiday blitz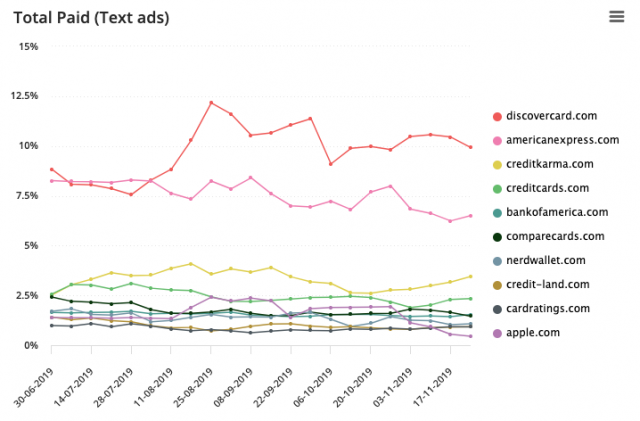 Since the end of the summer, Discovercard.com has broken away from the banking pack in terms of clickshare, rising from 8% to about 11% by mid-November. They appeared on 671 terms over that month with an estimated 8.7M impressions and 700K clicks, all while competitors' performance remained flat.
Just as important, they aggressively targeted retailer cards, poaching more than 20K clicks from "walmart credit card" in a single month and taking the #1 position for branded terms ranging from "best buy credit card" to "home depot credit card" and even "amazon credit card."
In one month, Discover has managed to capture more than 100K clicks from competitors, just in time for peak holiday spending. 
Finance search rankings for Q4 2019
To see where you stand against your competitors going into year-end, and read recommendations on how to protect your brand in search, check out the full CMO Search Intelligence Report for the US Finance Industry (Q4 2019). 
This benchmark and analysis of SEM performance for US finance brands provides overall Leaderboards for finance categories based three dimensions: Class Leadership, Market Performance and Brand Ownership. The score for each advertiser is between 0-100, with 50 being the average across all competitors. You can also request your own individual score, for example Discovercard.com scored an overall score of 81 for 4Q, putting it well above category average but only in the 15th position among competitors.
Get all the finance search market intel and insights, including the CMO Search Intelligence Report for the US Finance Industry on our new Finance CMO Search Intelligence hub