We've mapped out the 5 key actions you should take to plan your market re-entry. And the best part is – for a limited time, we're offering a complimentary Market Re-Entry report to our customers which will help you with each step. 
If you're eyeing when to jump back into the auction, then keep reading. 
1 – See who's making the biggest moves in your market
With PPC markets changing rapidly, your first step is to identify the biggest movers and shakers in your market. 
By looking at your biggest week-on-week share of click movements, you'll get a clear understanding of who is making waves in your search term groups. In our Market Re-Entry report, we also show you exactly who has entered and exited the market for that week. 
Let's see how this works with a real example. Say we're a major travel booking company that wants to monitor the market for all inclusive holidays. Using Adthena's data for the UK Travel Agency market, we've created a search term group called All-Inclusive Holidays. This custom-built search term group contains 818 search terms that represent this market, including cheap all inclusive, all inclusive caribbean and all inclusive weekend breaks UK. In short, this search term group includes all of the terms we're interested in monitoring. 
You can see that between August 26th and September 9th, two new competitors entered the all-inclusive holidays market: momondo.co.uk and bidroom.co.uk. We also see that one of our top competitors, expedia.co.uk, is steadily increasing its share of clicks. Not so fast, Expedia! With this intel, you can investigate which terms Expedia is appearing on to reclaim your clicks.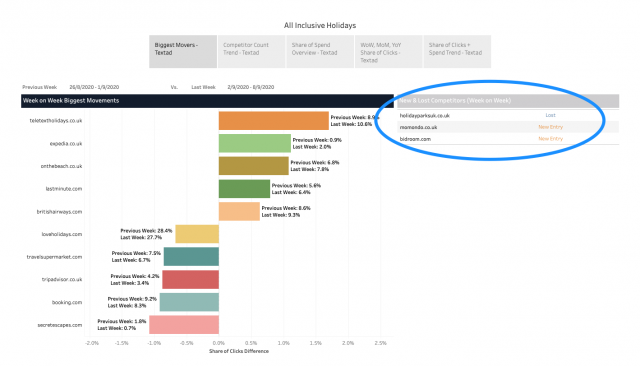 2 – Count the number of competitors advertising in your market 
Now, say you want to understand whether demand for all inclusive holidays was increasing, decreasing or staying the same. To quickly gauge whether consumer demand is bouncing back in your market, you can count the number of competitors advertising in your market, by day. 
Fortunately, you don't need to manually calculate this daily number. Our Market Re-Entry report shows you the competitor count trend so you can easily spot when the competition is heating up. In the graph below, notice how competitor count peaked on August 16th, with a grand total of 34 competitors? Perhaps this spike had to do with advertising deals for the UK's bank holiday weekend at the end of August.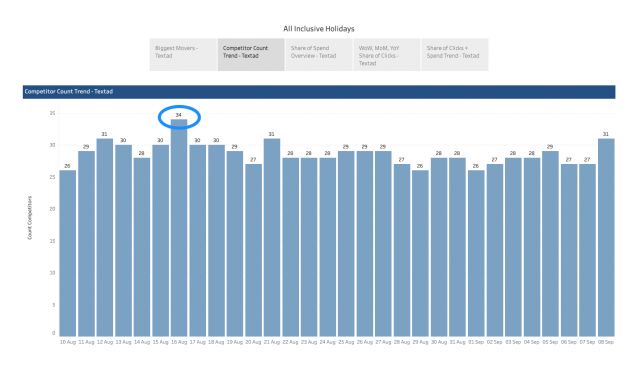 3 – Find out which competitors are maximizing their budget 
Not all keywords are created equal, and some may be eating up your budget without getting you a good slice of the click-share pie. When you re-enter the market, you want your marketing spend to be as impactful as possible – and that's why you should look at Relative Spend Efficiency (RSE).
RSE is an Adthena metric that is calculated as the ratio of share of clicks to share of spend. A high RSE means that your keywords are very efficient; you're gaining more than your fair share of clicks compared to share of spend. On the flip side, a low RSE means that the keywords you are bidding on aren't generating the corresponding level of expected clicks. The higher your RSE, the better. 
In our all inclusive holidays market, we see that firstchoice.co.uk has a very high RSE of 1.80. Their share of spend is only 0.64%, but their share of clicks is nearly double, at 1.15%. After identifying high RSE candidates (and comparing your own performance), you can add more efficient search terms to your own Google Ads campaigns.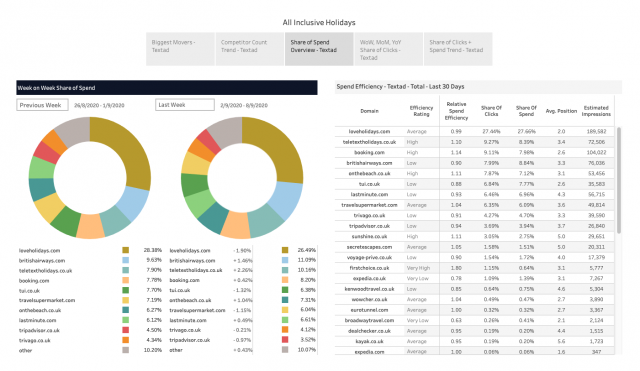 4 – Analyze weekly and monthly trends in context 
It's easy to get swept away by a win one week, or rush to pull the fire alarms with a sudden dip. Before you elevate new risks and opportunities, you should analyze weekly and monthly trends in context. Plus, showing the longer-term context will demonstrate your strategic thinking when it comes to sharing your SEM budgets and campaign plans with senior leaders. 
Our Market Re-Entry report gives you the bird's eye view that you'll need. In this section of the report, you can easily compare the week-on-week, month-on-month and year-on-year share of clicks for the top 10 competitors in the market. A quick scan enables you to flag movements that are true risks or opportunities, instead of short-term shifts.
Going back to all inclusive holidays, we see that even though teletextholidays.co.uk grew its share of clicks by 1.70% in August, they're actually growing by around 6% vs. last year. So you might want to keep an eye on them.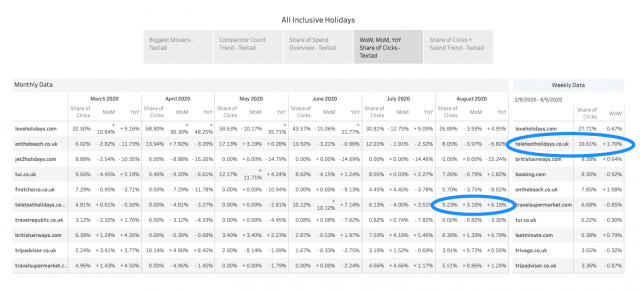 5 – Monitor weekly shifts in response to key events
During a pandemic, countries can impose mandatory quarantines at very short notice – directly impacting the services that travel companies can promote within a couple of days. In this turbulent period, you should monitor weekly shifts in response (or in preparation for) key events. Understanding how the market is shifting in response to real-life events will help you determine when to re-start or expand your campaigns. 
In the last section of our Market Re-Entry report, you get a clear overview of the competitor movements over the last 4 weeks. You can even customize your view by deselecting any competitors you're not interested in. 
Back to our example, check out the graphic below. Notice how teletextholidays.co.uk increased their share of spend from 7% to 10% over the last 4 weeks?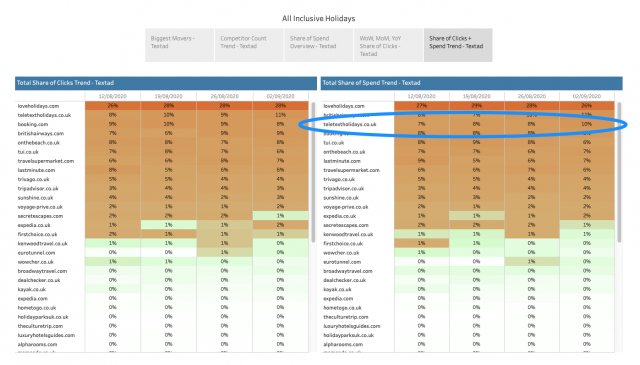 Every week, customers use our data to assess market conditions. Let paid search guide your business strategy.
We've been helping many of our travel customers with their search strategy in 2020. In fact, AllClear Travel Insurance used a similar approach to plan their market re-entry strategy when they had re-evaluated their paid search budgets due to COVID-19. 
Here's what the Insurance Director at AllClear had to say: 
"Trying to plan our paid search strategy during the COVID-19 pandemic has been a roller coaster – there's just so much unpredictability. But with Adthena, we can track directional trends as they happen, to make informed decisions. Adthena enables us to closely monitor demand and has been particularly useful to determine when and how we resumed our campaigns. It's a key tool for our business." – David Gomez, Insurance Director, AllClear Travel 
Ready to access the insights on your market? Reach out to your Account Manager or Customer Success Manager for your complimentary
Market Re-Entry Report
today.