Guard your most valuable asset
Put an end to unprotected paid search. When your brand is unprotected in Google Ads, it's left wide open to competitors stealing valuable clicks as well as to affiliates hijacking your ads and compromising brand integrity. All this results in higher CPCs and wasted commission dollars. 
What is Ad hijacking?
Ad hijacking (also referred to as brand poaching, direct linking, or URL jacking) occurs when an affiliate attempts to imitate a brand by running ads that closely resemble the brand's own ads. Let's break it down.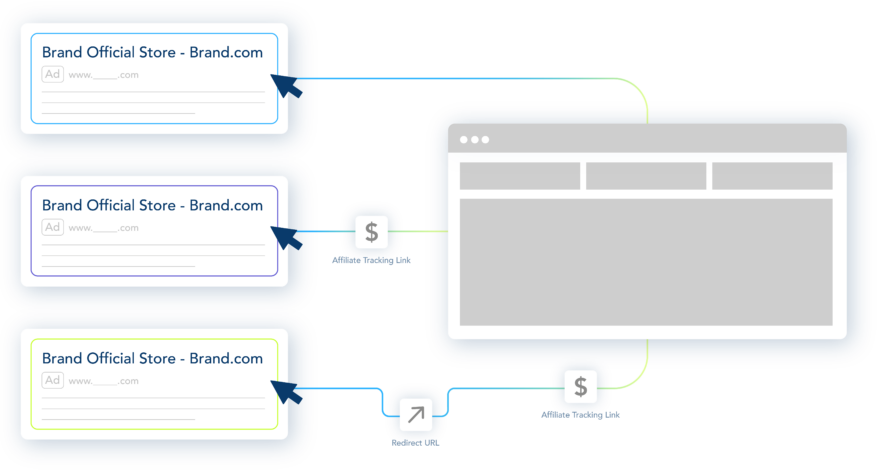 The first ad shown above is the brand's ad that leads directly to their own site via the correct tracking link. The brand pays a few cents per click.

The second ad shows when an affiliate places an ad that goes immediately through their tracking link to the brand's site. They therefore are stealing the commission on any subsequent purchase and are increasing the cost-per-click on branded search terms. 
The third ad shows a more sophisticated affiliate ad hijacker, who places an ad and masks the referral through a series of redirect URLs. The affiliate hijacker receives an unearned commission and uses evasive techniques to avoid detection. This is particularly damaging to a brand's affiliate marketing program because it's virtually impossible to determine who the affiliate is without the help of a paid search monitoring tool.
This deceptive strategy leads to conversions and subsequent purchases. It enables the affiliate to earn a commission of 5-10% on these sales. Ad hijacking is resulting in a financial loss for the brands on two fronts:
Affiliates illicitly acquire unearned commissions from brands.

Affiliates inflate CPCs for brands on their own brand terms.
Automatic monitoring
In the fast-paced world of digital advertising, staying up-to-date with the digital landscape is critical. Adthena's Ad Hijacking catches the most instances of ad hijacking as we collect data at the highest frequency. Adthena identifies ad hijacks from 50+ affiliate networks and subnetworks. And finally, Adthena catches ad hijacking as part of a full brand protection solution.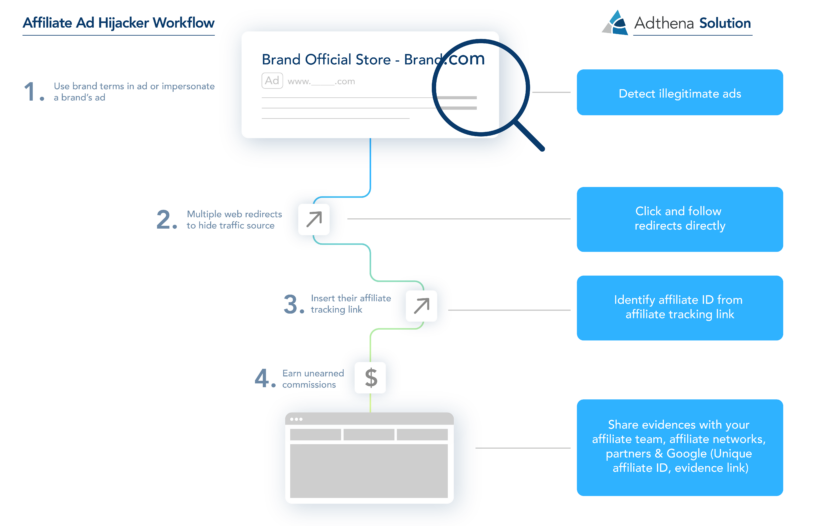 Unlock competitive advantage
In the highly competitive world of digital advertising, Adthena's Ad Hijacking feature opens up a world of opportunities for businesses looking to stay ahead of the game. With its unmatched affiliate network coverage and automatic monitoring, it's a must-have tool for any digital marketer. 
Take a self-guided tour of the Ad Hijacking feature on the Adthena platform to see how you can stop ad hijackers for good.