Want to dominate your competitive landscape with your ad copy? Try out the newest feature on the Adthena platform. Creative Insights gives you the data you need to optimize ad copy, track every messaging move your rivals make, and fuel smart decisions across your organization.
Know which words work (and who's winning)
Ad copy matters, not only as a way to stand out or motivate action on the SERP, but also as a window into your competitors' strategies. 
What if you could get an alert any time a competitor started using a new phrase, gained ground with text you're not using, or kicked off seasonal messaging? 
And what if you always knew the best-performing way to phrase an offer across all your marketing media? You'd be a hero, for one thing. And your ROAS would soar.
Creative Insights gives you market-wide copy intel and the power to optimize every message with three key types of information:
New phrase alerts:

tell you if a competitor has recently started using a new phrase 

Phrase suggestions:

recommend phrases competitors are using that you should be

High-performing phrases:

surfaces phrases you and your competitors are both using but which perform better for rivals
Adthena AI also organizes ad copy into message types to help you drive the action you want. 
Calls to Action (CTA):

Which phrases are driving the most clicks, and what CTAs are your competitors using?   

Propositions:

Compare how your product or offer copy stacks up to competitors

Incentives:

See what offers or discounts are being promoted in your market

Seasonal text:

Monitor seasonal copy signals so you know when rivals launch campaigns and what messages resonate

Credibility:

Monitor the landscape for ad language focused on trust and reputation

Friction:

Monitor competitor ads for phrases that promote seamless, easy, and friction-free experiences
Versatile cross-channel insights
Paid search is just the beginning. Creative Insights gives you hard data to inform strategic decisions and all your marketing messages, from display to TV. 
Leverage what you learn from Creative Insights to optimize landing pages, increase quality scores, drive down CPCs, or drive up open rates in email campaigns. It puts current intelligence and clear metrics behind every creative decision you make. 
Managing multiple paid search campaigns?
Use Creative Insights to get brilliant strategic insights into ad copy changes and make recommendations to your VP with confidence. (Warning: Creative Insights may result in breakneck career advancement.)
Managing multiple accounts at your agency?
Creative Insights gives you the power to see what's working across all your clients and all of their channels. You'll know what's working market-wide to inform all your strategic recommendations. Star employee, here we come.
Want MVP status at your organization?
The intel you get from Creative Insights will be valuable to your copywriting team, compliance and legal teams, your sales force, and your product team. Anyone in your organization who cares about which message gets the best results will benefit from Creative Insights. They'll know what exactly competitors are saying, shipping, promoting, and launching and what the impact is. Not even Monday morning donuts will get you that kind of popularity.
An automotive example: Creative Insights in action
Let's say you're the CMO of ABC Motors North America. You're the #1 electric vehicle brand and want to stay that way. With Creative Insights, you might use Phrase Suggestions to discover phrases your rivals are using that you're not — maybe it's a new rebate offer or 0% financing. Or maybe it's all about inventory like Carvana is promoting below.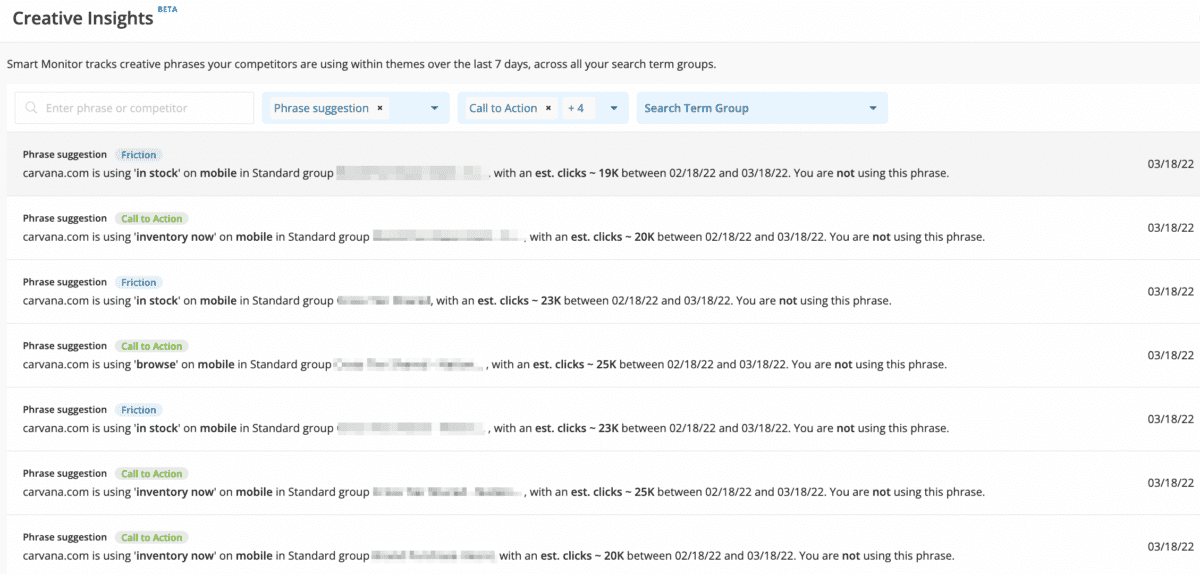 Adthena Data: Creative Insights
With this information in hand, you'll want to test out ad copy that promotes available inventory and mirrors Carvana's successful messaging.
Log in to check it out now or schedule a demo here