Black Friday is the most-significant shopping event of the year, offering huge opportunities for retailers to attract bargain-hunting customers. It's also a highly-competitive time, where a well-executed strategy can make or break your sales success.
To stand out from the crowd, retailers will benefit from having a solid understanding of their market landscape and competition, including real-time insights into their competitors' search campaigns, including keywords, ad copy, and performance metrics.
Armed with this information, retailers can make data-driven decisions and optimize their search campaigns to enhance visibility and drive conversions during the critical Black Friday period.
Here are 4 ways to ensure you win this Black Friday: 
1. Outperform your competitors with real-time monitoring 
With each business vying for the attention of shoppers searching for the best deals, you must gain a competitive edge by monitoring your competitors in real-time. Adthena offers access to real-time insights into your competitors' search strategies across search, shopping, desktop, and mobile. 
With Adthena's market trends, you can see the changes in your competitors' strategies and what they are doing to win customers. For instance, you can easily identify which keywords and promotions your competitors are bidding on, understand the top-performing ad copy, and how their bidding behavior changes over time.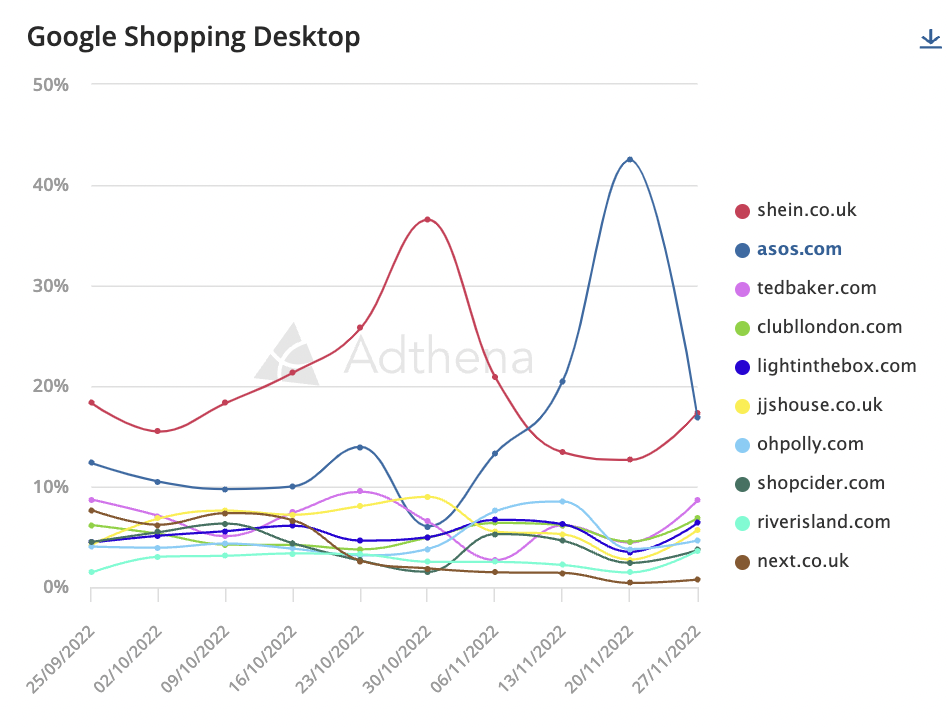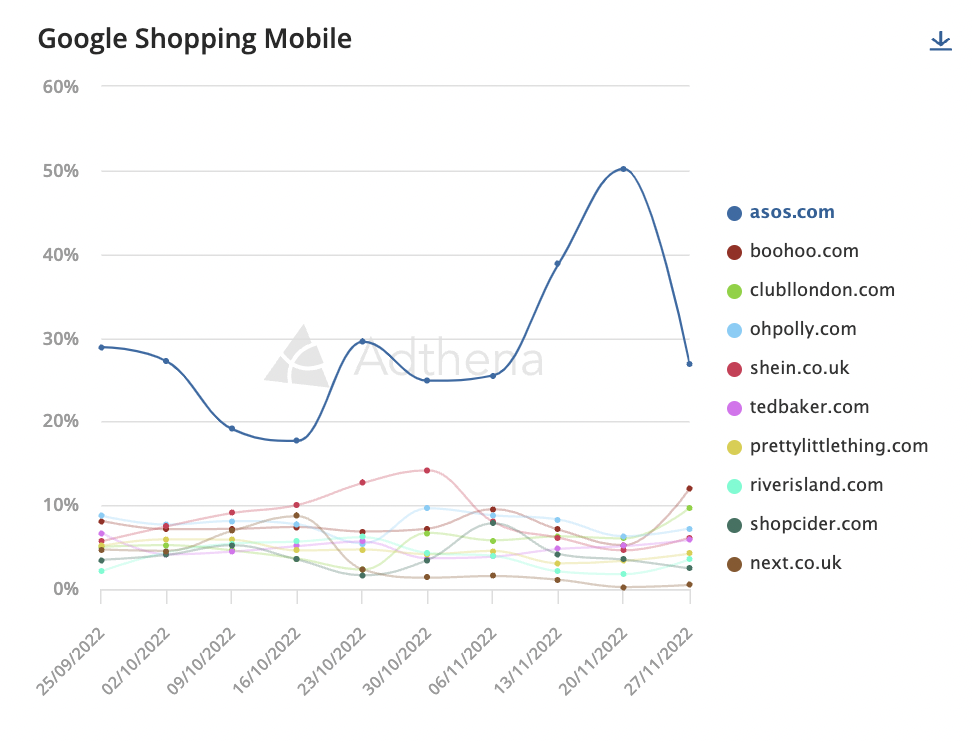 Above: Adthena's Market Trends report showing top driving 'Dress' generic search terms across desktop and mobile shopping ads between 1st October to 30th November 2022.
Top Tip: To never miss a key market shift, set up alerts with Adthena's Market Trends report. Adthena will notify you when a significant market shift occurs, showing you the exact change in your competitors' strategy and what you can do to respond.

2. Supercharge your search campaigns with keyword research
Keywords are the bread and butter of search campaigns. Adthena makes it easy for you to identify the most-relevant and high-performing keywords for your Black Friday campaign. 
You can uncover new keyword opportunities that you might not be appearing for, but your competitors are taking advantage of. How does all this contribute to the success of your campaign? Well, it means you can improve your ad relevance, increase Google Quality Scores, and drive more qualified traffic to your website during the busy sale period.
By supercharging your search campaigns with Adthena's advanced keyword research, you can:
a) Ensure you're targeting the right keywords
b) Get the most out of your advertising budget
c) Adjust your strategy as needed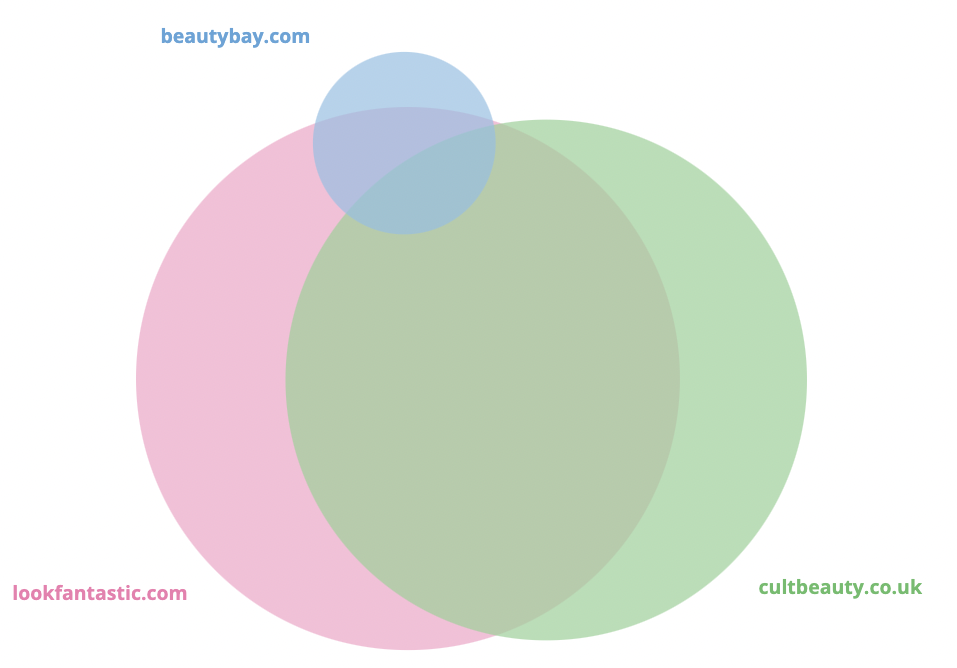 Above: Adthena's Head to Head Comparison used to identify missing keywords in the top-performing skincare desktop generics.
Top Tip: Adthena's Head-to-head comparison will uncover the gaps in search terms between you and your competitors across all of your core campaigns or product lines. Start to fill in the gaps with the click of a button. 
3. Craft irresistible ad copy that drive sales
Adthena allows you to analyze competitors' ad copy and gain insights into the ad messaging, ad extensions, promotions, and CTAs that currently resonate with your customers. 
You can use these insights to create compelling ad copy that stands out in the crowded Black Friday ad landscape. By using this information, you can craft ad copy that speaks directly to your target audience and drives them to click through to your website.
This can lead to improved click-through rates (CTRs), ad positions, and overall ad performance, ultimately boosting sales during the critical Black Friday period.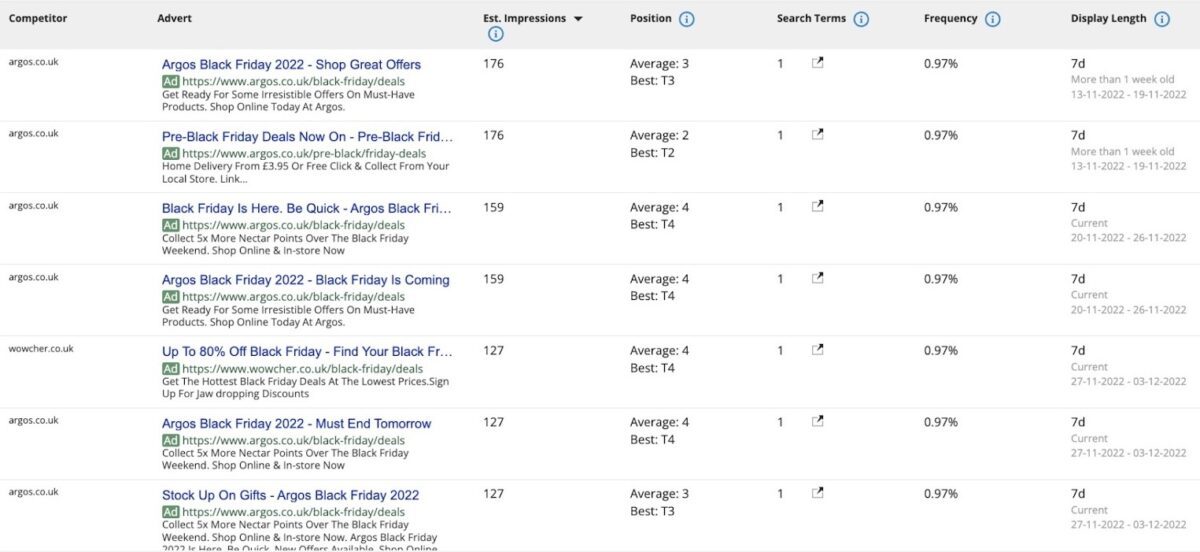 Above: Adthena's Top Ads report shows Argos and Wowcher changing ad copy during Black Friday period (1st October to 30th November 2022).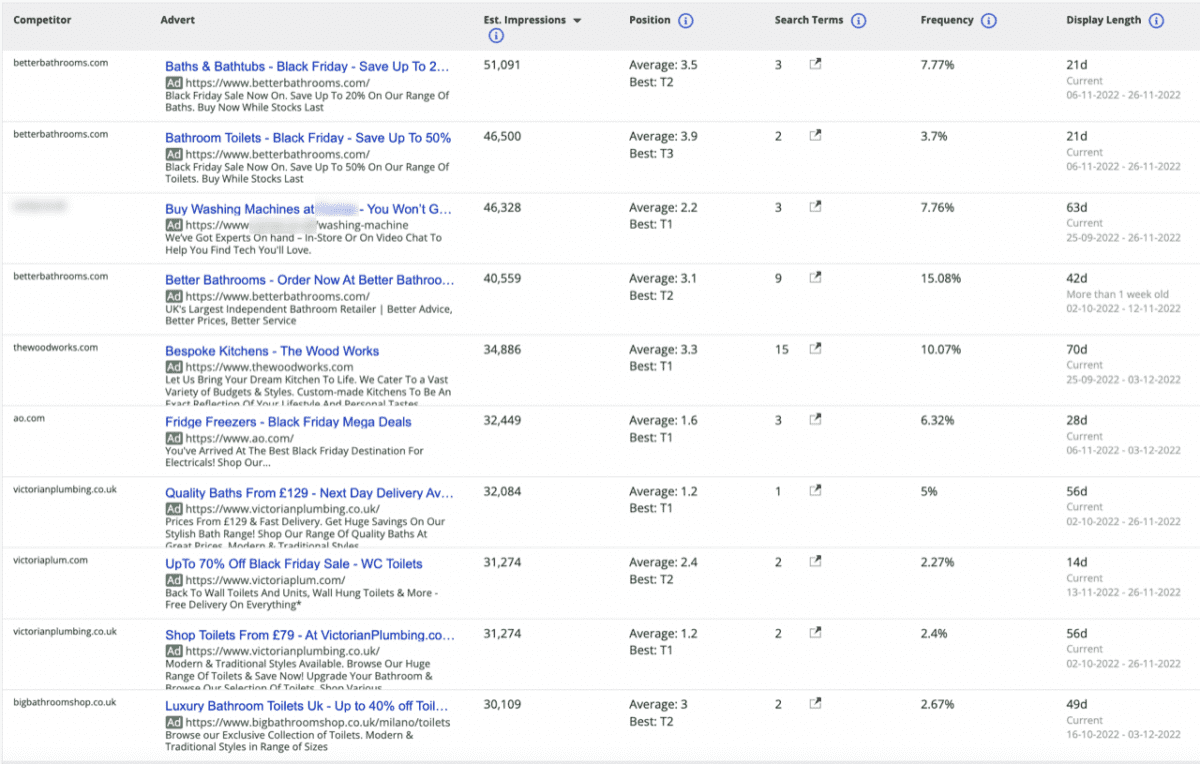 Above: Top Ads report shows top competitors for 'Kitchen' generic keywords during Black Friday period (1st October to 30th November 2022).
Top Tip: Save time by using Adthena's Top Ads to look at all of the Black Friday ad copy promotions in the lead-up to/during Black Friday and look back at how last year's ad copy  performed.
4. Maximize your Black Friday performance with data-driven metrics
With Adthena, you get a bird's-eye view of what's happening in the market, so you can adapt your strategy accordingly.


Above: Adthena Market Share shows share of clicks for 'Makeup / Cosmetics' generic search terms across paid and shopping ads between 1st October to 30th November 2022.
Our performance metrics help you measure the success of your campaigns so you can then track key performance indicators such as impressions, clicks, CTRs, conversion rates, and return on ad spend (ROAS), and compare your performance with your competitors. 
This can help your team optimize your campaigns in real-time, identify opportunities for growth, and drive more efficient results during the busy sales period. What's more is that you can get customisable alerts to keep you informed of any changes within your search landscape to ensure you stay ahead of competitor activities.
Top tip: Adthena's Market Share can help you understand where you stack up against competitors in the lead-up and during Black Friday. This allows you to find gaps in your strategy as well as opportunities to win more customers in this peak period.
Why use search intelligence?
In today's highly competitive online advertising landscape, search intelligence has become a game-changer for retailers looking to win during the Black Friday sales rush.
Remember two things: you need to understand your market and your competition. We can provide you with the insights you need to tailor your promotions, identify any gaps in the market, monitor competitor activity, and optimize your advertising campaigns. 
With Adthena's help, retailers can stay ahead of the competition and make the most of this crucial shopping event. After all, it's never too early to start planning for this years' Black Friday event. 
For more info on how to dominate this Black Friday, reach out to our expert, Lauren or request a demo today.