Every year during the Black Friday season, we see that the most successful retailers are those who have visibility into competitor activity in search. They know who drops out of the pack (creating opportunities), who is pumping budget into search and on what terms, and even what promotions and ad copy competitors are using.
Competitive intelligence also gives you a real-time window into competitors' click share, CPCs, budgets, and any terms you may be overlooking. In short: if you want the best chance of not only preserving your market share but also capturing incremental sales during the holidays, you have to know and respond to what's going on around you.
Who won and why during Black Friday 2020
Take a look at our data from last year's Black Friday period, and you can see just how many opportunities were lost because retailers were blindsided by competitor moves or unaware of lucrative openings. Here are just a few examples:
Competing for comfort
One mystery competitor (in red) moved very aggressively in mid-November of 2020 on the term "sofas," which robbed both Wayfair and DFS of click share during key weeks. Wouldn't you like to know who they were?
Argos and DFS made their moves later in the month, and it looks like they, too, caught their competitors sleeping.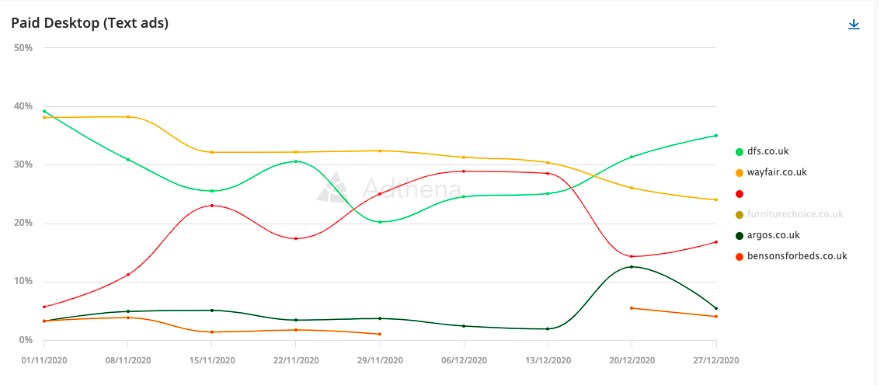 Above: Paid Share of clicks across Desktop & mobile on the Search term "sofas" 1st Nov 2020 – 1st Jan 2021
Exploiting the lull in "laptops"
When Argos and Cheaplaptopcompany took a mid-month search hiatus over the peak season, Samsung was paying attention, capitalizing on the opening to gain nearly 10% in click share over the peak period and scooping up clicks before competitors reentered the market at the end of the month.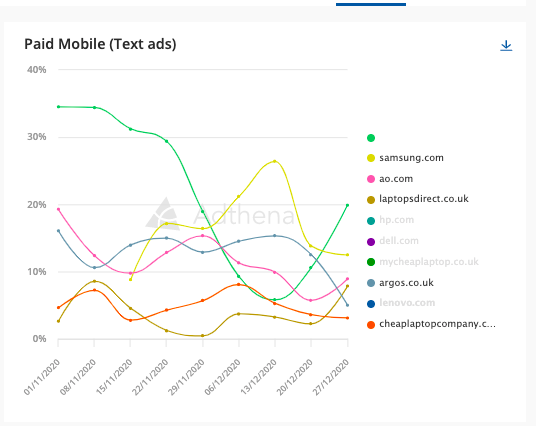 Above: Paid share of clicks across PLA on the search term group " designer trainers" from the 1/01/20 – 01/01/21
Gucci runs away with "designer trainers" 
In the high-end footwear market, Gucci pulled out in front early and never looked back. Flannels eventually recovered ground, but what if they had been monitoring the situation more closely? How would their sales figures have been impacted if they had fought harder for clicks?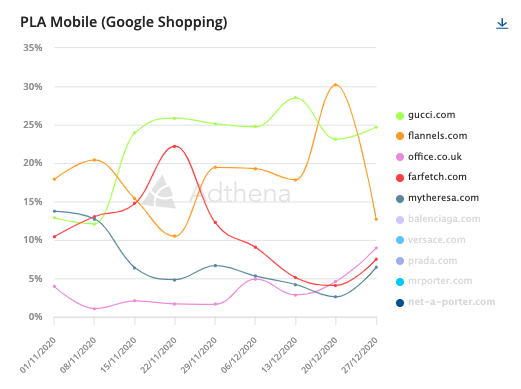 Above: Paid share of clicks across paid text ads on the search term group "laptops" from 1/11/20 – 01/01/21
Rise above with real-time monitoring 
All of these "what might have been" examples from 2020 show the importance of maintaining visibility into your entire search landscape, especially during the make-or-break Black Friday and holiday period.
With Adthena competitive search intelligence, you will:
Immediately identify competitive gaps in your market so you can generate maximum sales during peak periods

Understand your competitors' strategies hour-by-hour so you can adapt

Quickly identify new players in your market and monitor impact

Reduce the risk of lost sales and lost customers

Budget strategically and optimize your spend for maximum end-of-year ROI
Make 2021 your year!
Put your competitive monitoring plan in place now with Adthena, and you'll be ready to maneuver when your competitors activate their holiday plans.
Take the first step: book a demo with Josh Wainscott to see Adthena in action.