As the situation with coronavirus continues to rise in severity and impact all walks of life, people across the UK are starting to think about how they will manage their personal finances going forward.
With interest rates being slashed to a historical low of 0.1%, could there be a surge in the number of people switching mortgage providers for a better rate (especially with all that extra time on their hands stuck at home)? With the uncertainty around many businesses' future and knock on effects on employment and income for freelancers, could the demand for credit cards go up?
What the data tells us
Paid search may well be able to provide the inside scoop into what the big banks are thinking and where they are going with their strategies.
The below graphs from Adthena's platform show search term trends across 10,000+ in-market banking/finance terms for the last month. From 17 March, Halifax started aggressively ramping up its spending on brand generics including lending terms such as 'mortgage', 'mortgage calculator', 'credit card' and 'share dealing'. As a result, the bank is soaring ahead in terms of share of clicks across these overall banking/finance terms. 
Meanwhile, Nationwide and Natwest have maintained their investment in banking/finance terms and reaped the rewards of lower competition to stabilize click share. 
We can also see that Virgin Money's clickshare has declined, meaning perhaps that they have taken the strategy of pulling back in the current climate.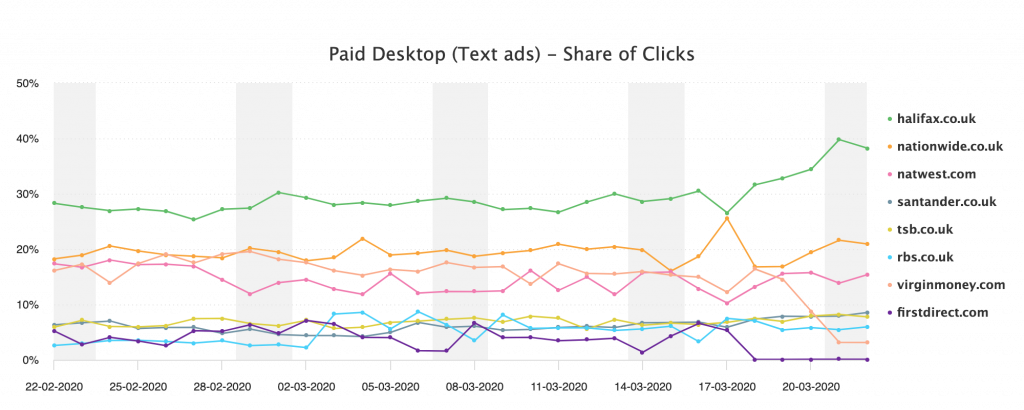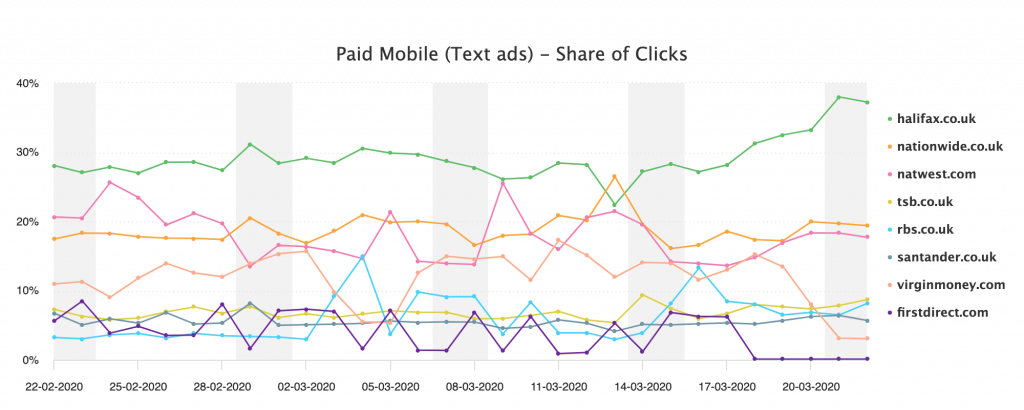 Images: Search term trends across 10,000+ in-market banking/finance terms – desktop and mobile
Keeping an eye on when competitors are increasing or decreasing their spend in paid search, could reveal gaps and opportunities for your business to take action at the right time, for example when competition is low in a particular category.
Summary
How will your business respond to these market insights in the current state of flux? Competitive intelligence can help you assess the paid search landscape and clearly see what's going on in the markets at a deeper level. That means you can make strategic decisions to defend your space or take advantage of new opportunities and gaps in the market. 
If your business has been affected by Coronavirus and you're uncertain about how to move forward with your search strategy, we're here to help.