In turbulent times, advertisers that can quickly respond to competitive shifts are the ones that continue to lead their markets. Our updated Movement Analysis feature from Smart Monitor gives you complete clarity on competitor movements, so you can capitalize on new opportunities.
With dozens of campaigns to monitor, staying ahead of competitor movements can feel like a daunting task. Adthena's AI-powered threat detection technology, Smart Monitor, keeps you ahead of your market by automatically monitoring your competitive landscape for new threats and opportunities each day.
Introducing Movement Analysis
Smart Monitor's latest release reveals the individual search terms that triggered each competitor movement, so you know exactly how to maximize your campaign performance. 
Using the updated Movement Analysis feature, you can easily identify the specific search terms behind each movement. Adthena's calculation of Movement Contribution also shows which terms had the most impact, so you can make strategic decisions that will drive results. 
In the example below, johnlewis.com's share of clicks decreased by 5.9% in a 14-day period. Based on the chart below, John Lewis' share of clicks on the term "hp pavillion laptop" dropped 89.7%, resulting in a 5.5% contribution to their overall drop in market share. With this insight in hand, Argos could consider increasing their bids on "hp pavilion laptop" to boost their own market share in this segment. By leveraging gaps in the market, Movement Analysis makes it easy for you to optimize your campaigns at a search term level.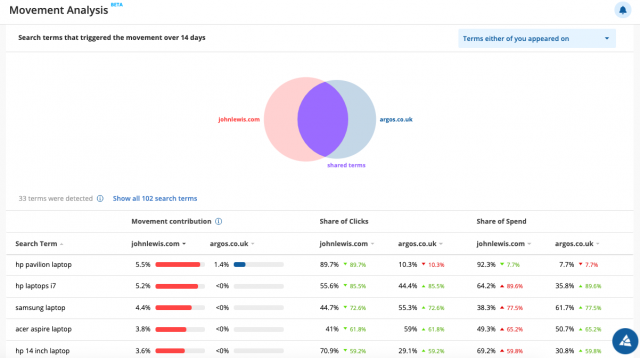 With the updated Movement Analysis feature, you'll be able to: 
Boost campaign ROI

by acting on terms that have the most impact on competitor shifts 

Protect your performance

by spotting where competitors are increasing their share of spend

Seize new opportunities by strategically reallocating spend based on gaps in your markets
That's a wrap! Visit the platform to see what's changing in your market, or reach out to your Customer Success Manager for more tips on using Smart Monitor.