The martech landscape supergraphic has grown from 150 companies in 2011 to over 7000 in 2019. There are now similar supergraphics for HR tech and Fintech and Healthtech won't be far behind so it's no surprise that brand bidding in B2B is a growing issue.
Every year more and more challenger brands are entering the race and looking to topple the tech giants off the top spot and they'll go to any lengths to make it happen. Brand bidding in B2B is rife and includes competitors infringing on brand terms.
Does this signal a race to the bottom or are there defense tactics you can use to keep your budgets in check and save your place at the top?
1) Wix knocked off the top spot

Wix dominate the page for a pure brand search result but the top spot is going to rival website builder, Shopify, who are intent on disrupting the purchasing journey and eroding Wix's brand equity.
This result is enough to make any brand marketer's heart sink. Surely Google's algorithm should provide the top place ad to the advertiser the searcher is searching for? Not always. 
It's time to utilize everything in the Google arsenal, including ad extensions and responsive ads, take a look at the conversion rates on your landing pages and try to boost your ranking.
2) Optimove infringing on IBM Watson pure brand terms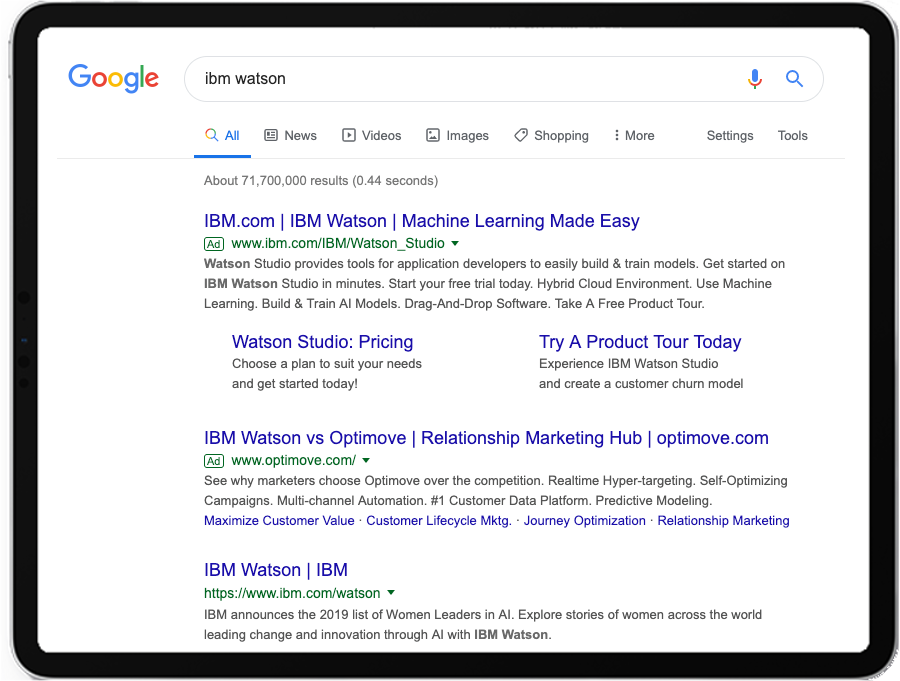 Trademark infringements take place when a rival advertiser uses a brand's trademarked brand term in headline text or ad copy, just as Optimove are doing here. These infringements are violations of trademark law and takedown requests are enforceable.
A problem for brands, however, can be the ability to detect trademark infringements as it requires lots of manual monitoring of the SERP. Rivals use this tactic to negatively influence consumers, and without comprehensive monitoring, the impact of trademark infringements can be hard to quantify.
3) Generic name, fair game?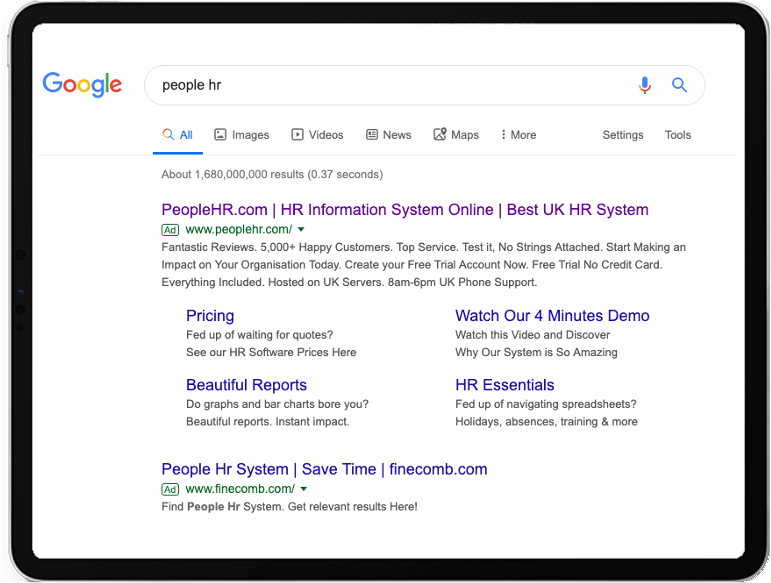 Market challengers or opportunists often undermine the click share of leader brands, as seen in this example, where finecomb are taking advantage of People HR's generic name to push their service. Brand bidding and brand infringements from minor operators is often utilized as a tactic to break into markets or increase reach.
But fair game it is not. Starbucks won in court when a rival New York coffee chain started selling a 'Freddoccino.' This example shows that on-the-line tactics can still end up in a costly court case.
Employing these tactics is a zero sum game. No good relationship starts with a lie.
4) Should I turn my brand campaigns off?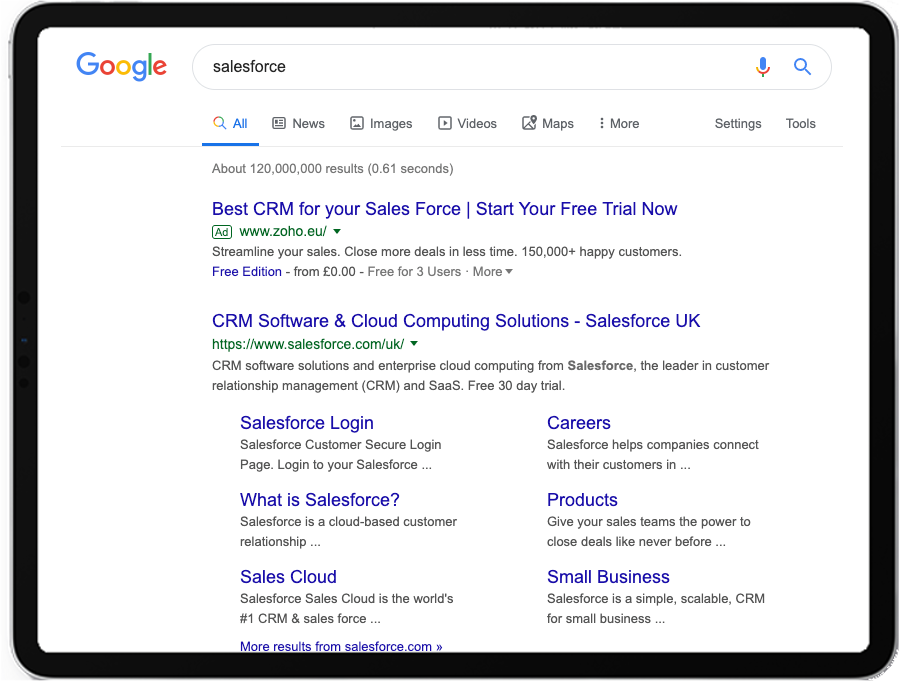 PPC managers love to question whether brand campaigns are worth the investment?
Lone Rangers happen when a brand term returns the only paid result and is also the top organic listing. Large businesses can burn through thousands of "wasted" ad spend on these clicks – but it comes at a risk.
In this example, Zoho are capitalizing on Salesforce's lack of brand campaign and throwing in a questionable infringement to boot. If you're going to turn your brand spend off, you're opening yourself up to attack so it's important to have a system that alerts you to when a competitor moves in on your brand terms.
Defending brand bidding in B2B
The best brand offense is a good brand defense and to defend well you need a strong data platform. Through careful monitoring of your brand terms you can learn who is bidding on your brand, what they're saying, where they're appearing, when they're attacking and how successful they are at stealing your clicks.
Once you have this information in your arsenal you can begin to develop a strategy that protects your brand equity by mitigating risk and alerting Google to infringing ads.
Adthena's Brand Bidding Impact Report will give you actionable solutions to the major challenges surrounding brand bidding.