In today's fast-paced world, it is becoming increasingly challenging for businesses to keep up with the complexities happening across their search landscape. Traditional reporting methods may not suffice to understand the trends and derive insights needed to stay ahead of the competition. That's where Adthena's MyAnalytics comes in. It's a new offering designed to solve this challenge by providing custom analytics and tailored data stories that are unique to each customer.
With MyAnalytics, you can access a growing library of data stories designed specifically to address your unique challenges. The good news is that it's all streamlined within the Adthena platform. We currently have five dashboards available, with more to come throughout this quarter and year.  
Let's briefly walk through what they have to offer: 
1. Competitor Movement Dashboard
Get a detailed overview of market performance with a range of trends and share analysis.
This dashboard allows you to compare week-on-week performance, identify the biggest movers, and gain an overview of different categories compared with your other top competitors. You have complete control and can select custom start and end dates, locations, search terms, and a whole lot more.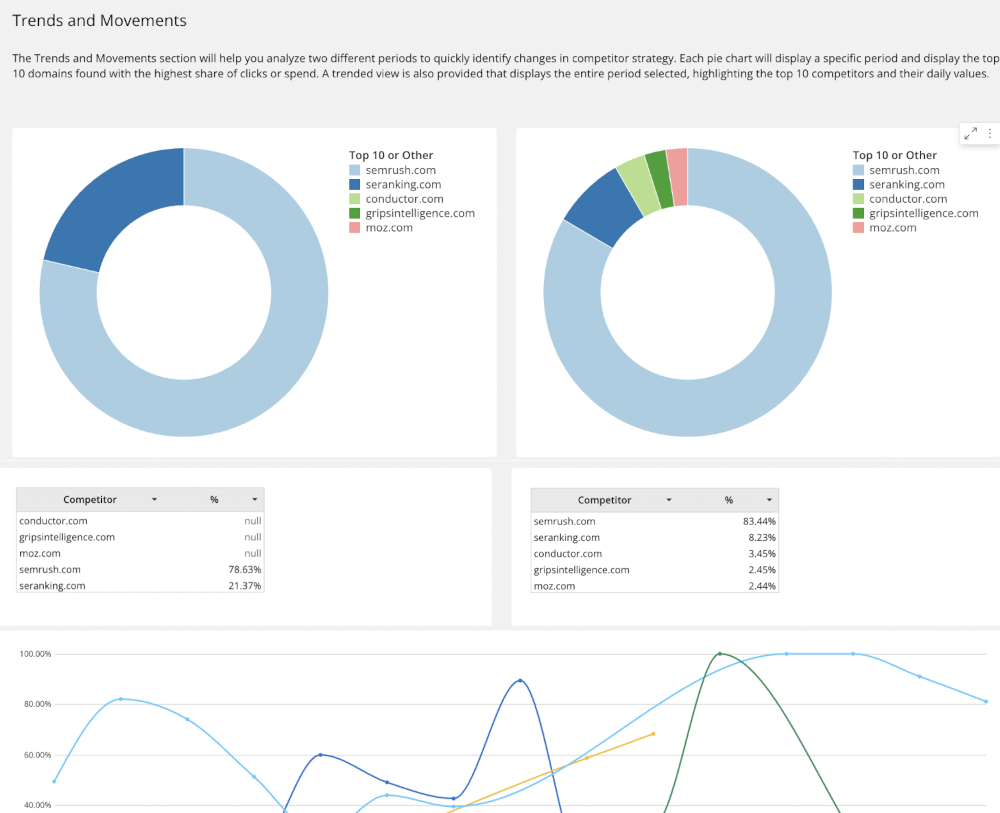 Above: Competitor Movement Report showing an overview of market performance with range of trends and share analysis.
2. Market Dashboard 
Understand how each of your categories are contributing to your performance and your competitors' performance. 
This dashboard provides insights into the relative size of your market for each of your categories, enabling you to understand their contribution to your performance. You can also view this for any of your competitors and get an overview of the market and biggest movers week on week.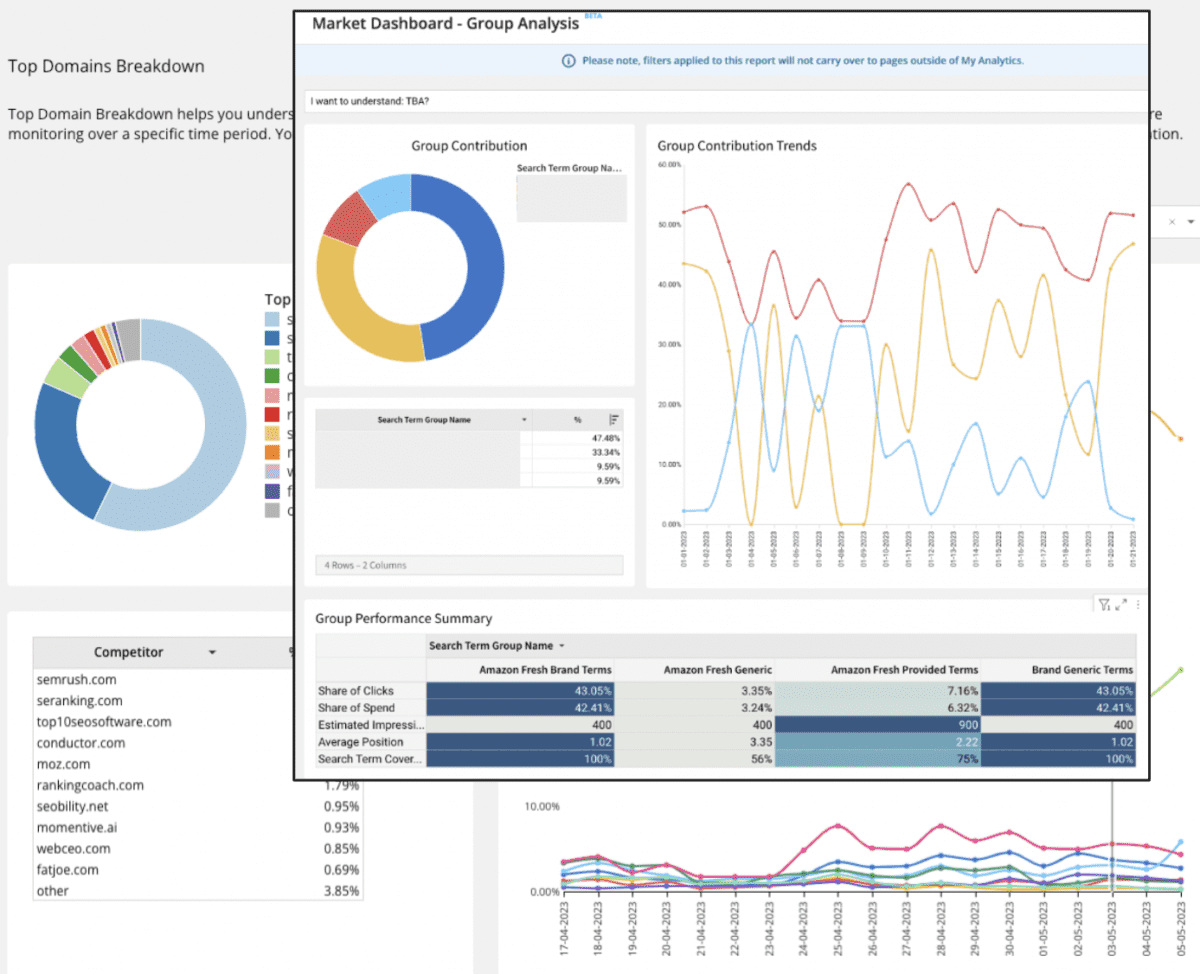 Above: Market Dashboard – Top Domains Breakdown showing an overview of top 10 competitors for a selected location and Search Term Group. 
3. Market Movements
This dashboard gives you an executive summary of the search landscape. Having a bird's eye view of your landscape, including key movements over the last two weeks, can only increase your chances of market success. It will also identify the competitors that have moved the most, so you can keep track of who's in the lead at any given time.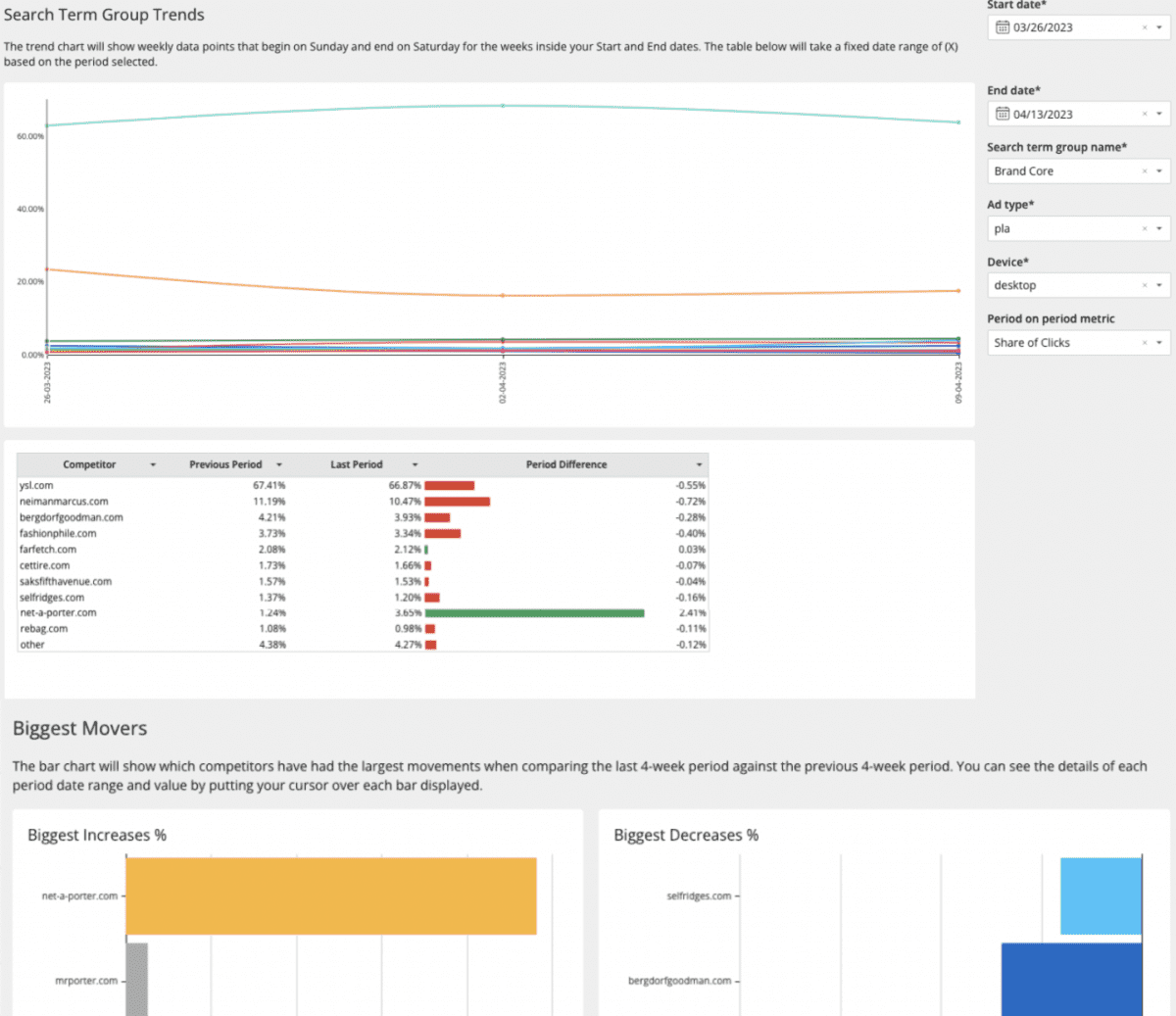 Above: Market Movements report gives high level overview of weekly trends for selected period and most moved competitors. 
4. Competitor Count Dashboard
Want to understand the changing competitive landscape? This dashboard shows you a competitor count breakdown over the last three years, showcasing monthly and annual trends. Gain valuable insights into how the competition has increased and stay ahead of the curve.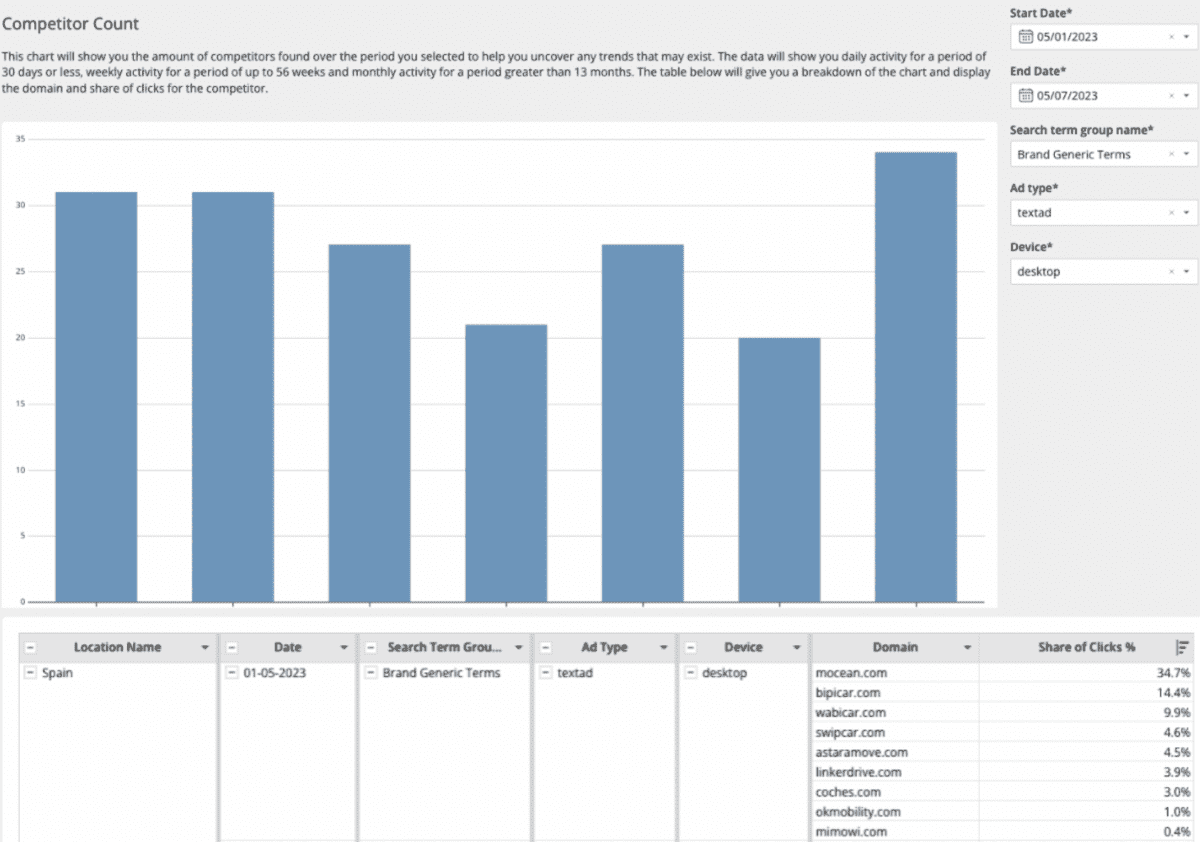 Above: This report shows competitor count breakdown over selected time period by day, week, or month to illustrate changes in competitors to help identify any patterns. 
5. Year on Year
Uncover the search demand for each category and gain insights into the impression share for you and your top competitors over a selected period. This dashboard allows you to view the data over multiple years or compare specific months across different years, enabling you to spot patterns and make strategic decisions.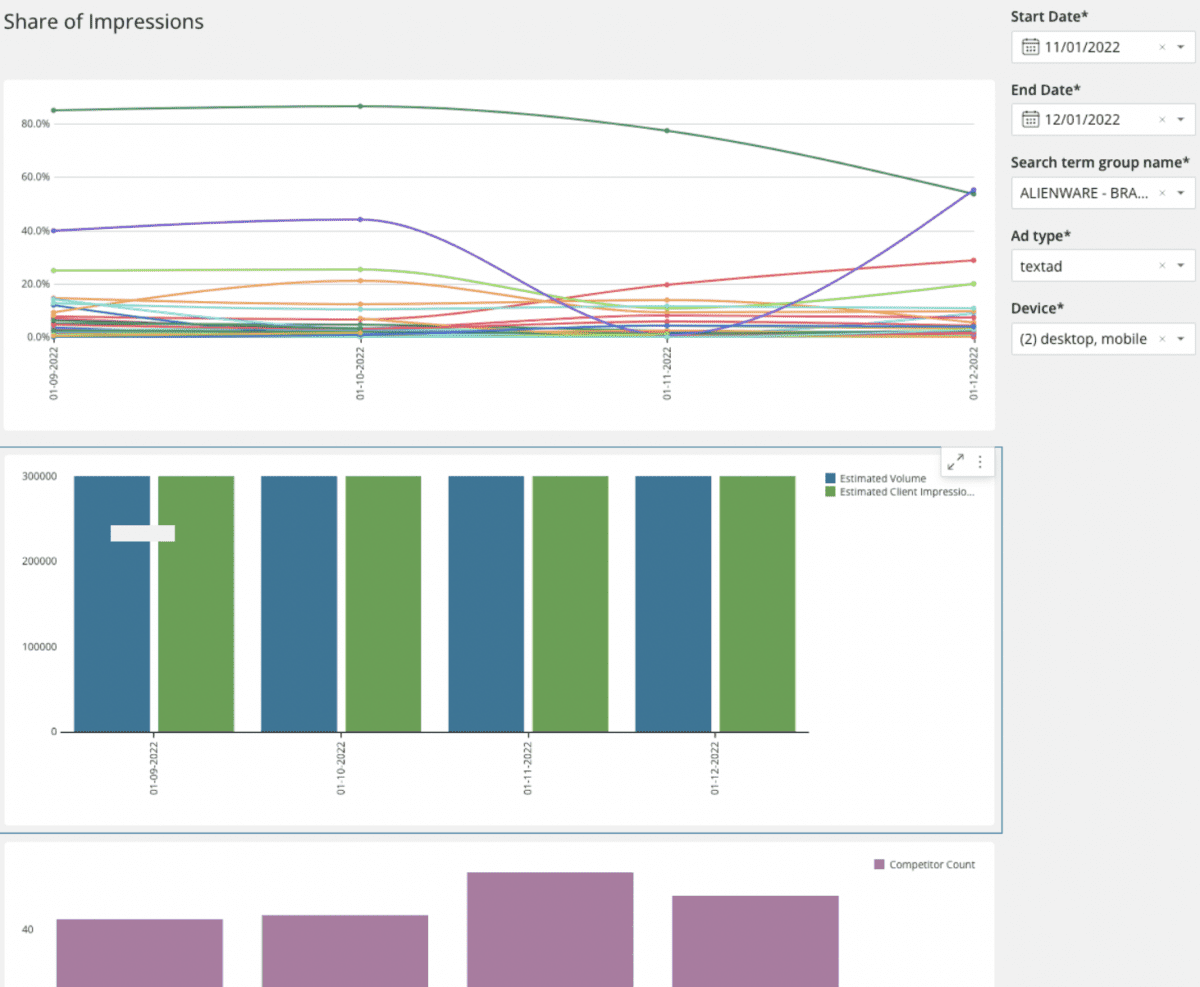 Above: This dashboard shows search demand in each category and share of impressions for you and top 9 competitors in selected period. 
What are the key benefits of MyAnalytics?
Streamlined Access
MyAnalytics eliminates the need for external tools like Tableau. We've centralized all the benefits, including core analytics, advisor features, and BI reports, within the Adthena platform. This consolidation simplifies your experience and enables faster and more efficient delivery of custom reports.
Unparalleled Flexibility
We've heard your feedback about the limitations of the reporting and insights available in our core analytics. MyAnalytics addresses this challenge by offering even greater flexibility and efficiency. It overcomes the limitations of our current BI offering, providing you with the insights you need to navigate the complexities of the search landscape. 
Empowered Decision-Making
MyAnalytics empowers different personas within your organization to leverage its capabilities effectively. You'll benefit from the customized analytics and tailored data stories, enabling informed decision-making at every level.
MyAnalytics is a valuable addition to Adthena's platform. It equips you with with custom analytics and tailored data narratives unique to your business challenges. With Adthena's competitive advantage in the market and the flexibility, efficiency, and ease of use offered by MyAnalytics, you can stay ahead of the competition by making informed decisions based on the insights derived from the data. We're committed to continually enhancing MyAnalytics and offering more customization options. By the second half of 2023, we plan to have a robust dashboard catalog available. 
Want to know more?
If you're already an Adthena customer, speak to your Account Manager today about getting My Analytics up and running on your account, or get in touch at support@adthena.com
Not yet a customer of Adthena? To get a sneak peek of MyAnalytics and its intuitive interface, Request a Demo of the Adthena platform and one of our search experts will be happy to walk you through it.