The year 2020 was set to be another great one for sports betting operators. The US had recently legalized online sports betting and global market value predictions were boosted to $103bn by 2025. There was a colossal opportunity for gambling operators in the US and EMEA, with major sporting events such as NFL's March Madness and football's European Championships on the horizon. 
Then, out of nowhere, coronavirus took hold of the globe and halted sporting events – in the EU, US and many other countries, as well as retail betting operations – in their tracks.
For now, the sports betting market and the opportunity for betting operators is pretty much on hold. Betting companies such as Flutter have already adjusted their EBITDA, predicting losses of £100million, with GVC going further and forecasting losses of up to £150millon due to the impact of Covid-19.
Casinos set to win big?
Naturally, online betting and gambling companies are now turning to other product markets, such as online casinos and slots, to maintain performance and make up for the lost revenue.
On top of this, populations in the UK, the US, and around the world, are being strongly advised to stay inside to contain the virus. The doors of non-essential retail shops are firmly shut, and more and more people are going online for their entertainment. The casino market is booming already and set for even bigger success this year as new players give it a go. 
In paid search however, with online casino and gambling now being targeted more heavily, the markets are becoming increasingly volatile and changing dramatically on a daily basis. We've all been there. Metrics from your Google Ads account are showing costs are going up and conversions are going down. But there's not enough data or insights to be able to quickly pinpoint where and why this is happening. So where does this leave you as a marketer?
We took a look at the market using Adthena's AI-powered search intelligence platform, to shed some light on the current situation, and share some granular paid search data to help inform operators in the casino market.
Ladbrokes look to sweep up new players
The graph below shows the click share for each competitor bidding on "free" casino terms such as "free spins", "free casino", "free slots", "casino free sign up offer" and so on, over the last month. 
We can see that Ladbrokes entered the market aggressively at the start of March and instantly became one of the most-dominant competitors within the space. We know that "free" related casino terms generate a lot of traffic within the industry, and with sportsbook not currently driving the volume we're used to seeing, it's likely that Ladbrokes' strategy was to use Casino to bolster their acquisition.
Knowing this, it would have been safe to predict that Ladbrokes would pull back at some point – and that's exactly what they did, within a two week period. In similar scenarios, having access to this kind of data on competitors is highly valuable to rival PPC teams. They can build it into their reporting alerts and monitor for when drops in share occur, then take action and take advantage of the market. 
SkyVegas have done a nice job of managing their budget around this time, avoiding high costs during the increase in competition and then returning to their leading position again after the drop.

PMU out of the running in France
The two graphs below show the 'Whole Market View' of iGaming in France. As you can see, PMU (usually the dominant competitor) has dropped out of the market completely across desktop and mobile.
This presents a good opportunity for other operators to capitalize on PMU's exit and acquire customers more cost-effectively, when traffic is likely to be cheaper. The earlier operators can spot these competitor movements in the market, the quicker they can capitalize on them before other businesses are aware of the opportunities.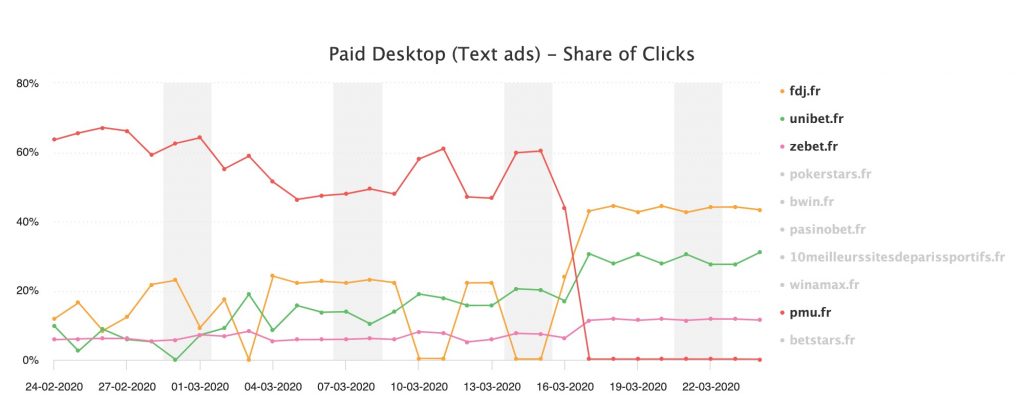 Mansion make a move on strategic slots 
The final graph below shows trends for the search term 'Starburst' over the last month, and it's a similar scenario. We can see that Mansion have invested paid search budget into the casino space on this strategically-chosen, game-related term, whilst at the same time competitors like Gala Bingo have decided to pull back.
This is useful insight from a budget management perspective; Adthena's data highlights how categories are fluctuating and enables brands to predict when they're most likely to be able to compete successfully.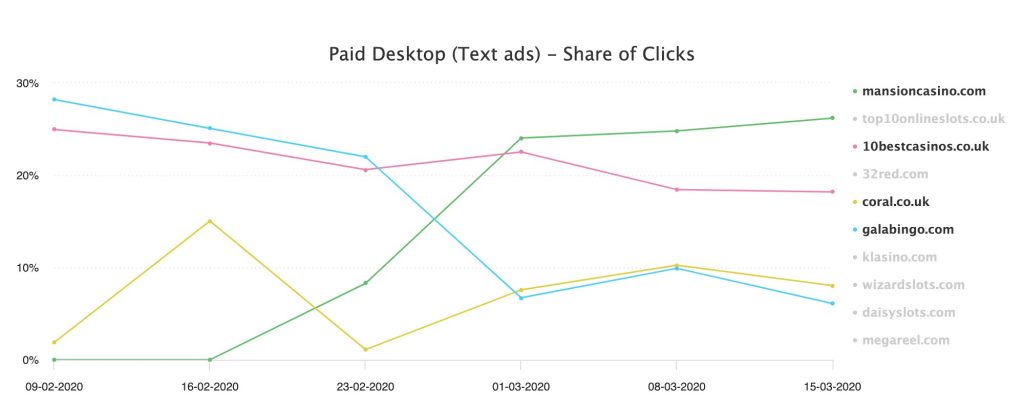 Summary
Having this level of granular data and visibility into competitors allows you to uncover opportunities for your business to take action at the right time, for example when CPCs are low in a particular category, or a competitor drops out. The online casino market is changing daily, and operators need visibility on the latest insights to avoid losing out and making costly mistakes.
How will your business respond to these market insights in the current state of flux? Competitive intelligence can help you assess the paid search landscape every day and clearly see what's going on in your market at a deeper level. That means you can make quicker, more effective decisions to defend your share or take advantage of new opportunities and gaps in the market. 
If your business has been affected by Coronavirus and you're uncertain about how to move forward with your search strategy, we're here to help.