UK insurers just lost a time-honored way of acquiring new customers online. The Financial Conduct Authority (FCA) has just forbidden the practice of "price walking," by which new customers are offered the lowest premiums and best rates at the expense of renewing policyholders who see their rates creep up each year for no discernable reason. 
One consequence of the new regulation is that insurers now have limited ability to compete on price in PPC ads. They're having to find new ways to vie for consumer attention and, just as important, to monitor rivals' messages.
Differentiating your brand in the rate-free landscape
Since the new FCA regulation kicked in on January 1, advertisers like Admiral have been testing out a variety of messages to woo new customers. If you look at their top-performing ads for the week of January 17th, you'll see the brand touting diverse features that include its 5-star Defaqto rating, customer service awards, and quick quotes.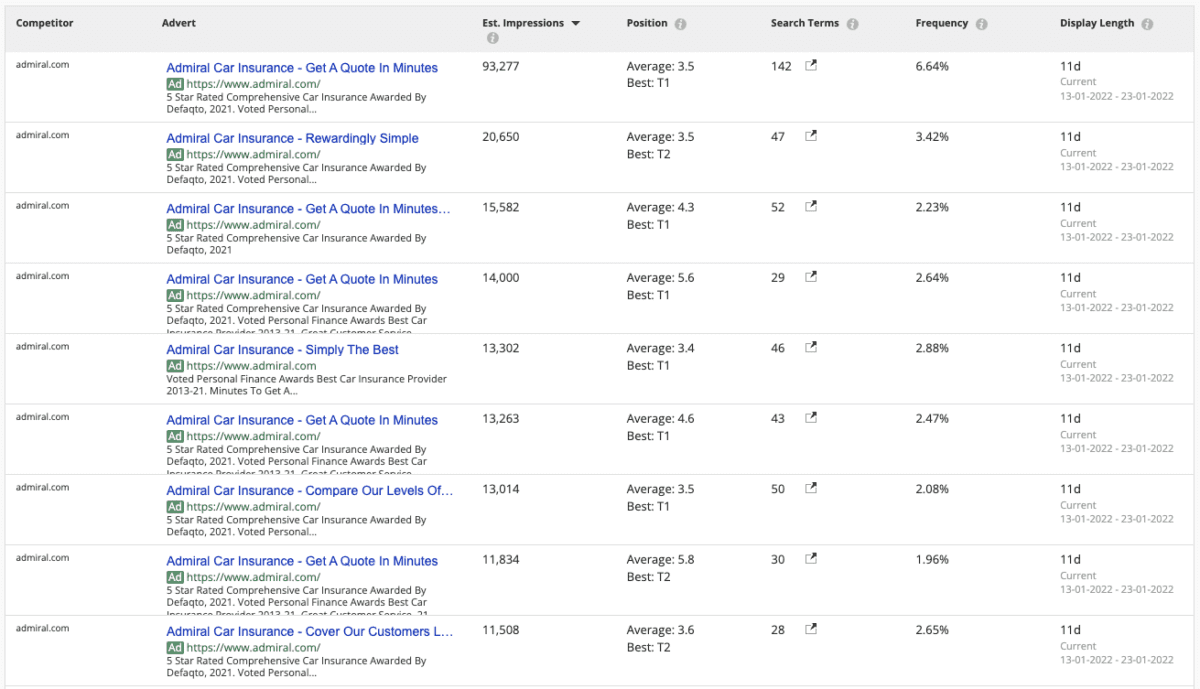 As a PPC marketer, you could easily spend all day, every day researching rival campaigns, scouring ad copy, and monitoring messaging to capture this type of information. Happily, you don't have to.
Analyze rival campaigns automatically

To thrive in this new mixed-message PPC universe, insurers need a way to quickly and comprehensively understand what's working for competitors – in order to be able to then steal their thunder.
With Adthena, insurers can instantly analyze competitor ad data, search terms, and frequency. You can also sort and rank ad messages by position, clicks, and impressions all across your market to understand what resonates with consumers.
Best of all, that insight is delivered effortlessly to your inbox every day. So instead of your team wasting hours researching competitor messages, you spend your time crafting winning campaigns of your own.
Who needs price walking when you can race ahead with Adthena?
To take a look at the top ads, campaigns, and performers in your market, reach out to me any time at george.hancock@adthena.com