It won't be news to anyone that the two most sought after products in Australia amid the COVID-19 outbreak right now are toilet rolls and hand sanitisers. Supermarket shelves have been empty for weeks now, and online orders typically come with expected delays of at least two weeks. 
We dive into Adthena's data to understand more about how the search marketing landscape has altered amidst the frenzy for these particular products.
No rolls at Coles
For as long as we can remember, the staple outlets for toilet rolls in Australia have been Coles and Woolworths. While Woollies had a strong PLA focus online, Coles dominated the search side.
Just six months ago Coles enjoyed a near-monopoly in this category, with a massive 75% share of clicks. Gradually, competitors chipped away at this foothold, but COVID obviously played a pivotal role in the tail end of this trendline. 
Now, they have a 0% share of clicks, as they have no rolls to offer. Woolworths experienced much the same in PLA's: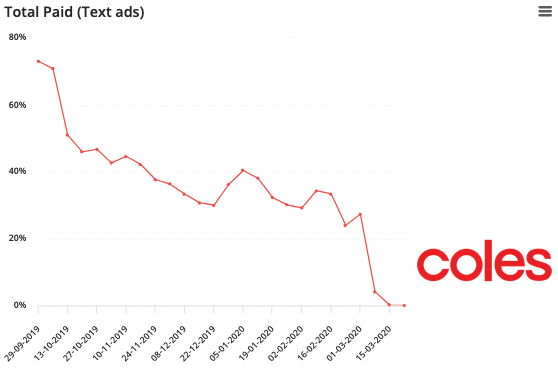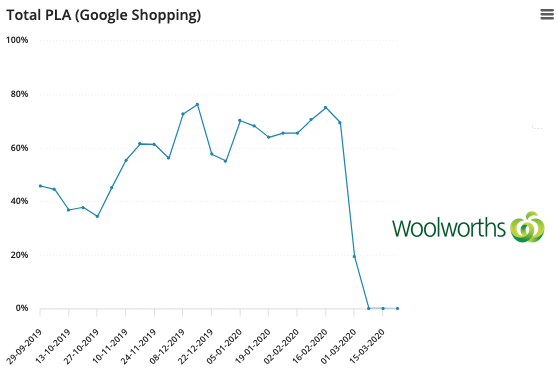 So who's picking up low hanging fruit? 
It appears that Amazon, at least for a while, seized the moment – they accelerated to a 50% share of clicks in just a week, but this seemed to be a bubble that quickly burst. Perhaps Amazon faced similar supply and demand issues, and had to pull back rapidly.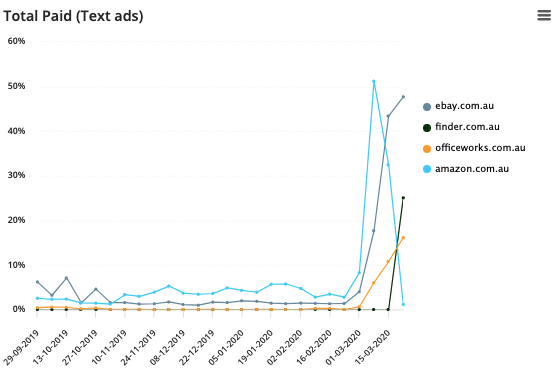 In Amazon's wake, we see three new competitors with eBay coming out on top, perhaps as stockpilers take their opportunity to sell their premium assets at inflated prices. OfficeWorks' own marketplace has gradually gathered steam post-COVID, and Finder have launched a COVID-specific landing page to help guide customers to their nearest online loo roll.
Over in the PLA world, there is only one clear winner, picking up almost all of the traffic Woolworths had previously enjoyed: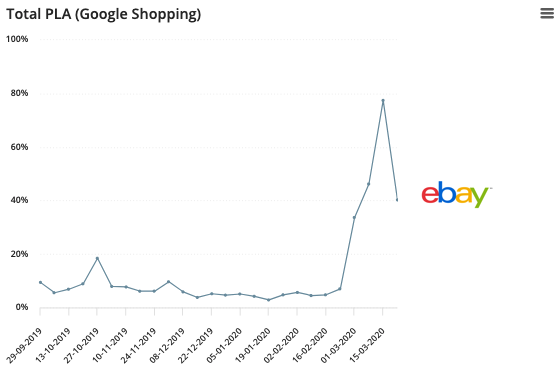 It's also interesting to note that amid this crisis, one company, that many may never have even heard of before, has seen remarkable organic (SEO) success. Step forward the bulk loo roll supplier, ToiletPaper.com.au… in organic search, a climb from 5% share of clicks to 25% in just two weeks is not something you see too often: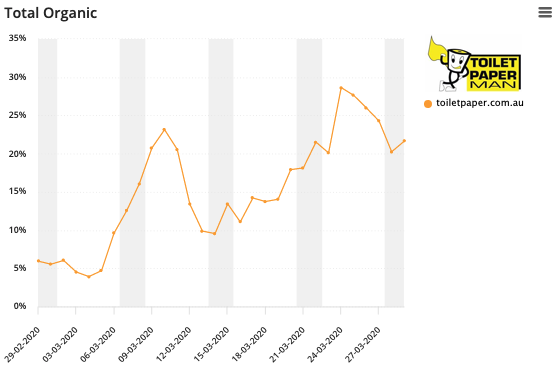 Sanitisers dry up
Nobody could have predicted that hand sanitiser would become the hottest commodity in town just a month ago. And yet, we now have global cosmetics brands replacing perfume lines to instead meet the demand for sanitiser. How does it all wash up in the land of Google?
It's a familiar tale for Coles, who's profile in this category over the last 6-months is much akin to the one we saw for toilet rolls. However, in PLA's it's Chemist Warehouse who held the high ground: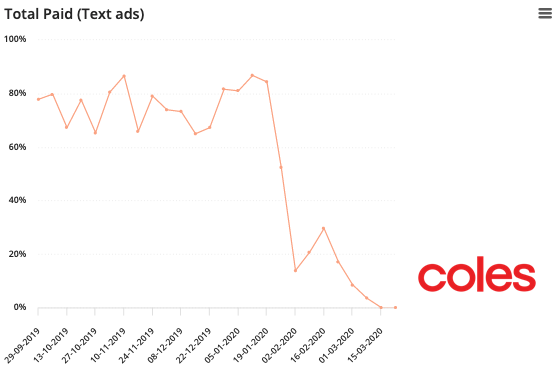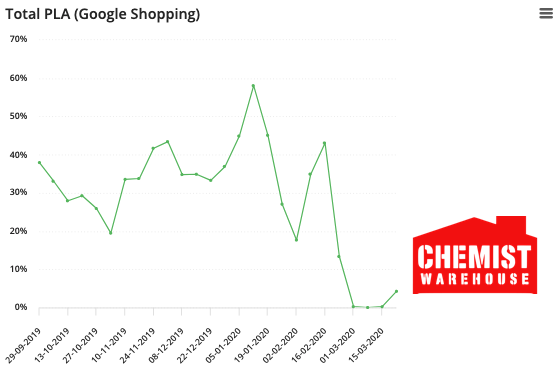 Again, both advertisers see a sharp drop after COVID began. But it's a different story when it comes to who's benefitted: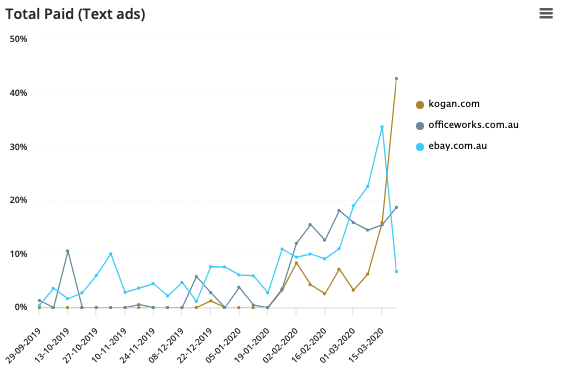 Kogan has been diversifying its portfolio for some time, with impressive results. This is a testament to how quickly they were able to add a product line and then go to market in spectacular fashion – climbing almost a full 40% in a fortnight. OfficeWorks and eBay again make up the chasing pack. Between them, they are taking approximately 70% of the paid market. 
In PLAs, it looked like eBay were again the beneficiaries of the change, but Wish.com has made a stunning new entrance to the market, capturing 80% of the clicks last week.

Summary
How will your business respond to these market insights in the current state of flux? Competitive intelligence can help you assess the paid search landscape every day and clearly see what's going on in your market at a deeper level. That means you can make quicker, more effective decisions to defend your share or take advantage of new opportunities and gaps in the market. 
If your business has been affected by Coronavirus and you're uncertain about how to move forward with your search strategy, we're here to help.