Gamers used to betting on live sports are also having to find new options, and many are turning to online casino games and video poker to fill the void, which means operators are having to adjust their strategies.
In daily fantasy sports, for example, FanDuel is working hard to drive installs and keep its app alive with free-to-play gaming contests based on things like each week's Survivor episode or how many times a certain candidate said the word "Trump" during the presidential debates.
To follow the crowds, traditional sportsbook operators are turning more to casino gaming, slots and poker. Gambling brands have paused PPC activity on terms like "sports betting sites" and are now using that budget to push harder on terms like"bingo" or "best online casinos" to get new sign-ups and bring in depositing players. 
The PPC standings are changing by the week
The new gaming environment is changing the PPC landscape, as sportsbook operators test out new tactics during this unwelcome hiatus. Williamhill.com paused its action in the desktop PPC market in mid-March, shifting from a steady 10% of market share down to less than 1%. Fanduel.com did the same as of the first week of April, reducing its share of clicks from the #1 position and about 30% market share down to around zero.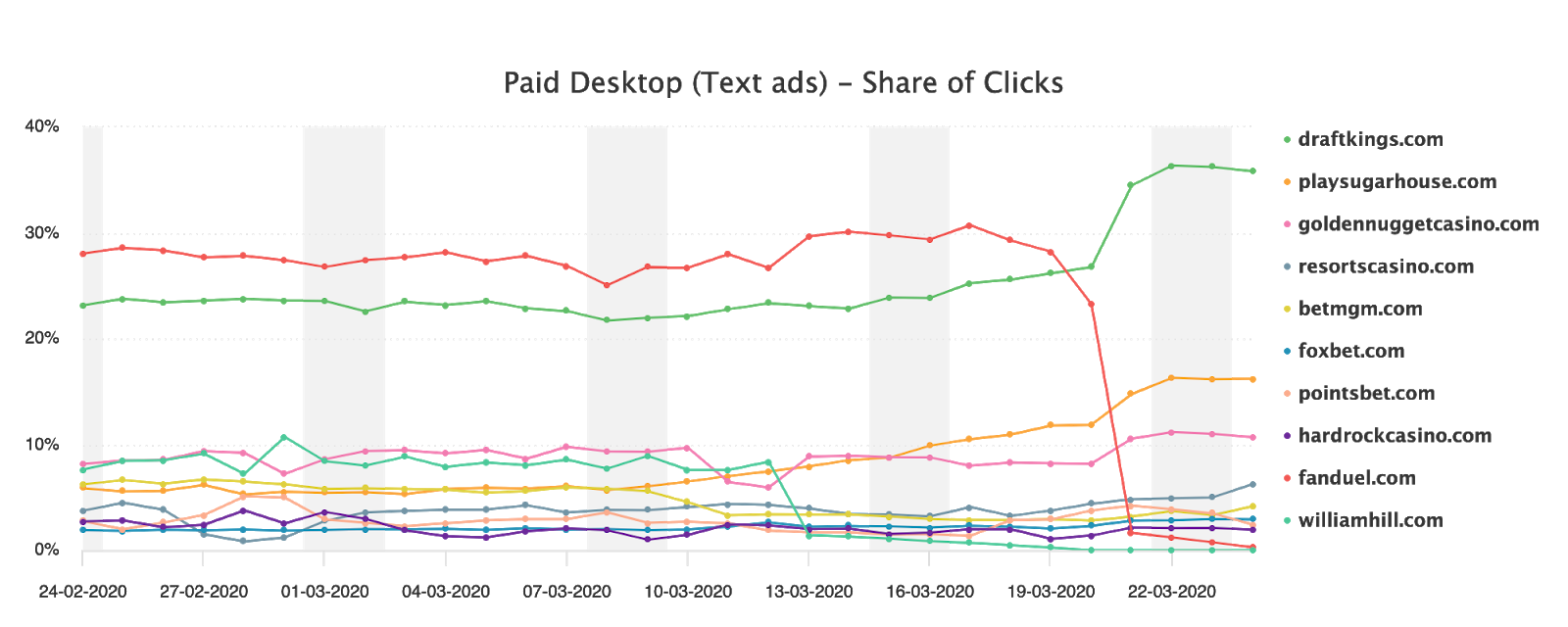 With those two players out of the text ad picture, competition for desktop terms diminished, and other operators like draftkings.com, playsugarhouse.com, and goldennuggetcasino.com picked up considerable market share.
How to look before you leap
For gaming operators entering new PPC territory or trying out new strategic options, competitive intelligence is absolutely vital. 
You'll need to understand the rules and the players in an unfamiliar category before you start spending money. You'll want to know the top terms the most successful competitors are appearing on and understand what budget is required to generate the performance you have in mind. 
Even if you've slowed your PPC activity across the board, you might consider investing some of that unused budget to scope out other spaces in your industry for opportunities and trends you can exploit later. Monitoring competitive movements in search will let you take advantage of openings or quickly spot and respond to aggressive moves. With so much uncertainty in every market and every vertical, now is no time to be on the sidelines.
The Adthena team is here and ready to help you deploy these tactics and otherwise optimize your PPC strategy through uncertain times. Reach out to one of our competitive intelligence consultants today.