Get ready, because with travel finally back to 2019 levels, everyone will want in on the action, and competition for travel dollars will be intense. That means you can expect a lot of market activity in search. To compete successfully and in a cost-effective way, travel brands need to be smart. They need to monitor trends across their markets, track competitor activity, and understand what makes travellers click. And there's no time to waste.
Here's a three-part approach that will help you save time and money, outmaneuver your search competition, and win over travel consumers.
1. Keep your eyes on the competitive trends 
Continually monitoring trends for the destinations and markets you serve is essential. You need to understand both historic patterns and monitor current data to know which competitors are winning in what areas and who has just entered or exited your space.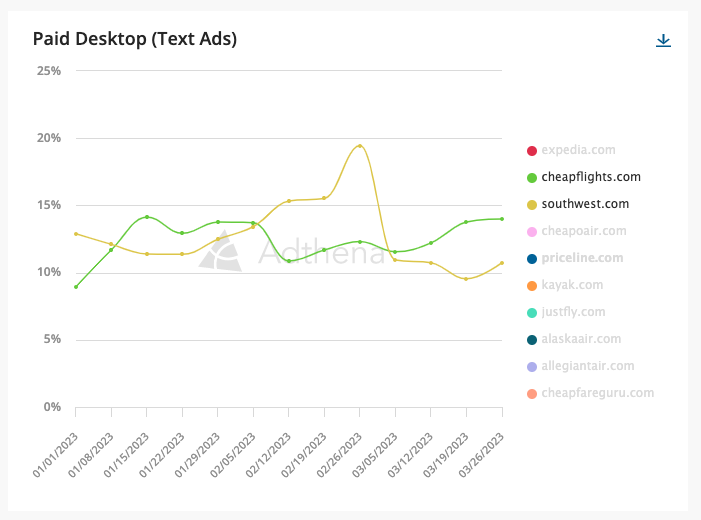 Above: Adthena data shows US click share for key players in the airline tickets, fares, and flights segment across Q1.
You'll note, for example, that when Southwest's share of clicks dropped by 10% at the end of February, cheapflights.com was able to take advantage of the market share. With this granular level of information, you can make real-time decisions in a market which has returned to 2019 competitive levels. These are prime opportunities to be smart and grab market share as levels have begun to return.
Monitoring trends day-to-day and over time gives you visibility into changes in your competitors' paid search performance including threats and opportunities as they emerge.
2. Understand your market share
To make sound business decisions and budget allocations, travel brands also need to understand their share of a market or destination vs top competitors. You need to assess how your share stacks up in each destination to be sure you are using the right levers to increase bookings.

Above: Adthena data shows US share of clicks for Hawaii travel search terms. 
By using this report, you can understand whether competitors are willing to spend proportionately more to gain market share, and see whether this has driven up CPCs for particular search terms or categories.
Above: Generic flight search on SERP 
3. Automate ad copy analysis
Understanding overall market trends and your share of the market is vital to making strategic search decisions, but you also need ad and campaign-level intelligence to optimize creative, connect with travel consumers, and capture bookings.
The Google SERP gets very competitive and travel advertisers need every edge possible. What ads and calls-to-action are resonating with travellers and driving clicks? What price points are your competitors offering, and which messages are hitting home? Are rivals promoting specific offers, deals or travel protection messaging around ATOL?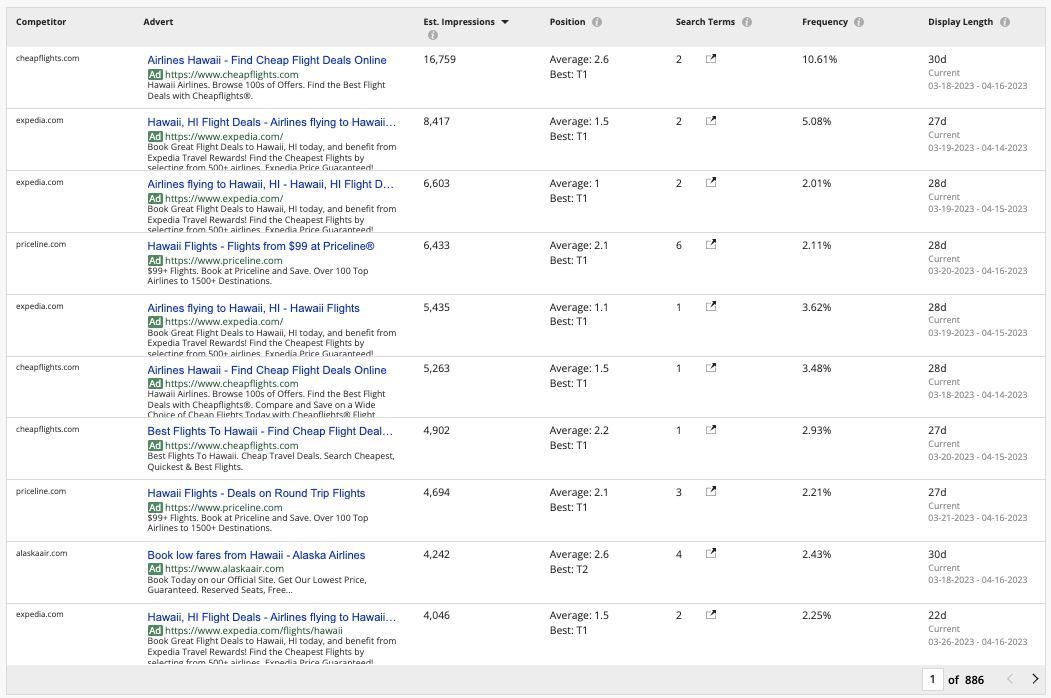 Above: Adthena Top Ads Report 
As you can imagine (or experience), manually monitoring ad copy is incredibly time-intensive. Search marketing teams spend up to 10 hours on the task every day and burn through a lot of time and money testing ad copy to see what resonates with consumers.
Automating analysis of competitive ad copy eliminates these time and budget drains and their associated risks.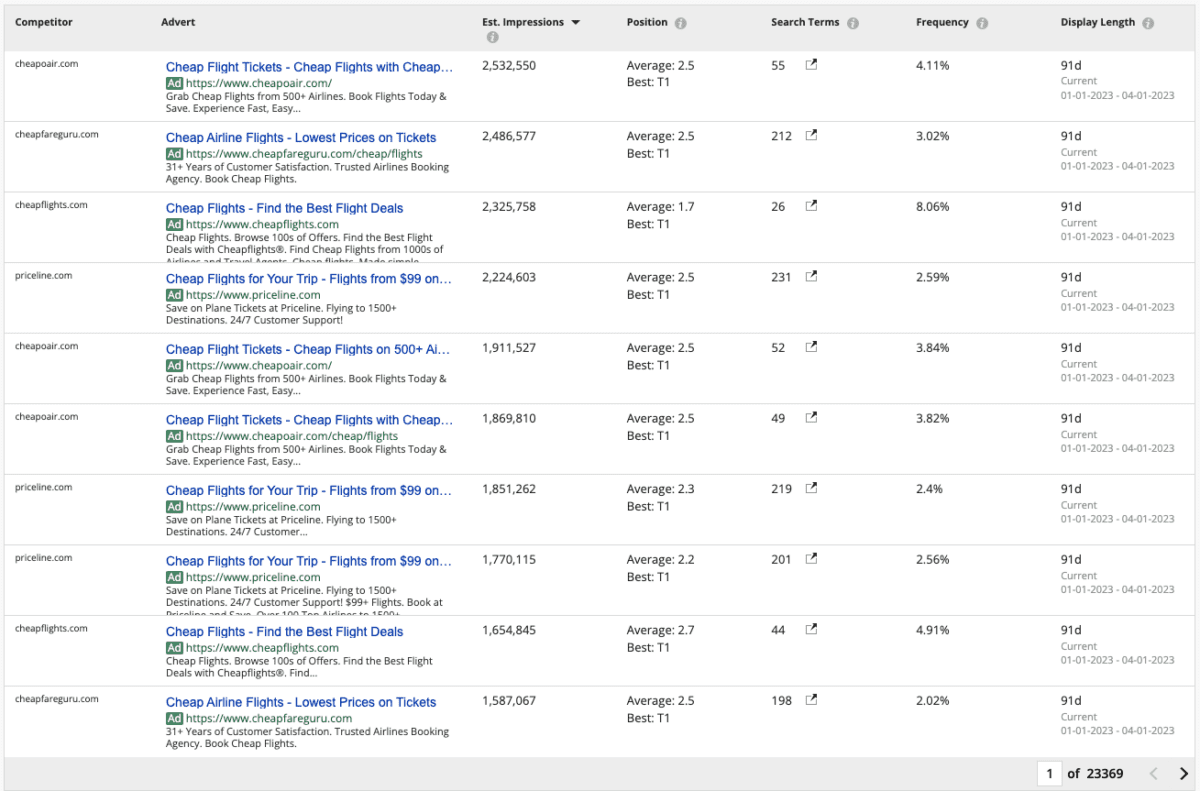 Above: Tracking Ad Copy by Popular Pricing Search Term Groups
Adthena's automated tools will show you which keywords are behind each competitive ad, how long and how frequently the ads run, how they are performing on the SERP, and even what competitors are spending in relation to their click share (aka spend efficiency). In an instant, you can understand very granular correlations between copy and performance. For example, you can see that calls to action on top-performing ads revolve around 'save' and 'grab.'
With this analysis, you can see exactly how your ads and those of your competitors are performing, including estimated impressions and clicks. This instantaneously provides the power to ensure every ad and campaign has the right message to outperform competitive ads and bring in bookings.
Adthena puts powerful travel insights at your fingertips
From market-wide trends in your search landscape to the most detailed competitive analysis of ad creative performance, Adthena gives you the full scope of intelligence you need to maximize your search performance and bookings. 
Get started with Adthena, and you'll immediately be able to:
Automatically monitor short-term and long-term search trends for your services, destinations, or markets across all your key competitors.

Track and manage your share of clicks relative to your competitors at all times.

Understand which ad messages are resonating with audiences and getting the highest impression share across markets.

Know which specific incentives, price points, messages, and CTAs are getting the best results, so you can save time, money, and guesswork on A/B testing.

Automatically identify when competitors have made major shifts in campaign messaging and how consumers are responding.
Take your first step to your best travel season yet. Get in touch with Luke or download our US and Europe Travel Report.