While international travel is by no means back to pre-pandemic normal (just ask Novak Djokovic), we did see a few of the most rigid travel restrictions lifted at the end of 2021. We've also seen leading travel advertisers get back into the auctions, ramping up media spend after long pauses.
Omicron is still rampant, and there's always the potential for new variants to emerge, but there's also a chance 2022 will unleash pent-up demand for travel. PPC marketers must be ready for the resulting competitive frenzy and should put search strategies in place that will ensure travellers book with them over rivals.
Five things every travel marketer should be doing now
A lot has changed in the travel space since 2020, and there's not much historical data for advertisers to rely on from the last 2 years.
Here are five ways you can position yourself for a flying start to the travel season.
1. Start monitoring and benchmarking now
Monitoring the paid search auctions across all of your campaigns and destinations will be vital to spotting opportunities. You need to watch all your competitors' moves and assess how your strategy compares.
Be sure to:
Watch your competitors as they leave and reenter the auction to surface important trends early.
Carefully monitor how your market changes in response to COVID news, restrictions, and updates.
Benchmark your strategy now so you can track your performance against your competitors. With Adthena's market trends and market share analysis, you can benchmark your position down to the individual search term level. What's more, you can set up search term groups, campaign groups, and competitor groups to benchmark as well.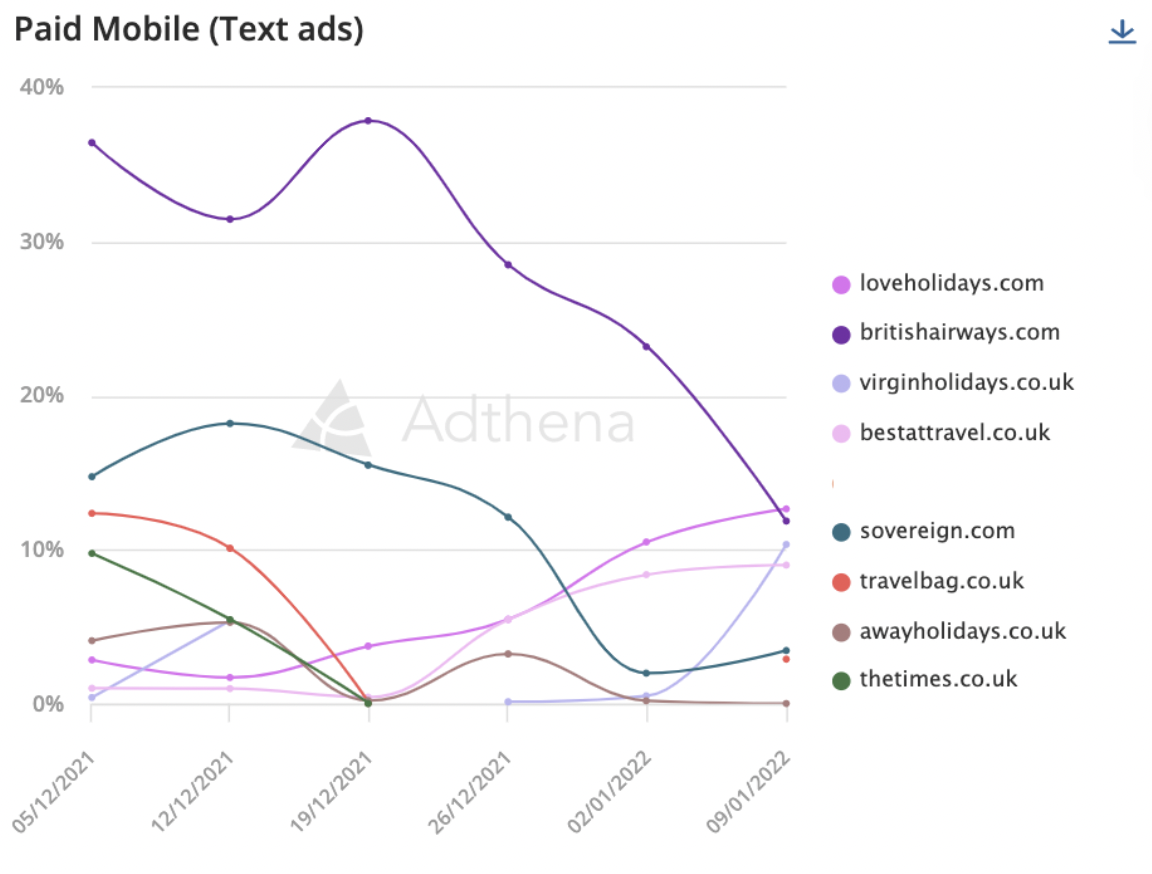 Adthena's Market trends – (Share of clicks across Barbados Generics) Monitor trends in your market
Bonus miles: Use Adthena to identify any search terms your competitors are bidding on that you aren't (data you can't get from Google.)
2. Synchronize your SEO and PPC
Now's the time to identify cost-savings, preserve budgets, and optimize efficiency across your SEO and PPC channels. After all, why spend on PPC if you can pick up that traffic organically? Adthena can provide alerts when you are on top of organic and the only paid ad showing, so you can turn off the unnecessary paid ads and reinvest that budget.
3. Make ad copy your advantage
To ensure travellers are inspired to click your ads vs. your rivals, your ad copy must stand out. That means you need to carefully monitor your competitors' offers and promotions. Are they offering refundable bookings or other reassurance that hesitant travellers want? Adthena can show you all of the ad copy in your market along with what's resonating with potential holidaymakers.
Bonus miles: Use Adthena's Top Ads and Creative Insights to ensure your incentives, promotions, and calls to action go the distance.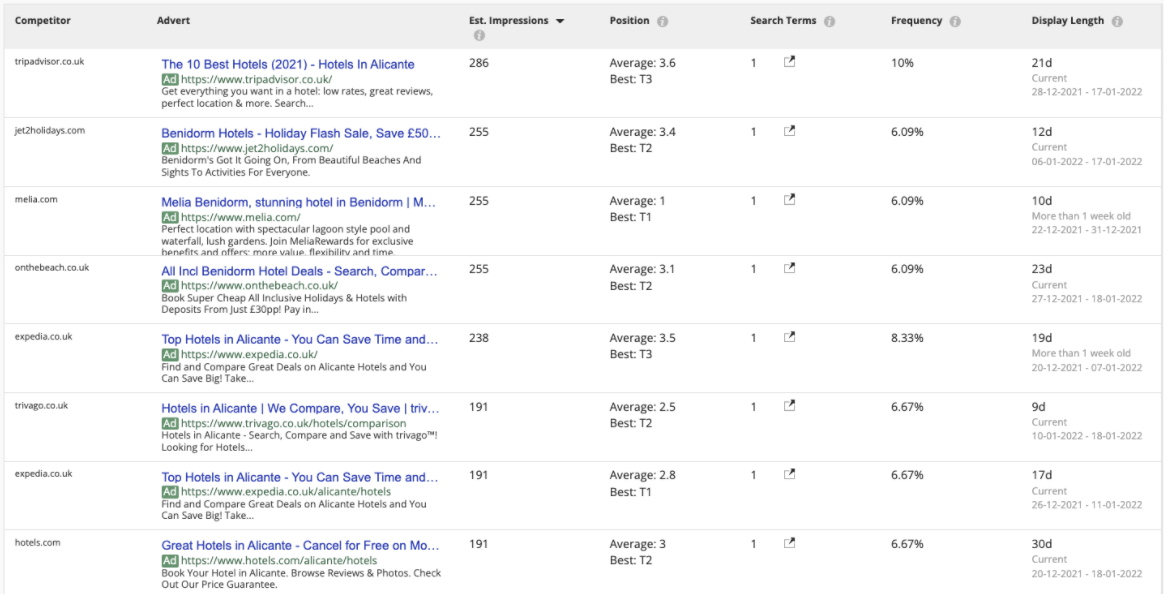 Adthena's Top ads, example (Alicante Generics) – See exactly what your competitors are using in their ad copy and how they rank
4. Watch every move
As you turn campaigns on or target new destinations, you'll want to watch your landscape carefully for competitor responses or gaps. This is the ideal job for Adthena's Smart Monitor, which will automatically alert you to competitor movements as they happen.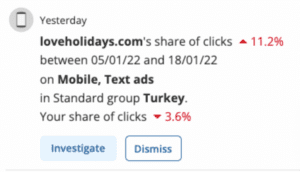 Adthena's Smart Monitor – Receive alerts as and when they occur.
Bonus miles: Adthena's Market Trends can show you where demand is growing so you can pivot budget and activity to hot categories and destinations.
5. Predict market demand
Predicting demand is hard in the best of times, let alone in the current travel environment. But there's a unique Adthena tool you can use to help. By calculating and monitoring your brand's share of search, you can see how your search volume stacks up against your competitors and how that volume shifts when you launch a new campaign or message.
To chat more about how to get your PPC itinerary ready for the 2022 travel season reach out to Adthena's paid search travel expert, Eloise Kuljanic (eloise.kuljanic@adthena.com).