However one thing we can predict is that when people can safely venture out of their homes again, they'll be ready for a vacation. Cancelled honeymoons and thwarted beach adventures will be rebooked.  Students will travel back to school, and industry conferences and major sporting events will resume. But in the meantime, how can travel brands make the best of the present situation and plan for the future? Reviewing your PPC strategy is a good place to start.
Adthena's analysis has surfaced a number of telling trends in travel-related PPC:
Viva plays the long game.

Companies including Iglu Cruise and CompareThatCruise have fully paused their campaigns on the search term "2021 cruise deals." Viva Voyage and ROL Cruise, on the other hand, have taken this opportunity to increase market share, suggesting a longer-term strategy.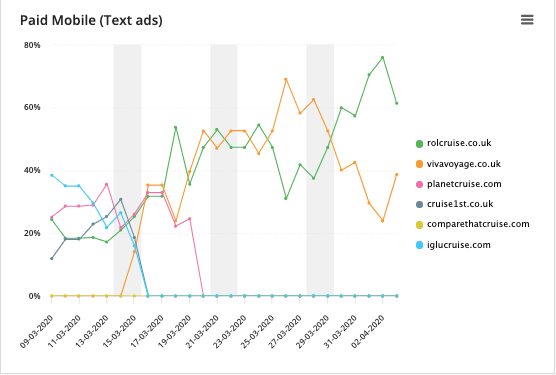 On The Beach thinks post-pandemic.

Bidding on the term '

2021 Holidays'

has plummeted, leaving a lot of market share for the few remaining holdouts like Loveholidays and Co-op Travel. Interestingly, On The Beach re-entered the market, regaining 10% market share after a two week pause in spend, signaling a possible pivot to offense.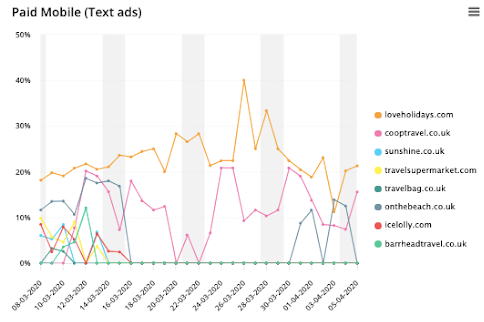 BA brand abandoned. Under normal conditions, competitors bid heavily on British Airways' key branded terms.  That activity has taken a nosedive, revealing the significant inflationary impact brand bidding has on BA's CPCs.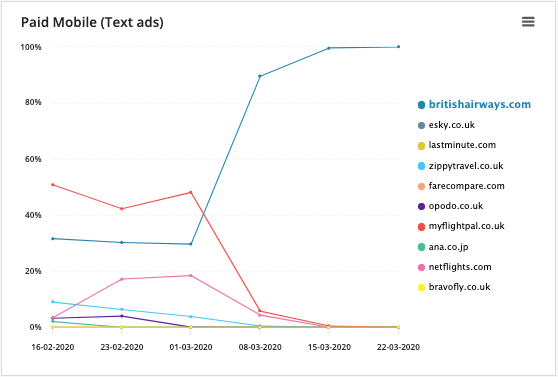 What can you learn (and do)?
Conduct a thorough competitive search analysis to find opportunities to grow market share while CPCs are low
Set up daily monitoring to alert you when competitors un-pause their campaigns or otherwise make a move; you don't want to be blindsided
Analyze your branded terms to assess the impact of competitor and partner brand bidding on your CPCs, then implement protective measures
The Adthena team is here and ready to help you deploy these tactics and otherwise optimize your PPC strategy through uncertain times. Reach out to one of our competitive intelligence consultants today.