Customer experience now starts before consumers enter your branch and they're asking Google for assistance, not your sales agent.
---
Despite the continued rise in online commerce, over the past decade commentators have predicted the demise of the website, first in the early 00's as a reaction to the rise of social media and app technology, and more recently with AI and bots, in what's being called conversational commerce.
Consumer reliance on Google to have all the answers means that the website will be around for a long time yet. Brands will continue to structure their sites and paid ads to be found in the topmost relevant results. 
What this means for brands is that the first customer service touchpoint is often owned by Google on the search engine results page.
With this in mind, what does it mean for marketers and advertisers when Google say that 'for me' searches on mobile have increased by 60%? This represents a shift in the psyche of consumers as their expectations around brand experience and the way they consume content continues to shift. A personal search requires a personal result.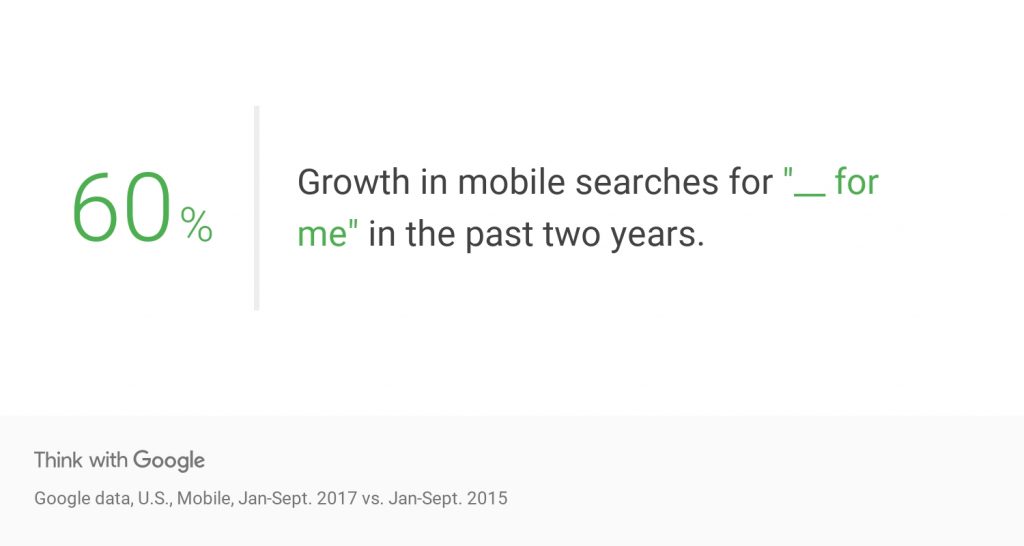 When we think about digital natives, Generation Z may never see the inside of a bank branch. They're going to ask their closest friends and family where they should bank and in 2019 their closest friend is their phone.
Emotionally driven decisions
By now, we're all aware that people make decisions based on their emotions. No matter how long the pros and cons list, the data and rationalization, it is the emotional impetus that drives the decision across the line.
Taking a data-driven approach, let's look at the emotional dynamics of these searches a little better, using the highly emotional example of applying for a credit card. These personal searches could be split into two categories – let's call them Ego and Tribe.
Ego searches include queries such as 'best credit cards for me' and 'am I eligible for a credit card,' they involve first-person pronouns and generally appear to be asking for advice. The Ego consumer is looking for an answer that precisely fits their personal expectations right here and now.
Tribe searches describe the kind of person searching for a credit card and include queries such as 'best credit card for international travel,' 'best credit card for unemployed,' and 'credit card for students.' The Tribe consumer is looking for a brand that aligns to their identity group.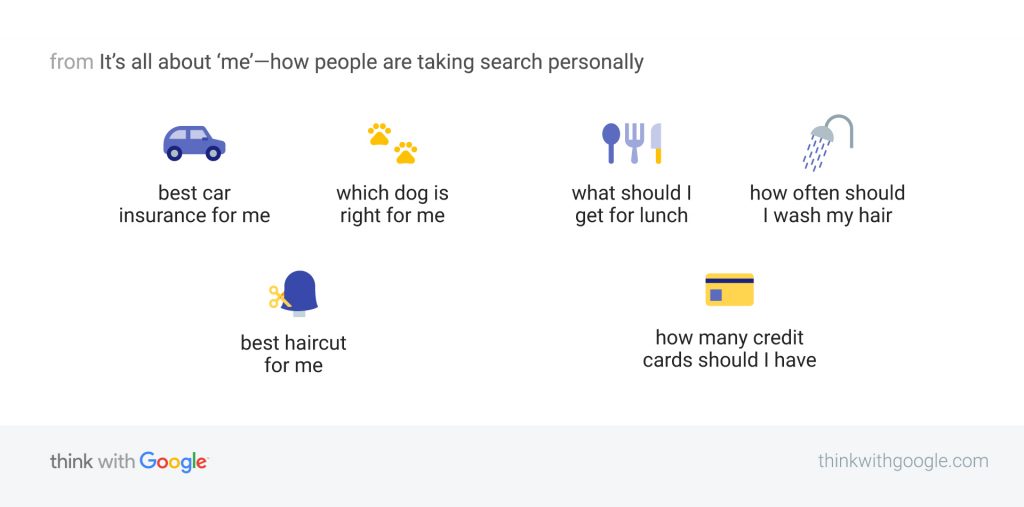 Once we view these searches through an emotional lens, we start to understand consumers better and focus on providing an exceptional customer experience in the SERP. Search always has and always will act as a barometer for customer intent, so focusing on this trend toward 'for me' searches can start to shape the way we communicate with our audience across all marketing channels. With consumers expecting frictionless and personalized interactions with brands, we need to be ready to answer their intimate queries with both precision and empathy.
Of course, this doesn't stop at credit cards, it's relevant to the whole financial services sector and beyond. Monzo are disrupting banking as a business with a conscience and Aviva are redefining insurance with customer-centric products like Aviva Plus.
Customer experience in search results
To start implementing customer experience into your search strategy, ask yourself these two questions:
Are you listening to how your customers are searching? 

How are you shaping your response when emotional impetus is driving their purchasing decision?
'For me' searches represent an opportunity for brands to put their hand up and say 'we hear you, we see you, we have the thing you need.' They also throw up a wider philosophical discussion around how you deliver precise messages to ego-centric audiences that are looking to align their values with the brands they buy from.
---
41% of marketing executives have never tracked how their competitors are performing in paid search. Download our CMO Search Intelligence Index to find out which financial institutions are leading the pack and discover what strategies you need to implement to make the cut.