February headlines confirmed what Adthena data has been telling us for a while now: online advertisers are flocking to Google.
Earlier this month, news of some harsh 4Q earnings and revenue projections caused Facebook's stock price to plummet. Google, on the other hand, experienced no such decline. In a complex big-tech web of cause-and-effect, analysts determined that the discrepancy originated with moves by Apple. It seems Apple's recent privacy changes disadvantage app-based ad platforms (i.e. Facebook) but not search engines like Google, with the shift expected to cost Facebook $10billion in revenue. 
MSNBC's Ari Levy puts it this way: "…when Apple changed its privacy policy last year, limiting the ability of app developers to target users, Facebook was suddenly stripped of one of its most important assets." 
The great re-allocation
The impact of this shift on the advertising ecosystem (and what investors are worried about) is likely to be an exodus of ad spending from Facebook to Google search, as the nature of paid search ads is that they're less reliant on audience data. This further underlines the strength of Google as an advertising channel and correlates with Adthena data that already shows a sizable increase in the number of advertisers and spending on Google over the past year.
More money, more players, more competition on Google
In the retail category alone, we've seen a 9% YoY increase in the number of unique search advertisers participating on Google in the US, and a 17% increase in the UK. 
In addition, our market trends data below shows significant increases in total paid impression share from top advertisers.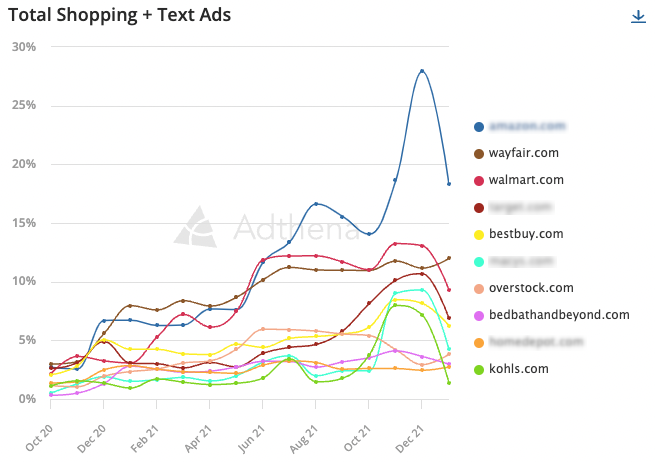 Above: Adthena Market Trends data showing increases in total paid impression share among top competitors – US retail from Q4 2020 to Q4 2021
Put it all together, and you have more spend, more advertisers, and more aggressive strategies among the top players in the Google search landscape. All that adds up to a very competitive search landscape in 2022 and beyond. 
Winning in search will take more than money
In this new, more crowded and competitive search landscape, the Amazons and the Wayfairs may be perfectly content as CPCs inflate. But the typical advertiser can't just throw money at the problem. Most will need to be more strategic, rather than just upping their budgets.
More than ever, advertisers will need tools for competitive analysis and strategic insights to guide their decision-making in search. Finding gaps competitors have overlooked, understanding competitor strategies and weaknesses, exposing hidden opportunities, and nipping waste in the bud will become more vital to efficiency and ROI. And having the ability to monitor and shut down brand infringements will be essential to avoid additional CPC inflation. 
Similarly, as new players continue to enter the market, advertisers will need ways to monitor emerging threats and market movements in real time. 
All of those demands point to one unavoidable fact: advertisers will need more competitive intelligence and expert support if they want to compete in search.  Operating blindfolded and inefficiently in a crowded and cutthroat competitive environment is no longer an option. 
Now's the time to tool up
Adthena's powerful search intelligence technology provides competitive analysis, strategic insights, and a team of experts to help brands, marketers, and agencies dominate their competitive landscapes.