If you want to take the lead in the electric vehicle market, now's the time to get off the bench. While the UK is seeing sales of petrol and diesel cars plummet, and chip shortages continue to strangle supply, sales of hybrid and plug-in vehicles are soaring. This is just the beginning as the UK works towards the Government's 2030 ban on new sales of petrol and diesel cars. 
As the ban draws closer, we expect to see a more competitive space as manufacturers put greater focus on marketing their fully electric models. What's more, the charging services and energy companies that will fuel this industry are now in a perfect position to scoop up brand awareness and market share right now.
The EV landscape right now
Here's the current situation. Adthena's data shows several auto manufacturers, EV charging brands, and energy companies competing for the top positions in their respective markets. Things remain volatile, but a few names are clearly on the leaderboard.
Today, Kia is leading the field in terms of desktop searches for passenger vehicles.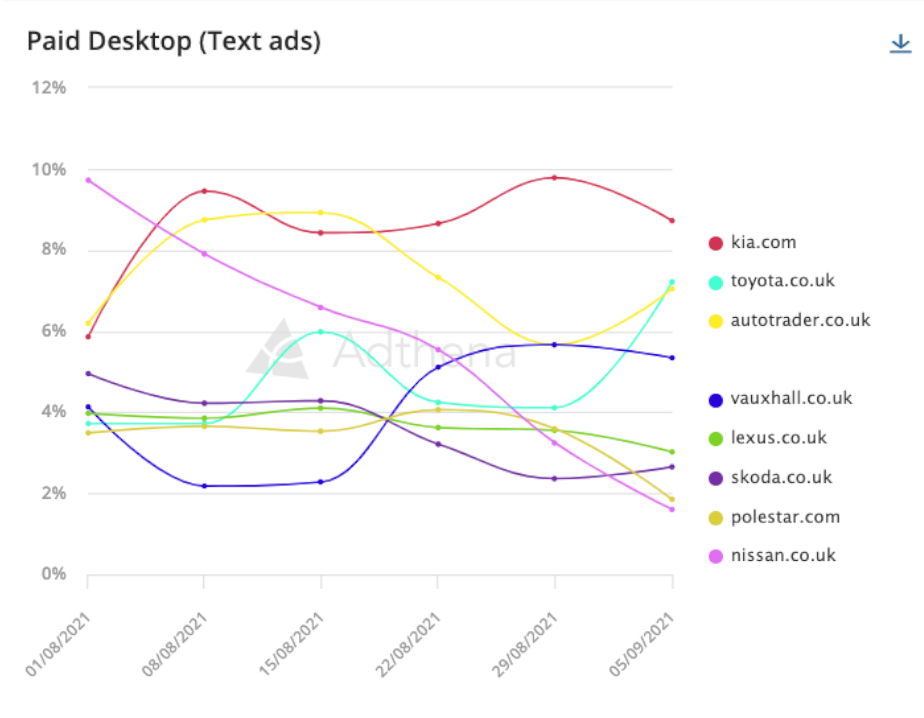 Above: Adthena data – Electric Car Generic Terms (past 6 weeks)
Now's the time to claim your position
This is a pivotal moment for search marketers in the EV space. Now is the moment to begin to aggressively pursue opportunities, monitor competitor strategies and messaging, track demand, and stay alert to new aggressors in the search space — because they're coming.  
Interestingly, across EV charging terms, we have seen very few manufacturers appearing in the 10 top advertisers. It is a fairly volatile market but could present a great opportunity for manufacturers to target as demand continues to grow.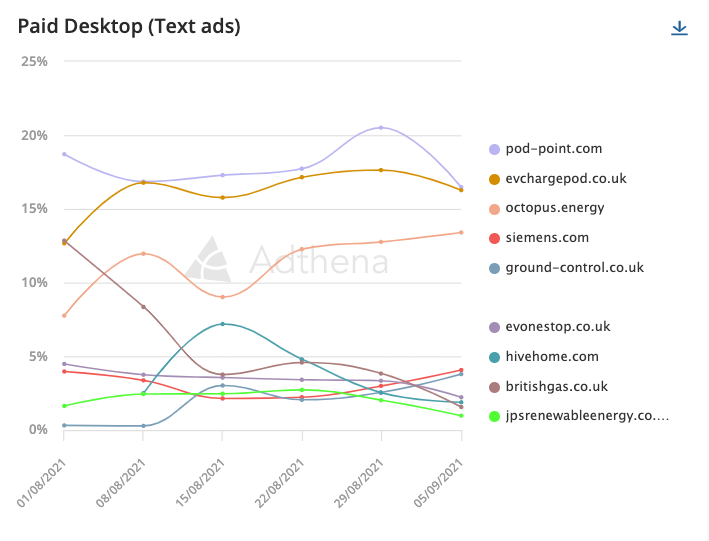 Above: Adthena share of clicks data – EV Charging (past 6 weeks)
Across EV tariffs and charging generics, Siemens, Octopus Energy, and Pod-Point dominate the charging scene. Is British Gas missing out on opportunities here?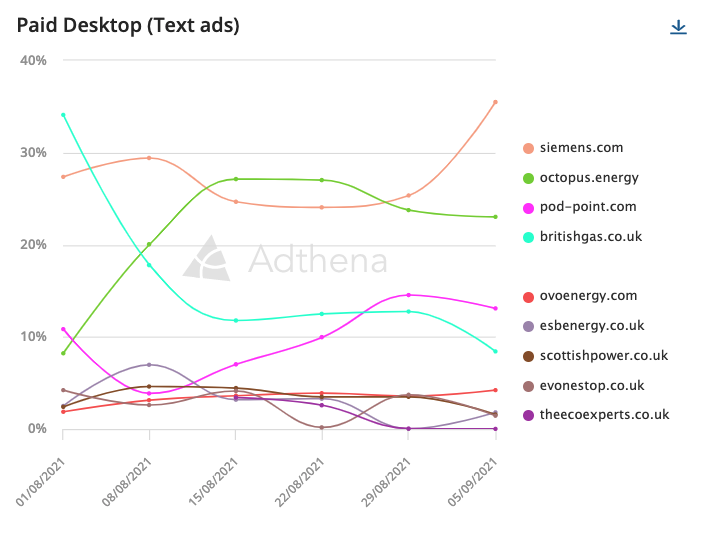 Above: Adthena data – EV tariffs and charging generic terms (past 6 weeks) 
It's time to charge up your search intelligence
Competitive search intelligence is going to be a vital tool over the next year and beyond as brands in the EV space wake up to a changing ecosystem. Search data will be vital if you want to capture opportunities for growth and counter any trouble on the horizon while keeping your spend efficient. 
Four factors to keep your eye on right now:
Competitor movements. Watch for new names entering or exiting the top ten, which can be a signal of a broader market threat or opportunity.

Adthena Smart Monitor

can automate this by alerting you to competitor movements (up or down) as they happen.

Competitor messaging. Track and analyze your competitors' messaging, price points, CTAs, and value propositions at scale using Adthena's creative ad intelligence tools. You'll see who is focusing on what, what's working, and who is getting out ahead of trends or seasonality (by offering rebates or heavily promoting new tax incentives, for example).
Term trends. Monitor and exploit cost-effective search term opportunities, and uncover niche terms that your customers are searching for and that may be overlooked by your competitors.
Demand. Get powerful insights into demand by using Adthena Investment Intel to accurately track demand across categories and or locations.
Call me for more insights
For expert advice on how to win in the surging market space and uncover new opportunities to win customers and market share, reach out to me any time at eloise.kuljanic@adthena.com