If you're an online beer purveyor (or delivering whiskey, gin, or any other dad-approved bev, for that matter), you'll want to plan ahead to capture gift sales and home deliveries for the big day on 20 June, which will remain popular this year despite easing pandemic precautions.
Lager lessons from 2020
Let's look at patterns from Father's Day in 2020, when booze delivery was enjoying soaring pandemic popularity. 
By the end of May in 2020, online beer seller Beer Hawk was already increasing spend on mobile and desktop, bidding on a variety of terms related to beer delivery.  This strategy paid off: by upping their spend by 10%, they directly boosted their clickshare by around 8%.

Above: Share of Spend data from the Adthena platform
The rest of the delivery four-pack? They didn't offer much competition on desktop, with Beerwulf, Beer52 and Honest Brew all flat vs. fizzy in the holiday lead-up. Beer52 increased their spend by over 10% on mobile as well as desktop, however mobile performance stayed consistent – showing us that their strategy was predominantly mobile in the build up to Father's Day.
Already it looks like a similar pattern is taking shape this year, with Beer Hawk investing early and dominating the Google SERP.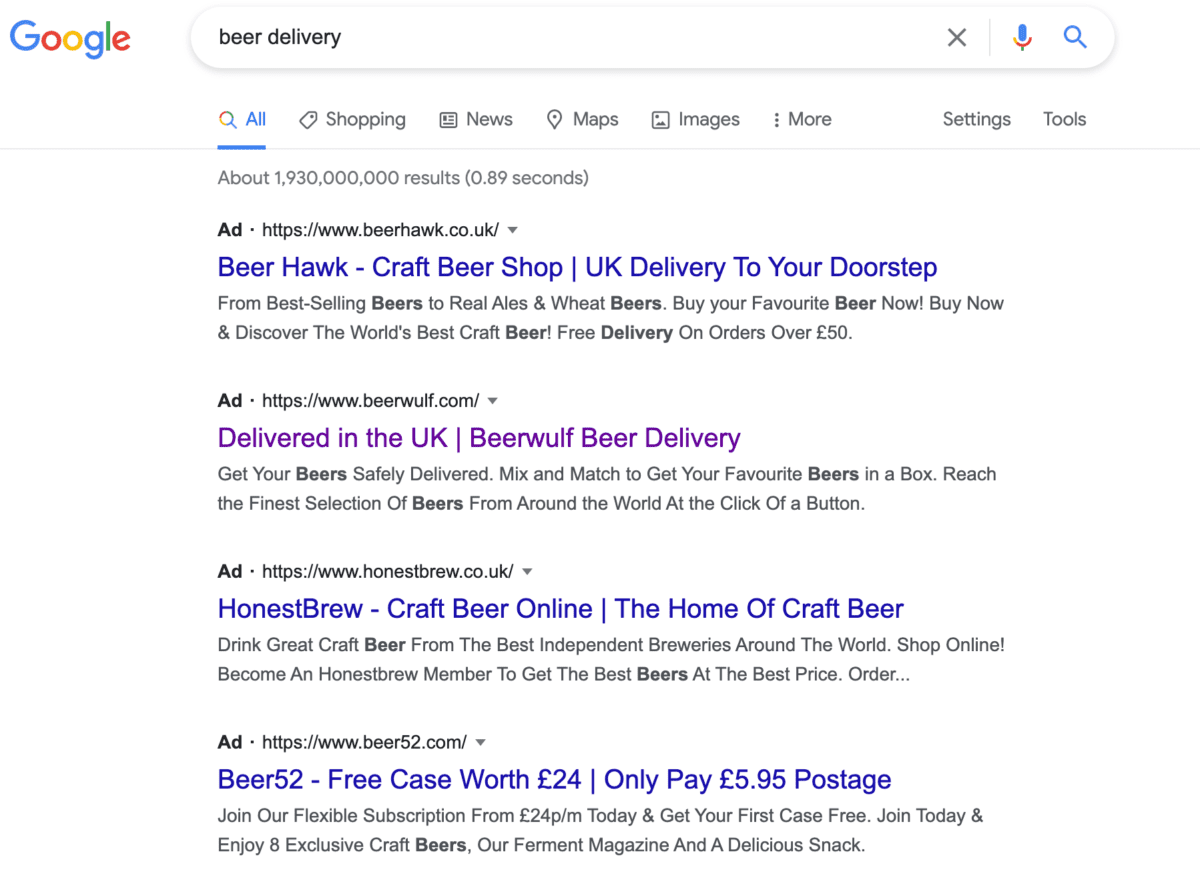 A lost hop-portunity
With some historical insights, those competitors could have seen this strategy coming and taken action to capture more of the market this year. So far, it looks like Beer Hawk will repeat its Father's Day sweep from 2020. 
Are you monitoring your market? 
Seasonal events are an important time to monitor your competitors' strategies, stay assertive, and jump on opportunities. Reviewing historical data will help you know how early to start monitoring your market and when to increase spend. 
Three tactical tips for Father's Day success
So what should beer brands and other marketers do in the run up to these types of seasonal events? The same things you should do any time you expect demand to heat up:
Look back at historical intelligence to predict your competitors' likely  strategies and timetables

Ensure you have multiple ads and that the copy helps you stand out from the rest. This is what enabled Beer Hawk to see such a sharp uplift in clicks.

Avoid blindly increasing budget on generics, Adthena can provide you with the details on what has worked, what is currently working, and reveal opportunities for unused search terms. 
Sage advice: plan early and budget wisely
For Father's Day 2021, beer brands should plan PPC campaigns in advance to get the jump on competition and capture those early gift sales and mindshare.
For help with your PPC strategy reach out to Josh Wainscott at josh.wainscott@adthena.com