April brings us another step closer to a new ad landscape on Google where every campaign is a Performance Max campaign. As a refresher, Performance Max is Google's new automated, goal-based campaign type that will soon replace all other others, including Smart Shopping and Local campaigns.
Performance Max lets performance advertisers deploy a single campaign across the full Google Ads arsenal, including YouTube, display, search, Discover, Gmail, and Maps. Read more about the launch here.   
In this next phase of the rollout, marketers can move existing campaigns over to Performance Max using Google's "one-click" upgrade tool. Starting in April, you can start converting your Smart Shopping campaigns, and you'll be able to upgrade Local campaigns beginning in June. All campaigns will be transitioned by September.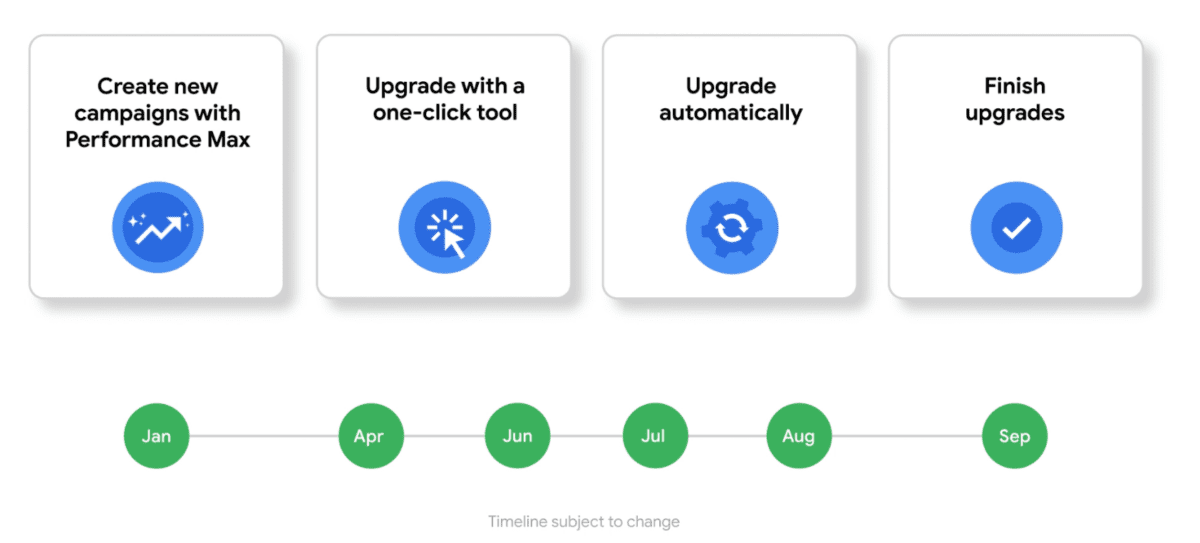 Credit: Google
Upsides, downsides, and workarounds
The key benefit of Performance Max campaigns is that advertisers will be able to access all Google inventory with a single data feed. You'll be able to transform video ads into digital storefronts, for example, or highlight top products on YouTube. 
What advertisers may lose is the granular control and reporting transparency they need to optimize performance, and having first-party data will become more essential than ever.
While there's anecdotal evidence that some marketers are seeing less-than-stellar back-end performance with Performance Max, not so with marketers using Adthena to track and optimize their campaigns.
Adthena insights fill in the reporting and data opacity you may experience with Google's more automated approach, so you can get both the one-feed advantages and the control and visibility you're used to. Win-win!
 

For every limitation, Adthena has a fix
Performance Max can optimize to a set target, but how do you know it's the best target?


Adthena data can show you if there's market share ground you can gain by bumping up your target CPAs or if aggressive bidders aren't competitors and therefore aren't worth pursuing.

No detailed search term data? No problem.


Adthena search term detail data will show you the search terms your campaigns are matching and the estimated volumes from each. 

But what if… Frankenstein ads.


Because Performance Max auto-generates ad creative, there's always the potential for some wonkiness or even an outright brand disaster. Adthena gives you the power to scrape and monitor all ad variations and spot any issues. 
Make the most of Performance Max ads with Adthena
For more information on how Adthena can help you manage your Performance Max campaigns for great results, request a demo with one of our paid search experts.