Black Friday is fast approaching and is perhaps the most competitive day of the year for online retailers. Marking the start of the holiday sales season, this year's Black Friday will be on November 25. 
During Black Friday season, the most successful retail brands are those who have clear visibility into search competitor activity. 
Knowing who's dropping out of the bidding auction, which competitors are increasing budgets and on what terms, and having insights into where rivals are distributing their budget spend –  is all key to gaining an understanding of your position in the current market. 
Simply put: if you want the best chance of preserving your market share and also capturing incremental sales during the holidays, you have to know and respond to what's going on around you. You need to have your eyes peeled and ears to the ground. 
Here's our top 5 tips on how to win this Black Friday. 
Tip 1: Plan your keyword strategy
The first step to winning the Black Friday game is to look into which search terms are converting customers and gaining the most click share. Decide on what product categories you want to drive traffic from and cross reference all the search terms your competitors are appearing on. Search intelligence allows you to easily see what search terms your competitors are bidding on across each product category and campaign, and also how well these search terms are performing across Black Friday and in the lead up to it. 
Bonus Tip: add in the phrase 'Black Friday' to top brand or generic terms as this will ensure visibility for consumers looking to bag a Black Friday deal. 
How Adthena can help: Use Adthena's Search Term Opportunities and Search Term Detail to identify any terms your competitors are bidding on that you aren't (data you can't get from Google).
Tip 2: Create compelling ad copy 
Your Ad copy can determine the success of your search campaigns. Regardless of how much you've invested in search terms, getting a conversion may depend on the content of your ad. When it comes to writing your ads, it's essential you know what incentives are converting customers, what price points/promotions are hitting the spot for your audience and what CTAs are driving conversions. 
Bonus Tip: you can drive a sense of urgency by using countdowns and time-limited deals in your text ads.
How Adthena can help: Understand competitor ad copy strategy during peak periods & monitor competitors' promotional messaging with Adthena's Top Ads and Creative Insights.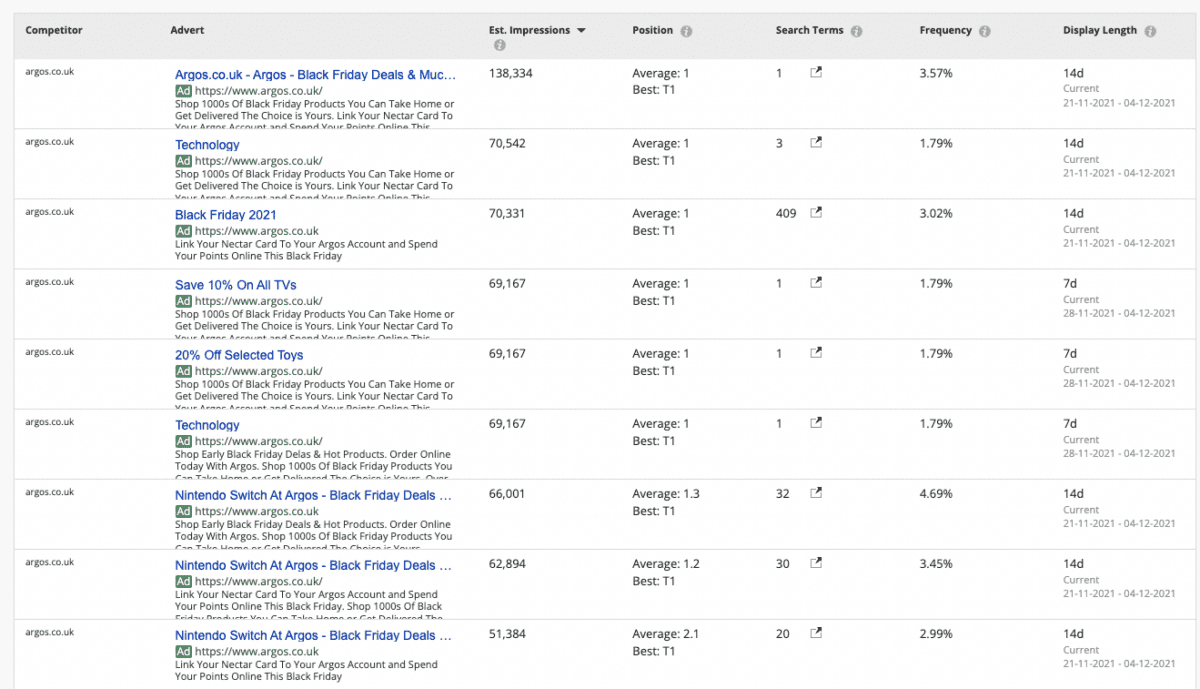 Black Friday 2021: Adthena's Top ads, example (Black Friday Deals) – See exactly what your competitors are using in their ad copy and how they rank
Tip 3: Monitor insights in real-time 
To achieve your Black Friday targets, you need to know which competitors are dropping in and out of the paid search auction, and where you can take their share of clicks. What are your rivals' strategies across PLAs, text ads, mobile and desktop? What are your resellers doing and how can you ensure shoppers buy directly?
Search intelligence will also give you a real-time window into competitors' click share, CPCs, budgets, and any terms you may be overlooking. 
How Adthena can help: Adthena's Market Trends can show you where demand is growing so you can pivot budget and activity.

Black Friday 2021: Adthena's Market Trends, example (Black Friday Deals) – see who is dropping in and out of the market and exactly how their strategy is changing.
Tip 4: Budget allocation & cost-savings 
Don't underestimate the importance of a well-devised budget allocation plan. How you split out your budgets should be determined on real market intel. Don't throw all of your marketing budget at the wall to see what sticks. Having a clearly thought out budget plan will also help you excel in areas of expertise and stay competitive, while reducing risk of hurting profits. 
To avoid blindly increasing budgets, search intelligence can provide you with granular insights on competitor spend and how their spend stacks up against yours. This allows you to make informed decisions on where to increase or pull back on budget allocation this Black Friday. 
How Adthena can help: Adthena's Share of Clicks vs Share of Spend analysis allows you to benchmark where and how much competitors are spending and their allocations for each channel. 

Black Friday 2021: Adthena's Share of Spend, example (Activewear Generics) – see exactly how your spend stacks up against your competitors.
Tip 5: Don't waste money where you're already winning organically
And if that wasn't enough, there's always more for those who want to be that one step ahead in the game. So, how can you be even more efficient this Black Friday? 
Lone Ranger terms are search terms where you are already ranking in top position organically, with no competition in sight. If no other brands are bidding on those terms, why pay for those clicks? Identifying these efficiencies and trimming down on unnecessary costs will enable you to reinvest those savings elsewhere and be in a solid place to dominate this Black Friday. 
How Adthena can help: Adthena's brand new platform feature, Brand Activator, can help you identify Lone Ranger terms by automatically monitoring and pausing spend to track your spend and reduce waste budget. 
Read our previous case study on how we delivered an 82% sales increase for River Island on Black Friday. 
For more information on how you can optimize your paid search strategy ahead of Black Friday, get in touch with our retail consultant, Eloise.