The lead-up to Super Bowl Sunday creates an advertising flurry that ranks up there with Black Friday and the Q4 holiday season, and ad volume this year increased 15% YoY.  For TV manufacturers and retailers, the big game creates a welcome uptick in sales as fans invest in screen upgrades. And the fact that the game comes just in time to clear out inventory before new spring model launches? Extra points.
So, who were the electronics winners this year? What strategies scored big? Adthena paired up with gap intelligence for an expert post-game analysis, revealing new Omnichannel insights across onsite promotional channels and online search – as well as tips for advertisers. gap intelligence monitors omnichannel pricing across a vast panel of US merchants, including advertising and promotional activity.
About the analysis
The collaborative analysis looked at Google Shopping (Product Listing Ads), which put products for sale directly in front of online shoppers before they reach a retail site. This makes shoppers more likely to click the ad and make a purchase. We also looked at Google Text Ads that are shown above and below Google search results and look similar to non-paid organic listings. We tallied results across mobile and desktop for each ad type.
Here are five insights from 2023's pre-game surge:
1. Big boxes dominated, not big deals 
gap intelligence' weekly tracking shows that BestBuy remained the top advertiser for Super Bowl deals this year, although its ad count diminished by 4% YoY (See fig. 1).
But Adthena's daily tracking revealed a tighter and more dynamic game in paid search. BestBuy remained the top retailer but faced tough competition from Amazon and was twice surpassed by Walmart for share of impressions. (See fig 2).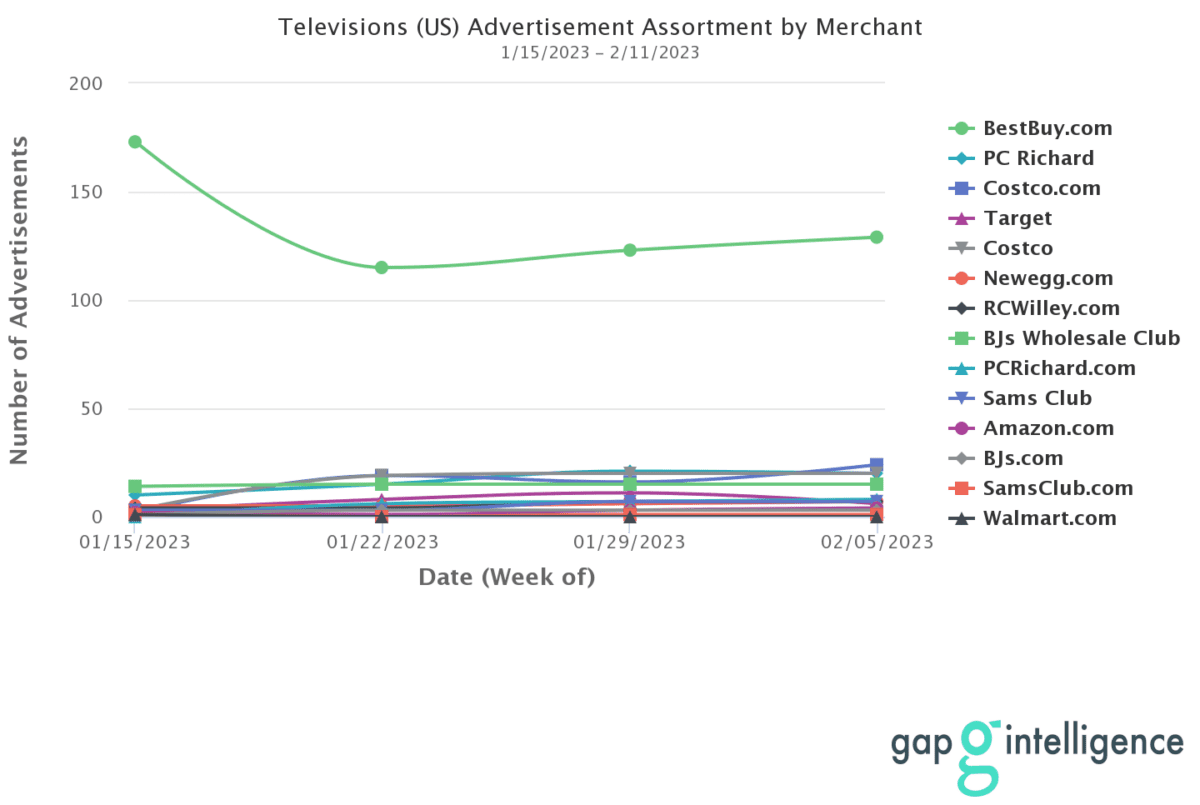 For promotional activity on Google Shopping, it was a tighter race for first place between Walmart and Best Buy. Target, which largely remained in third place, made a concentrated investment in PLAs when compared to Desktop Text Ads.
Interestingly, Adthena didn't capture any significant discount messaging for the big box stores outside of their evergreen free shipping offers. For example, Best Buy ran its usual "Free Shipping on $35".
On the other hand, Samsung, LG, and independent players like NFM and Howards focused on specific discount messaging. For example, Howards.com advertised "65" LG TV Starting at $899 " between February 2 and February 8.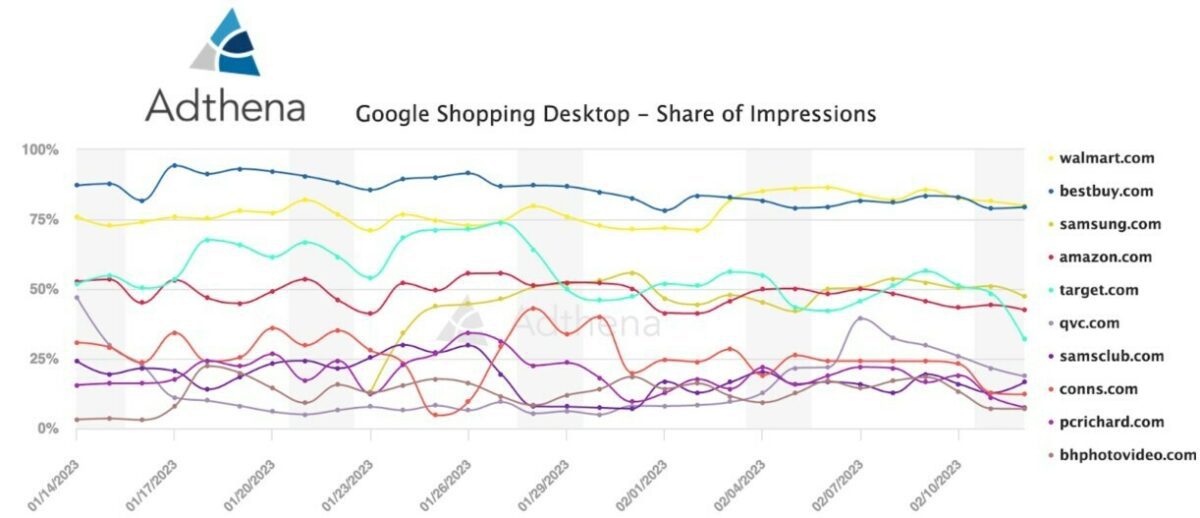 The takeaway: While Best Buy led the race for in-store promos, the competition was far stiffer online. We expect Best Buy and other big box retailers to sharpen their messaging next year to gain a leg up on the competition. In order to understand the complete landscape, it's important to look at both promotional channels together.
2. Samsung's quarterback sneak
Samsung outpaced LG this year as the most-advertised brand, with a seismic 95% increase in advertising vs. LG's 9% uptick.  Most brands saw increases in advertising counts amid the overall rise in pre-Super Bowl weekly totals.
Remarkably, Samsung wasn't advertising on PLAs prior to January 23, when Adthena noted them entering the market for the first time.
The takeaway: Samsung's online activation on January 23rd may be a 'wait and see' strategy designed to monitor the performance of their channel partners and to take action if needed. By analyzing their omnichannel performance, we can unlock unique insights into their complete promotional strategy
3. TCL leans into low prices
Electronics manufacturer TCL, the official TV partner of the NFL, positioned itself well for this year's event.  
While 45% of the total televisions gap intelligence tracked across US omnichannel were listed at or below their lowest recorded sale prices, TCL had 20% of its TVs advertised at lowest-ever prices ahead of the big game, the highest percentage of any major brand.  
TCL also saw a 33% uptick in its ad count during the period. Its 75″ LED (75S455), which dropped as low as $478 at a 59% discount, was one of the most frequently advertised items and set the top discount threshold for the event (20% was average discount across market).
TCL did not advertise directly on Google, but Adthena captured TCL product ads from other retailers.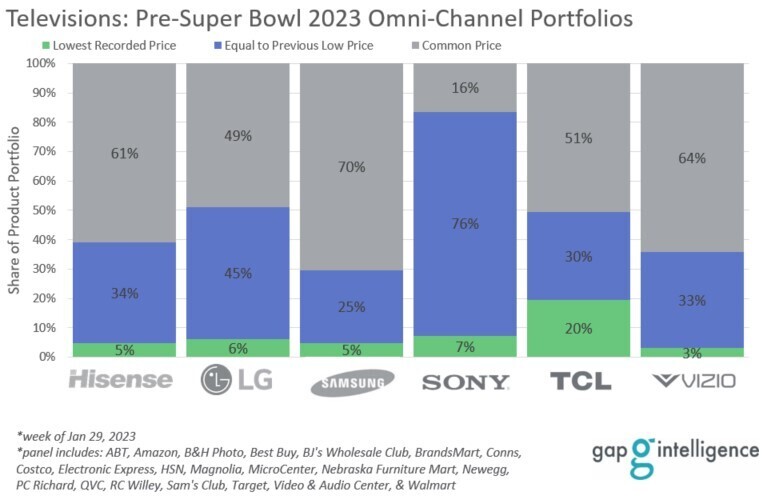 The takeaway: TCL's sponsorship of the big game was echoed by their promotions, likely resulting in not just a lift in brand awareness but also sales.
4. The biggest screens show the biggest growth
This year's pre-Super Bowl advertising landscape continues to show a shift to larger-screen TVs. Despite a small decline this year (-6% YoY), the 50″ – 59″ segment was still represented the most in ads, accounting for 21% of the overall ad mix.  The highest growth areas YoY were the 60″- 69″ size class, which increased 40% over last year, and the 70″ – 79″ sector, which grew by 51% compared to 2022 advertising.  Data from Adthena showed the 50-59" and 60-69" classes had the greatest representation among Product Listing Ads on Google.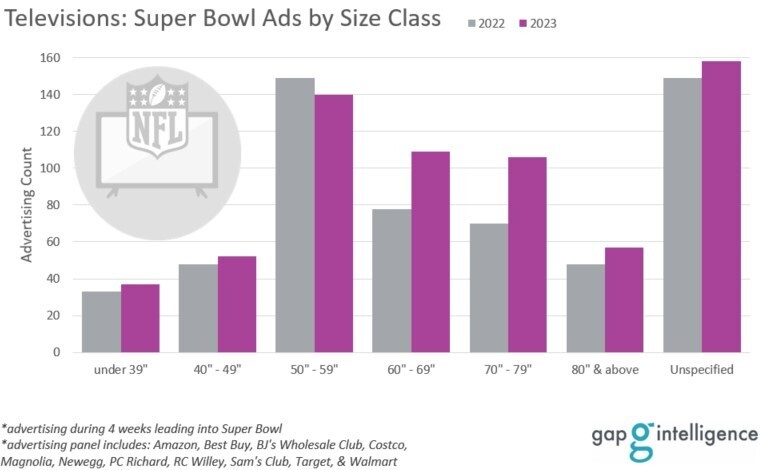 The takeaway: Consumers looking for deals are most likely to score them on 50-59" TVs, but larger TV sizes are picking up promotional steam – we expect more deals on bigger TVs to continue next year.
5. Tactical triumphs or trick plays?
Bhphotovideo.com had the highest-priced item, a 325" LG 8K Ultra HD Business TV for $1.09m. "Sticker-shock" items like these are great at getting users to click the ad to inspect the product further despite not having any intention to purchase.
Google's algorithm favors products like this because of high engagement rates. While these products don't convert, they can add value by getting users identified and funneled into remarketing tactics.
The takeaway: While Google Product Listing Ads are most associated with bottom of funnel marketing tactics, retailers are recognizing their use as a way to drive brand awareness to 'halo' products which in turn, can build loyal and addressable audiences. This strategy is only apparent when examining both in-store and online promotions side-by-side. 
Want bigger bumps in revenue during big sales opportunities? Listen in to Adthena and gap intelligence analysts' podcast on demand, request a demo with Adthena now or contact gap intelligence at hello@gapintelligence.com.
About Adthena
Founded in 2012, Adthena is an award-winning search intelligence platform. Our unique combination of patented, AI-driven technology and a world-class team of experts helps brands, marketers, and agencies across the globe dominate their competitive landscapes. We provide our customers with a clear view of the paid search landscape, helping them optimize their spend to increase ROI, all while saving them time and better informing their cross-channel strategies. 
Adthena's solutions are powered by our market-leading technology: Whole Market View creates a unique market map of a client's entire search landscape and Smart Monitor automatically detects threats and opportunities every day. Our award-winning Local View product provides the location-based strategic insights that marketers need to dominate at a local level. For more information, visit: www.adthena.com and follow us on LinkedIn. 
About gap intelligence
gap intelligence, celebrating its 20th anniversary in 2023, is a values-led company that works with manufacturers, resellers, and industry players within the information technology, imaging, consumer electronics, and home appliance industries to bring them up-to-the-minute market intelligence. The company has been recognized as one of San Diego Business Journal's "Best Places to Work" for the last five years. To learn more about gap intelligence, visit: gapintellingence.com