A prerequisite for any competitive PPC strategy or successful campaign is an understanding of who you're competing against, what terms are in play in your market, and how those factors change over time. You need performance benchmarks to expose long-term trends, assure you're moving in the right direction, and understand where your rivals are headed and why.
At a strategic level, consistent benchmarking gives you a window into competitor activity and can surface gaps you can optimize. It's also a way to pick up on industry trends developing, such as new terms, new tactics, and new players in your market.
As essential as this level-setting is, it can be difficult and time-consuming to capture manually. After all, you don't know what you don't know.
Your new free benchmarking tool
Adthena's powerful reporting tools make reliable benchmarking fast and easy. Our industry benchmark report is one of the most important tools in your PPC arsenal, and it's now available to use at any time completely free.
Here's the rundown on how to use it
The Adthena Industry Benchmark Reports offer an instant snapshot of the biggest players in your search landscape, how they stack up against one another, and where you land in the mix.
You simply choose your industry and select your brand from a given set of domains to reveal your position vs the top-10 advertisers. From there, you can get automated insights on the segments you care about, such as paid vs. organic or PLA vs. text
Then, Adthena's easy-to-use widgets offer an array of insights from your data:
Industry View
Benchmark your performance and grow your market share by seeing how you stack up against competitors.
Market Share
Shows how your clicks and impressions compared to the top-10 advertisers in your industry. See which competitors are getting the most visibility with Market Share.

Advertiser Comparison
Identify top performers by seeing which advertisers fall in the top right quadrant of this chart. Note that the bubble size indicates a competitor's share of spend, as a percent.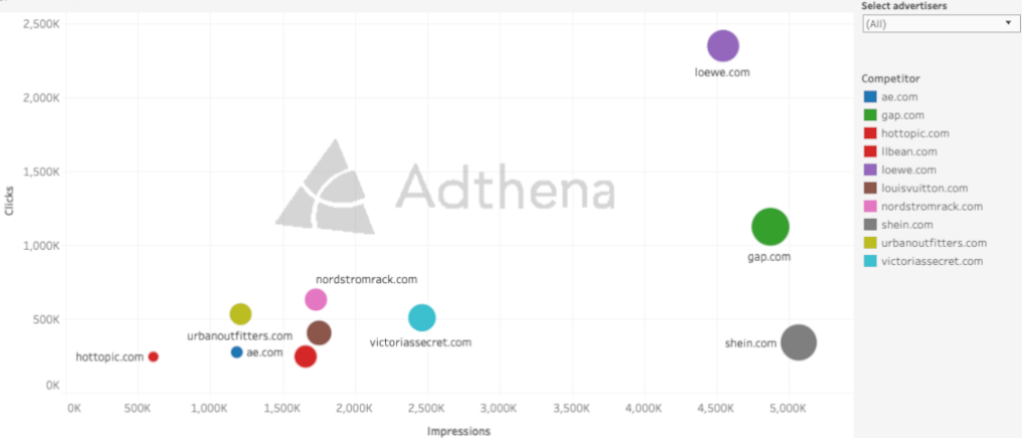 High Clicks + High Impressions = optimal performance
High Clicks + Low Impressions = you need more search terms for more impressions
Low Clicks + High Impressions = you need to improve ad copy or position
Low Clicks + Low Impressions = you need to add more search terms and improve your  ad copy
Top Advertisers
Offers a quick look at the top keywords and top brands in your industry. View the top 50 advertisers for your industry, ranked by Market Share. Domains with a high ranking and a low number of unique terms have a strong advantage, indicating a large presence on key high-volume search terms.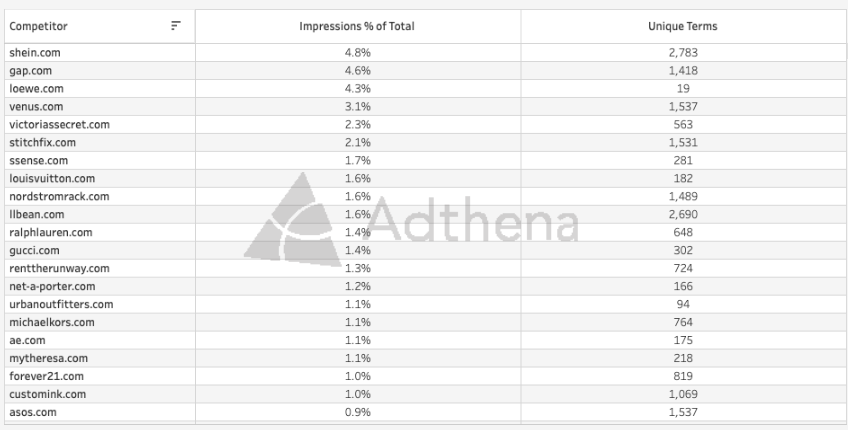 Advertiser Comparison
Track key metrics to guide your strategy, and conduct a head-to-head comparison on any two given advertisers.
Brand Comparison
Evaluate top competitors in your industry based on their average position and an additional metric of your choice.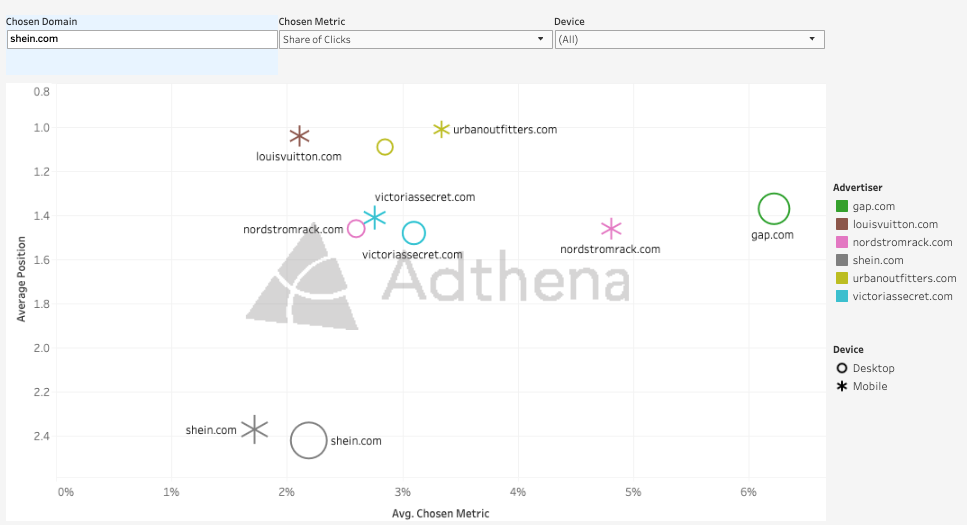 Head-to-Head Comparison
Get granular insights by comparing the performance of two advertisers in your industry and easily evaluate their relative performance, search term overlap, top paid terms, and identify new search term opportunities.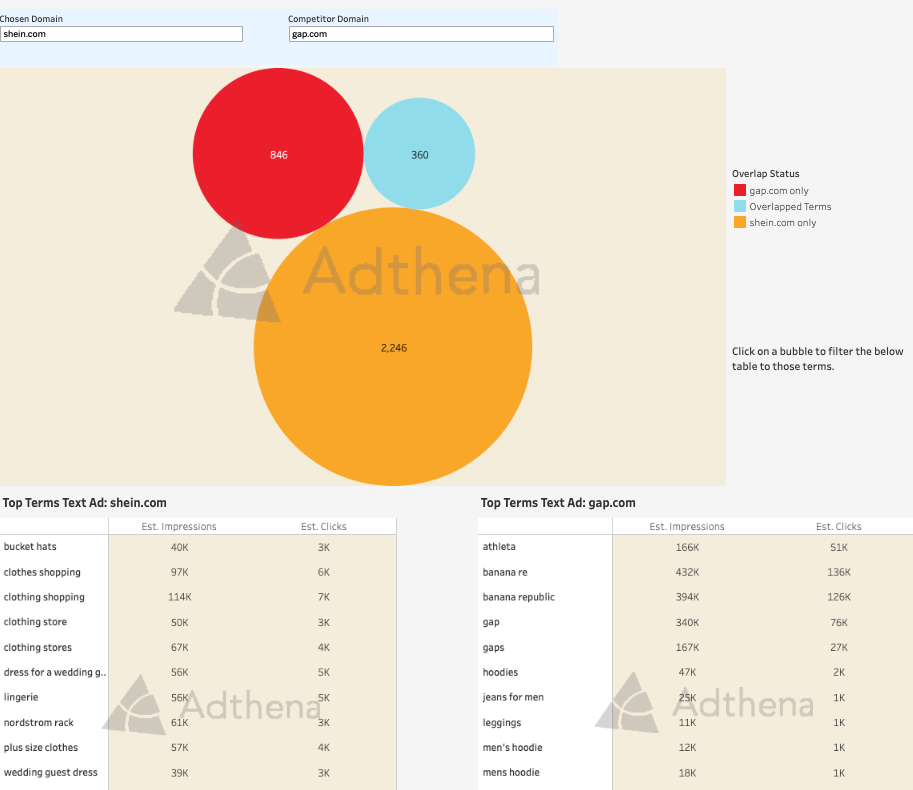 Start benchmarking now.
Want to see how you stack up against competitors right now? Adthena's Industry Benchmarks tool is here! And available for you to use completely free. Get started here.