Any SuperBowl viewer or NBA fan can tell you that cryptocurrency is becoming a mainstream financial asset. Increased popularity is bringing new players into the game — including both traditional and challenger financial companies. 
Cryptocurrency is already being used as a tool to acquire new customers in novel ways. Instead of cash back or travel miles, for example, crypto credit cards offer rewards in cryptocurrency, providing growth potential and a bit of wow-factor for consumers eager to get on the bandwagon. But to succeed, you have to keep a close eye on the market. Here's one reason why.
Crypto.com takes charge
In mid-October, crypto.com had a 50% spike in clickshare across "crypto card" terms and has since dominated the category.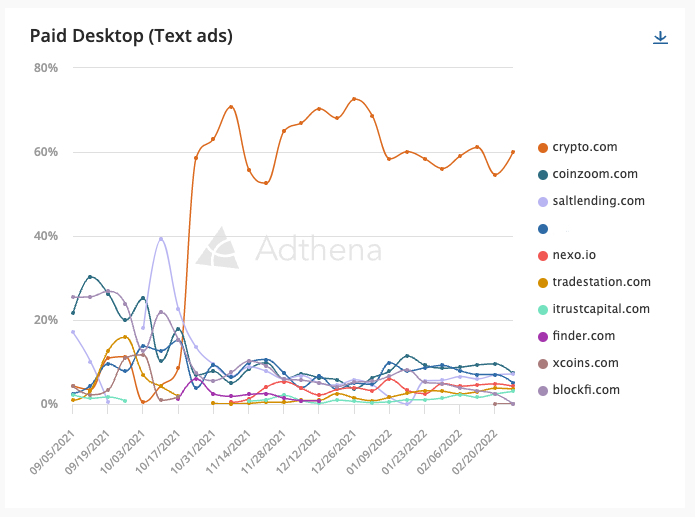 Adthena Data: Share of Clicks on 'Crypto card' terms.
When that spike occurred, most brands fell off of search completely and have largely stayed there since, leaving clicks on the table and letting Crypto.com gain momentum. Will those card companies be able to regain share? Can anyone recapture the ground lost to Crypto.com?
Re-leveling the field
With Crypto.com dominating, new competitors entering the crypto-credit market all the time, and media splashes creating spikes in interest, financial companies need superb situational awareness to get back in the game. Search intelligence gives you the insights you need to:
Before you enter the market with a crypto credit card offer or other cryptocurrency-related product, get a full picture of the current market landscape, who your competition will be, and what their strategies look like. Adthena can give you a full market preview so you can hit the ground running.  
In this volatile arena, you need to know when a new competitor enters or when a rival makes a big move or drops out. Adthena Smart Monitor can serve as eyes and ears for market shifts like this, alerting you automatically to key movements so you can pivot to avoid threats, capture opportunities, and even measure the impact of your other marketing efforts. 
Did a competitor just announce a new crypto offer or rate? What phrases do rivals use in their ads that get results? Adthena Creative Insights scans ad copy across your market, showing you the top ads in any category and the impacts of creative changes, which you can apply to your entire marketing strategy.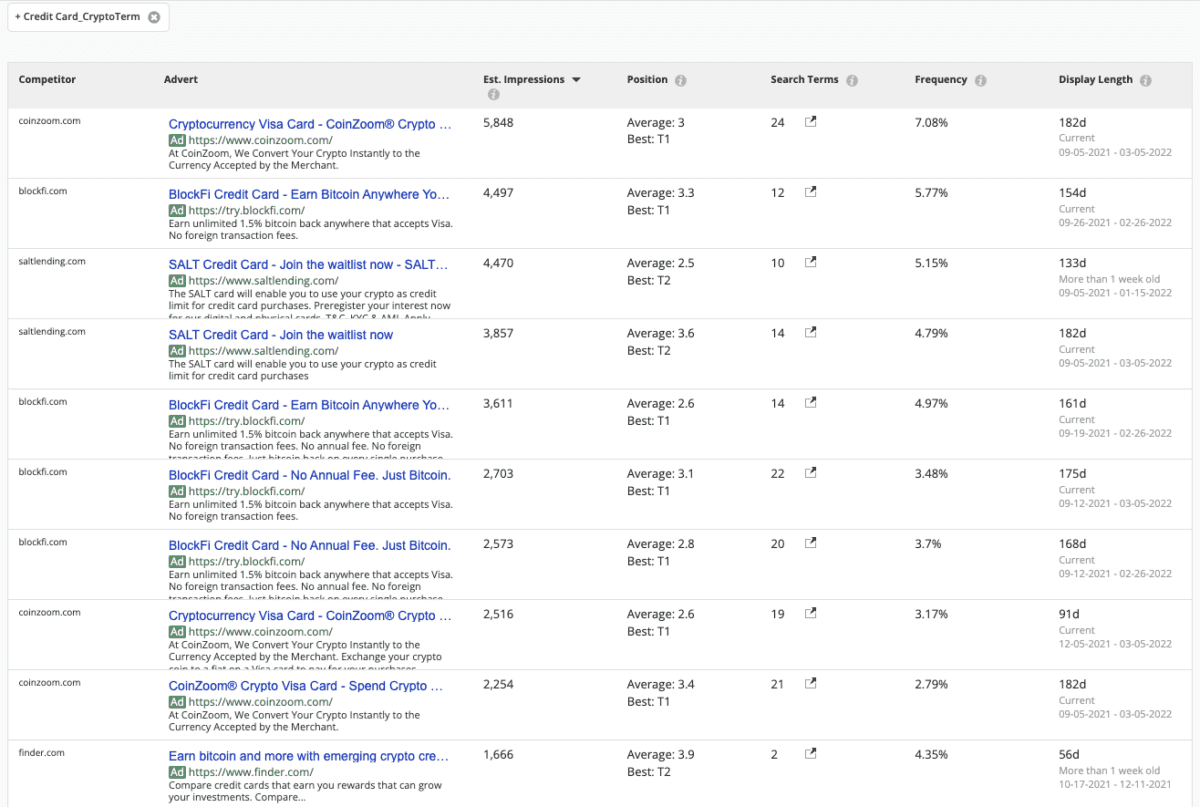 Adthena Data: Top Ads 
Recent copy themes you would have seen include "earn bitcoin back,"  "rewards," "convert crypto instantly," and "use crypto as credit limit." Our analysis shows that some brands are even advertising on these terms without offering a crypto-credit card, an intriguing way to take clicks away from those that do. 
Tap into our expertise
For more on how search intelligence can help you navigate the crypto credit market, reach out to our finance pro Niko Smith-Vicinaiz.