It's likely that there will be continued suppression of advertising spend overall during this time of uncertainty, and as we recover from the economic impact of Covid-19. But Nielsen warns that brands that cut advertising for an extended period, such as for the remainder of 2020, could face revenue declines of up to 11% next year. 
Maintaining your search ad spend can actually lead to greater resilience. Search has proven to be an effective digital marketing channel through this period, with users having a high level of intent and the channel delivering high conversion rates, making it a potential life-line for fast recovery. 
In our recent poll, 38% of digital marketers reported that their paid search spending had either stayed level or increased throughout the lockdown. Only 17% had paused spending on SEM as a result of COVID-19 events.
Wherever you sit on the spectrum, search intelligence will be a vital tool for rising to the top as conditions start to improve, giving you crucial visibility and insight on your market landscape.
What's changed in your market? 
If you've decreased your spend recently, and you're ready to ramp back up, what changes in the market do you need to be aware of so you can set up your strategy for success?
Alternately, if you've been maintaining your PPC presence throughout, which of your rivals are now ready to jump in and disrupt your position? If you've been taking advantage of a big player's absence, what will happen when they come roaring back? 
In our poll, 79% of digital marketers wanted to know: 'Are there new gaps in my competitive landscape, given the changes taking place?'
Search intelligence has the answers, providing competitive insights into your entire marketplace and allowing you to optimize your re-entry, pivot to new categories, or take advantage of new gaps to  enter new markets.
Here are some examples of strategies we've observed:
Insurers shows staying power
As you can see in the graph below, there is a high level of volatility in the travel insurance industry across key categories. Many players dropped out of the market when the world went into lockdown and travel was restricted, but two key players including payingtoomuch.com took advantage of the relatively empty stage to maintain brand awareness during this period.
At times like these, it's the C-Suite who rely on the data to guide their strategy on a daily basis. When a key category disappears, what new segments can they pivot into next? For example, when an insurance provider finds that over 65s insurance is no longer in demand, they must strive to find a younger audience.
Marketers in insurance will want to look into and prepare their budgets for H2 2020 when travel restrictions likely start opening up.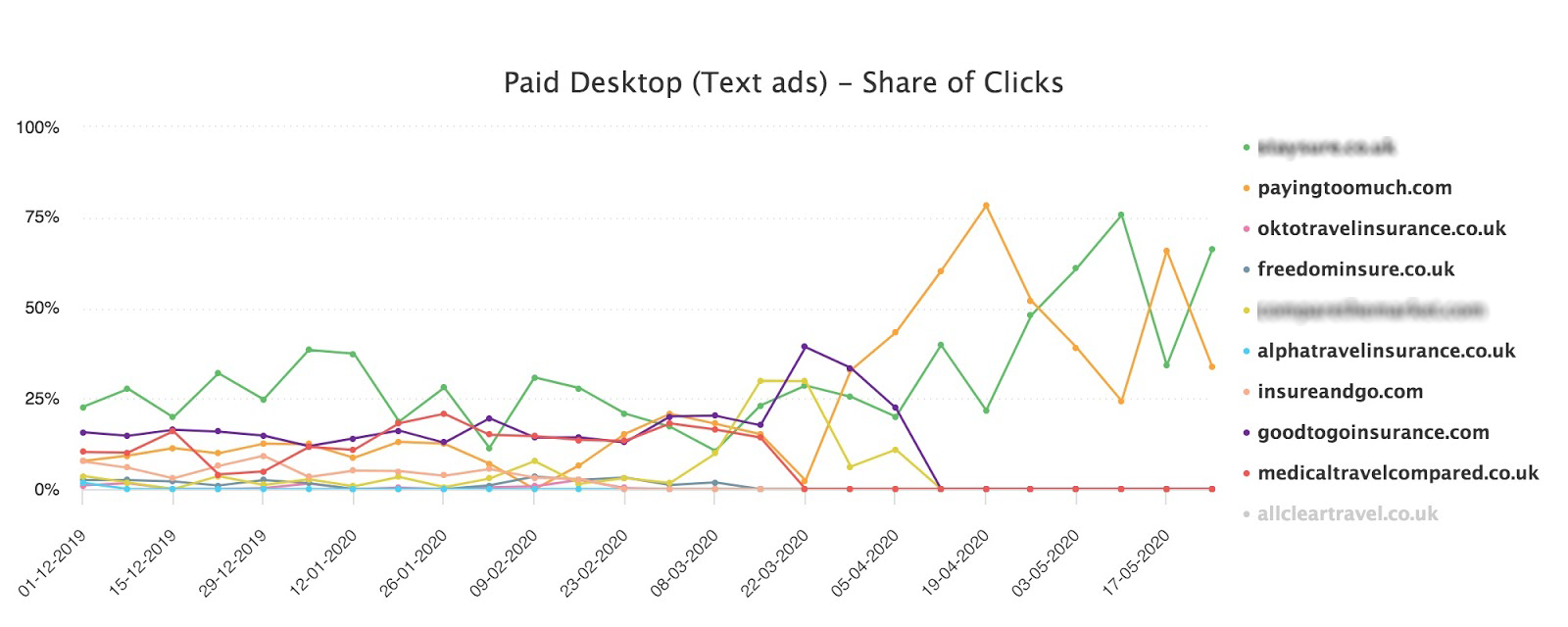 Citi takes the credit
The below chart shows that credit cards are another industry experiencing high volatility. Citi capitalized while other advertisers dropped out. Search intelligence data provides visibility into these types of opportunities and gives you the confidence to take advantage of them. You'll also be able to see precisely when other players start to make a comeback so you can quickly adjust your defensive strategy.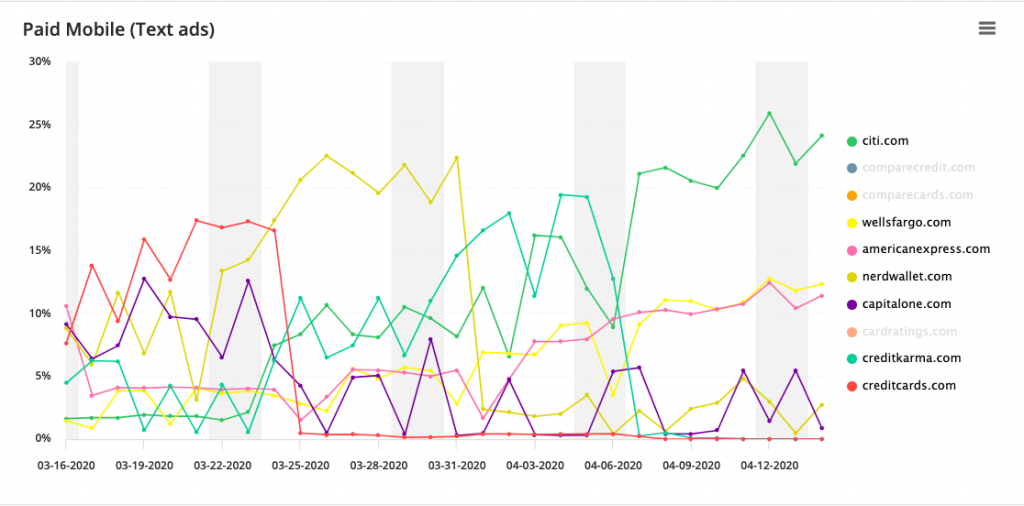 Amazon opens the floodgates
Here we can see that Amazon has made a strong comeback to PPC after going dark during quarantine. Businesses that have been quietly picking up traffic left behind by Amazon's absence, need to be ready to adjust as they come back into the PPC game to ensure they minimize the impact on their revenue.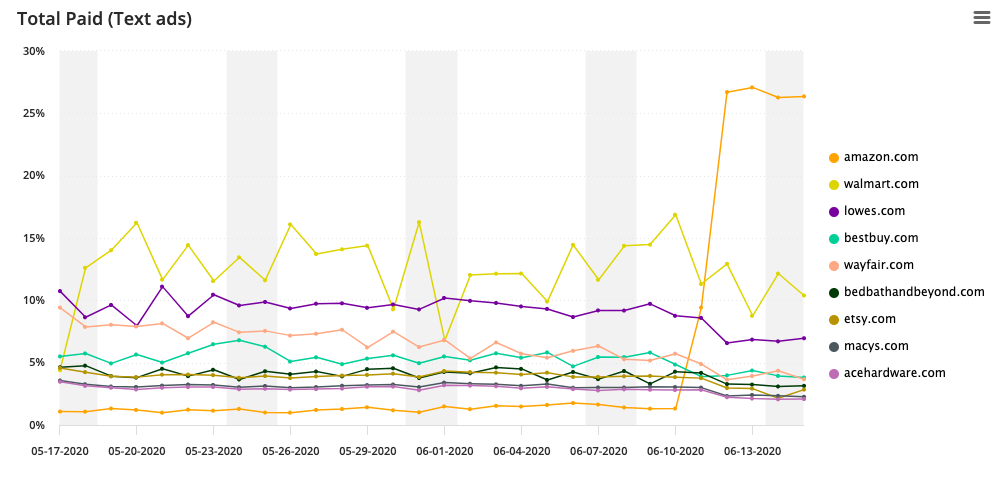 ……
Re-enter smart
To secure your best chance at a full recovery, you need to leverage search intelligence to find and take advantage of competitive opportunities and watch for emerging threats. 
………………….
Read more insights and download the guide 'Racing start: 4 stages to winning in new markets:' on our Search intel for new markets hub.